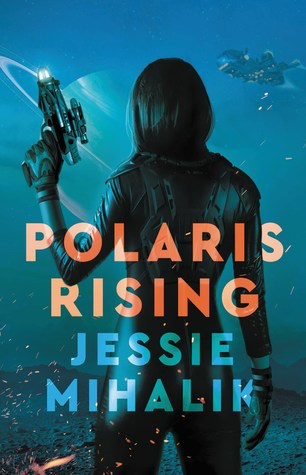 Polaris Rising
by
Jessie Mihalik
Series:
Consortium Rebellion #1
Published by
Harper Voyager
on February 5, 2019
Pages:
448
Format:
Paperback
Source:
Library
Amazon Kindle
|
Amazon Paperback
|
Audible
|
Barnes & Noble
|
Google Play
|
Kobo
Goodreads

A space princess on the run and a notorious outlaw soldier become unlikely allies in this imaginative, sexy space opera adventure—the first in an exciting science fiction trilogy.
In the far distant future, the universe is officially ruled by the Royal Consortium, but the High Councillors, the heads of the three High Houses, wield the true power. As the fifth of six children, Ada von Hasenberg has no authority; her only value to her High House is as a pawn in a political marriage. When her father arranges for her to wed a noble from House Rockhurst, a man she neither wants nor loves, Ada seizes control of her own destiny. The spirited princess flees before the betrothal ceremony and disappears among the stars.
Ada eluded her father's forces for two years, but now her luck has run out. To ensure she cannot escape again, the fiery princess is thrown into a prison cell with Marcus Loch. Known as the Devil of Fornax Zero, Loch is rumored to have killed his entire chain of command during the Fornax Rebellion, and the Consortium wants his head.
When the ship returning them to Earth is attacked by a battle cruiser from rival House Rockhurst, Ada realizes that if her jilted fiancé captures her, she'll become a political prisoner and a liability to her House. Her only hope is to strike a deal with the dangerous fugitive: a fortune if he helps her escape.
But when you make a deal with an irresistibly attractive Devil, you may lose more than you bargained for . . .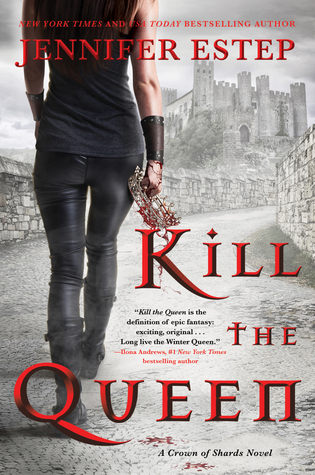 Kill the Queen
by
Jennifer Estep
Series:
Crown of Shards #1
Published by
Harper Voyager
on October 2, 2018
Pages:
480
Format:
Paperback
Source:
Purchased
Amazon Kindle
|
Amazon Paperback
|
Audible
|
Barnes & Noble
|
Kobo
Goodreads

Gladiator meets Game of Thrones: a royal woman becomes a skilled warrior to destroy her murderous cousin, avenge her family, and save her kingdom in this first entry in a dazzling fantasy epic from the New York Times and USA Today bestselling author of the Elemental Assassin series—an enthralling tale that combines magic, murder, intrigue, adventure, and a hint of romance.
In a realm where one's magical power determines one's worth, Lady Everleigh's lack of obvious ability relegates her to the shadows of the royal court of Bellona, a kingdom steeped in gladiator tradition. Seventeenth in line for the throne, Evie is nothing more than a ceremonial fixture, overlooked and mostly forgotten.
But dark forces are at work inside the palace. When her cousin Vasilia, the crown princess, assassinates her mother the queen and takes the throne by force, Evie is also attacked, along with the rest of the royal family. Luckily for Evie, her secret immunity to magic helps her escape the massacre.
Forced into hiding to survive, she falls in with a gladiator troupe. Though they use their talents to entertain and amuse the masses, the gladiators are actually highly trained warriors skilled in the art of war, especially Lucas Sullivan, a powerful magier with secrets of his own. Uncertain of her future—or if she even has one—Evie begins training with the troupe until she can decide her next move.
But as the bloodthirsty Vasilia exerts her power, pushing Bellona to the brink of war, Evie's fate becomes clear: she must become a fearsome gladiator herself . . . and kill the queen.