Re-Post Review: 'Claimed by a Demon King' by Felicity Heaton
November 20, 2018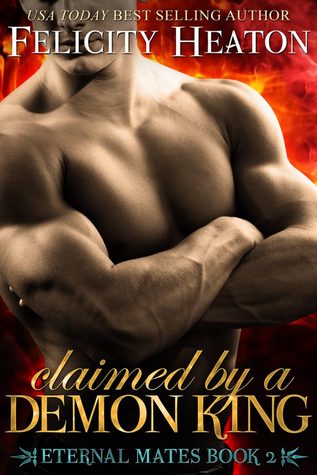 Claimed by a Demon King
by
Felicity Heaton
Series:
Eternal Mates Romance Series #2
Published by
Smashwords
on February 22, 2014
Genres:
Paranormal Romance
Format:
eArc
,
AudioBook
Source:
the author
Goodreads
Purchase at
Amazon
|
Apple
|
Google Play

The moment the demon King Thorne of the Third Realm set eyes on the mortal huntress Sable, he knew she was his fated one. The fiery, dangerous female awakened hungers he had never experienced before, a dark craving and passion that has consumed him in their time apart. As the lunar cycle wanes, she enters his world again and nothing will stand in the way of him claiming his forever with her—not the relentless assault from the Fifth Realm or the dark elf male determined to seduce her out of his grasp.
Intent on achieving the coveted position of commander at Archangel, Sable leads her small team into the dark underworld and the Third Realm, to a war where her allies are the very creatures she normally hunts—vampires, werewolves, and demons. Her eagerness to lead the deadly mission has everything to do with winning her promotion, and nothing to do with the kingdom's brash, lethally seductive demon king—a king who stirred fierce desire and wildfire heat in her with just a look and an innocent touch when they first met, and has been in her wicked dreams ever since.
As the gathering storm between rivals unleashes irresistible passion that flares white-hot and the heat of the battle brings life-shattering realisations, can Sable place her duty before her heart? Or will she surrender to her deepest desires and be claimed by a demon king?
First Time Read: March 2014
Second Time Read (Listened To): November 2018
(Bought the Audible version and enjoyed the narrator telling the story.)
I liked Kissed by a Dark Prince, which is the first book to the Eternal Mates series, but I LOVED Claimed by a Demon King. Holy Moly! Felicity Heaton kept me on the edge of my seat with the second book in the series the entire time I was reading it. My poor hubby and daughters had to fend for themselves, whenever I found time to read Claimed by the Demon King. I loved the main characters, Thorne and Sable immediately and I even enjoyed the secondary characters in the story. Can I say right away, I am in love with Bleu…yes…I know he's a player…but for some reason his sweet, protective nature won me over. Oh, and it doesn't help when Felicity writes him the way she does. =)
Felicity Heaton has Claimed by the Demon King happen about a short time frame after Kissed by a Dark Prince. In the previous book, Thorne and Sable have already met. They both are having time not thinking about each other. Thorne is the alpha guy in the story. He is determined to be with Sable, but Sable is not too sure about hooking up with Thorne. She has her reasons why because she's not the commitment kind of gal, but for some reason, she can't get Thorne off her mind. She is always there to calm him down whenever he gets upset with something though. (How could she resist the Demon King…dang Felicity again making him sexy and the perfect mate)
Sable is supposed to be there with her other fighters to help with King Thorne's dilemma with the Fifth Realm King trying to invade and start a war. Thorne not only has Sable and her team, but he has vampires, elves, and werewolves (which do not get along at all) Let's say this book provides you with a lot of fighting scenes not only with the bad guys but with the so-called good guys too.
Sable was the kick-ass heroine in the story who has become a favorite of mine from Felicity due to her being able to fight back verbally and physically with components. I also found her character fascinating after secrets came out about her. She had to fight her feelings for Thorne and also deal with Bleu in the story who had feelings for her. It's not a love triangle so no worries there, but let's say Bleu and Thorne have it out quite a bit in this book.
What can I say about Thorne, other than again Felicity knows how to make me love her male characters. I love my male characters alpha like, protective, and sensitive to their mates. Thorne has all those qualities plus more. He had his hands full not only with his realm but also with Sable. She never made it easy for him.
Felicity did a fantastic job on Claimed by the Demon King, and I look forward to other characters getting their stories. I need to find about Vail and Bleu (especially Bleu). I give this book 5 full moons and highly recommend it to PNR and UF readers out there. If you are looking for an action-packed, hot smexy paranormal romance book, then this is the book for you.
Please make sure you read the first book in the series first. You will want to know about previous characters before you read this book.
NOTE – Felicity Heaton's VET readers will enjoy this book because certain characters from that series show up in this book. =)

This post contains affiliate links you can use to purchase the book. If you buy the book using that link, I will receive a small commission from the sale. It will help sponsor future giveaways but costs you nothing extra. You can read the full disclosure underneath the Privacy Policy.
---
---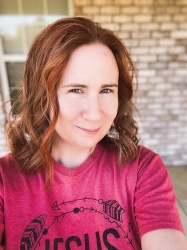 Latest posts by FranJessca
(see all)