Review: 'Blood Vow' by Karin Tabke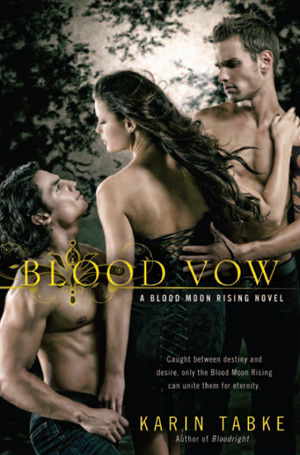 Blood Vow
by
Karin Tabke
Series:
Blood Moon Rising Trilogy #3
Published by
Berkley Trade
on December 4, 2012
Genres:
Paranormal Romance
Pages:
320
Format:
Paperback
Source:
Purchased
Amazon Kindle
|
Amazon Paperback
Goodreads

The coming of the Blood Moon will lead two Lycan packs into war, spur two rival brothers into conflict, and spark an act of vengeance so evil that its effects will be felt for generations.
One woman stands at the center of it all…
A volatile mix of both Lycan and Slayer, half-breed Falon is Alpha female of her pack, marked by both Lucien and Rafael—rival Alpha brothers that share equal hold on her heart. But when Falon's mysterious past completely unravels, it is revealed she is the daughter of the Master Slayer who murdered Lucien and Rafael's parents. The revelation throws her relationship with both brothers into chaos.
Falon begs them not to condemn her for her father's deeds. She realizes before her Alpha mates that they are destined to be one and pleads with them to accept the unusual triangle. If the brothers accept her as their mate then the Blood Law of an eye for an eye would be null and void. But if Lucien and Rafael cannot overcome their pride and accept their fate, the annihilation of the Lycan race waits within the shadow of the Blood Moon…
My Review
I am so sad to have read the last page of "Blood Vow" because now I know it has officially ended the trilogy of Falon, Lucian, and Rafe.  I have fallen in love with this trilogy since the moment I read the first page of "Blood Law."  I am saddened that it has ended, but now I am intrigued even more with the last page of "Blood Vow."
Karin Tabke, you know how to write a book that makes my emotions go haywire I went from about to cry, to smile, to squirming in my seat (or actually bed), to about to go through the book and knock some sense into Rafe and Lucien's heads…and to back to ecstatic again.  I LOVE YOUR WRITING!!
I also must say I STILL am in LOVE with Lucien!!!
"Blood Vow" picks up where "Bloodright" left off.  Falon has been taken by Fenrir, who is helping the Slayers kill off the Lycans.  The Blood Moon Rising is coming, and Fenrir wants Falon on his side and as his.  She, of course, knows that Lucien and Rafe will go for her.
Falon finds out the truth when she is with Fenrir and that she has lycan blood and slayer blood in her as well.  She finds out who her father is and she is determined not to tell Lucien and Rafe because it will break their heart and they will be forced to kill her since they vowed to take revenge on their parents.
When Lucien and Rafe rescue Falon has terms that both the alphas have difficulty coming to terms with, in the end, she wants both of them…not just one of them.
Lucien and Rafe must decide if they can handle sharing Falon with each other, as well as prepare their packs of the fight that is coming to them.  Fenrir wants war and wants the Lycans dead for what they did to the hundreds of years ago. It is up to the power of three to kill Fenrir…but Falon knows the truth on what is supposed to happen and how to kill Fenrir…but she is not ready to spill her secret.
Oh boy…."Blood Vow" has a lot going on and I do not want to spoil this book for anyone who has read the other two books and is waiting to read this one.  Or for the readers who are wanting to read the trilogy and haven't.
This book opened up a huge secret, and it put Falon in a bind.  When the truth did come out, I could have beat the crap out of the two alphas.  GRRR!!
Although, in the end, one of them comes to terms before the other.  Can you say TRUE LOVE?!  =)  I knew he would in the end.
Rafe was a complete jerk in this book, and I hated him for certain things he did.  I would have rather Falon fallen for one of the characters, but I could see why she wanted both.  She made them both stronger Alphas, and they also helped her.
I swear every chapter left me hanging and maybe move onto the other chapter to find out what happened next.
I love how Karin switches back and forth to all three characters, so we know what is going on inside their heads.  (LOVE her writing style)
Falon has been one of the FAVE strong female characters throughout all three books.  Karin wrote the perfect character to carry the trilogy.  Falon grew so much in each book and this book, she proved how strong she is and how stronger she could be compared to Rafe and Lucien.
Also….the steamy threesomes between these characters were HOT!  You will take cold showers after each one, which is saying a lot since there were many.  Oh my GOODNESS!  =)
Falon does have her happily ever after in this book, and so do the two male characters who have stolen her heart, as well as mine.
This trilogy will be a re-read in the very near future because I know I will miss the characters a lot.
If you have not read this trilogy yet, what are you waiting for now?
If you love the paranormal romance genre with erotic elements and well menage trois elements as well…READ this book…but first read the other two…otherwise you will miss out on some fabulous books.
Karin Tabke has closed out a fantastic trilogy that undoubtedly will be missed but in the end, she leaves us asking ourselves is that truly the ending?  Darn you, Karin!  =)  Much love to a fabulous Author who knows how to make us fall in love with her characters and the world she has created.
I love how she came up with this trilogy, and I look forward to her future books.  She has a fan for life.  =)


I guess I should type a bio here. I'm FranJessca or Fran for short. I'm the owner of Book Lovin' Mamas and main Reviewer. I've been reviewing books since I got out of the Navy in 2011. Now 8 years later, I'm still reviewing, but this time with my youngest sidekick.
When I'm not reading and reviewing, you can find me at my day job during the week and on the weekend taking care of our little farm.

Latest posts by FranJessca (see all)