Review: 'Bundle of Trouble' by Diana Orgain
I received a complimentary copy of the book from the Author in exchange for an honest review. This does not affect my opinion of the book or the content of my review.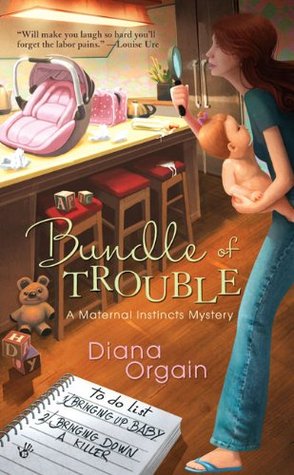 Bundle of Trouble
by
Diana Orgain
Published by
Berkley
on August 4th 2009
Genres:
Mystery
Pages:
296
Format:
eBook
Source:
Author
Amazon Kindle
|
Amazon Paperback
Goodreads

First-time mom Kate Connelly is bringing up baby- and bringing down a killer.
Kate Connelly may have found the perfect work-from-home Mommy job: private investigator. After all, the hours are flexible, she can bring the baby along on stake-outs, and if you're going to be up all night anyway, you might as well solve some crimes. But when a body is pulled from San Francisco Bay that may be her brother-in-law, Kate must crack the case faster than you can say "diaper rash" in order to keep her family together.
My Review:
I'm so glad Diana Orgain contacted me through email in January to read her book "Bundle of Trouble." I would've never known about her series about Kate Connelly and her future P.I. Job. I also wouldn't have such a funny and fun book to read…that makes me realize I need to lighten up on motherhood. I tend to be very over-protective of my children and love them so much…that sometimes I'm just like Kate, "Is she breathing…am I producing enough milk, and am I being a great mother?"
Kate Connelly reminds me of myself (except for the P.I. Job). I gave up my Art Institute to stay home with my 2nd daughter since I didn't want to leave her. Shes' my precious baby girl and no one else could take care of her like I do (plus with breastfeeding, it's hard to go to school and pump)….so I decided to go to online college courses instead. I get to pace my schedule and take care of my baby and also make sure my oldest daughter does her homework every day. A Mother's Job is never done. I think I worked more than I did when I was in the Navy…but you know what, I wouldn't change it for the world. I love being home with my girls, and that is why I can relate to Kate Connelly.
Kate is a new Mom who doesn't want to go back to her office job. She instead wants to run her own business, of Private Investigating. How does she come about with this idea, you ask? Well, …let's say it has something to do with her brother-in-law, George, and her old high-school friend, Michelle. First off, her brother-in-law is a piece of work, he is always in some trouble and seems he can never get his life on track. Kate's husband, Jim, knows his brother's ways all too well. Kate wants to find out why George's bags were left on the pier and where he is exactly and why he is being considered for murder. To crack the case, Kate gets involved since the cops aren't getting anywhere. She gets her first taste of PI work when a Private Investigator is sent to the Hospital. She takes over his Job.
I won't spoil the book for anyone. If you love mystery books, this is a definite read but be forewarned, read the title, this mystery I recommend more to Women. Why Women because guys would probably get confused over the maternal instincts of Kate (if you know what I mean). They actually would know what a Woman thinks when she's a Mother and why we are over-protective. =)
I loved the beginning to the end of this book. I loved the comical situations and mysteries that Kate put herself in the story. My favorite part would have to be when Jim is left with Laurie (their newborn) and doesn't know how to calm him down. Jim reminded me of my husband. I had to laugh at those parts. Poor Men! (haha)
I also want to say; I kept changing my mind who the killer could be. Diana threw me for a twist, and I wasn't expecting that ending, which is always a plus for me. I didn't know the killer was that person. I thought it was someone else. I love those kinds of twists and turns.
I look forward to reading the next book in the Series and finding out what other mystery Kate cracks. I also look forward to hearing about Kate's Maternal Instincts. =)


I guess I should type a bio here. I'm FranJessca or Fran for short. I'm the owner of Book Lovin' Mamas and main Reviewer. I've been reviewing books since I got out of the Navy in 2011. Now 8 years later, I'm still reviewing, but this time with my youngest sidekick.
When I'm not reading and reviewing, you can find me at my day job during the week and on the weekend taking care of our little farm.

Latest posts by FranJessca (see all)