Review: 'Burned in Shadows' by Tigris Eden
September 15, 2013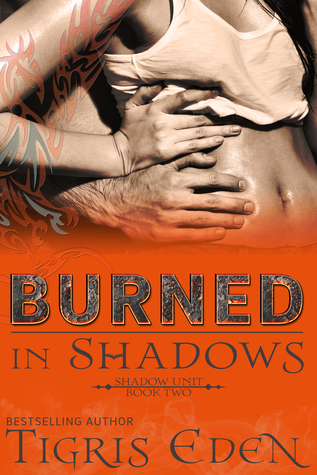 Burned in Shadows
by
Tigris Eden
Series:
Shadow Unit #2
Published by
Kats Kreative Ideas
on July 30, 2013
Genres:
Paranormal Romance
Format:
eBook
Source:
Purchased
Goodreads
Purchase at
Amazon

Royce Zarides has accepted his hand dealt by fate. He's loved and left far too many women. In the bedroom that is. But one kiss from Belinda Raine Ignis was all it took for his eyes to open. Is she really the woman meant for him and his brother Ronin? Or will history only repeat itself? That's the million dollar question he doesn't want to answer.
Ronin does not believe that Belinda is for him and his brother. But one night with her isn't enough. Even when he sees her for who and what she really is, Ronin still has a hard time expressing his emotions where Belinda is concerned, and time is running out now that she's to ascend to the status of Matria of the Phoenix Enclave.
Belinda (Bells) Ignis is good at ignoring men. She's had her share of heartache. Jilted at the altar by her first love, she's sworn all men off for good. Her mother and Matria of her community has other plans in mind, as well as the Zarides brothers. When faced with the heated glances of Ronin and the smooth tongue of Royce, what's a girl to do?
The clock is ticking down for certain members of the Shadow Unit. Draven assumed dead, leaves a sour taste in every ones mouth. Jes' new found abilities make for a great addition to the team. But when things seem to settle, they only get worse, as the team sets out to discover the origins of Mr. Black and the notorious Red Sun Organization. Secrets are uncovered and deals are made that result in a deadly blow to all involved.

I was so excited to read Burned in Shadows because Tigris Eden left me hanging at the end of Enslaved in Shadows. I was one of those that was cussing at the end of Enslaved in Shadows. GRRRR!! If you have not read Enslaved in Shadows, I recommend you do so, before reading Burned in Shadows or maybe even this review. You will want to know about the sexy, dangerous twins, Royce ( LOVE HIM ) and Ronin. You will also want to know what happened to Jesminda and why she is going through what she is going through in Burned in Shadows.
Can I say first off, how much I hate the character Black in Burned in Shadows? I should love him because of who he is…but I can't because he is such a jerk in this book. He made me grit my teeth and made me what to punch him. (I had to remind myself, he's fictional)
Tigris Eden had me fall in love with Royce even more in this book and made me fall for Ronin too, even with what happened in the first book. These two have a story behind them, and they have been looking for their one true love for a while. They have to be able to share her, and she must accept them both and be able to react the way they need when they are together. They have had their eyes on Belinda, the sexy vixen, who keeps blowing them off for her reasons. She knows the hot twins have their intentions, but she's not sure if she could trust them with her heart. She has her dilemmas to worry about in her life. She has to be my new favorite female character to like so far in the book because she stood up to her mother and her brother in this book. She also was ONE COOL ASS character because she is a Phoenix.
What I love most about these books from Tigris Eden is that she throws in some history into the mix. In Burned in Shadows, Cleopatra plays a role in the original Phoenix Enclave. I LOVE this timeframe, and when Tigris threw in a fictional way of the story of Cleopatra, I was beyond intrigued.
Tigris makes sure to pick up where the first book left off at and makes the story build up to a huge conclusion because of course, the ending was another HUGE cliff-hanger. Grrr!! Seriously, was not expecting that for the ending (in the epilogue). Tigris knows how to leave us in shock and begging for more.
She even knows how to write some very steamy sex scenes. I LOVED the scenes of Royce, Ronin, and Belinda. I also loved the one with Royce in the shower. I highly recommend not reading these particular scenes, while traveling, which I had to do because my hubby kept wondering what I was smiling at, while I read the book. (If only he knew. LOL)
I give this book 4.5 moons and highly recommend it to paranormal romance readers out there.
Looking forward to the next installment in the Shadow Unit series. Here's hoping it is not very long because I need to find out about Gabe. =)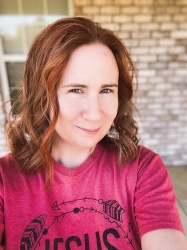 Latest posts by FranJessca
(see all)