Review: 'Courted by her Cougar' by Felicity Heaton
November 8, 2018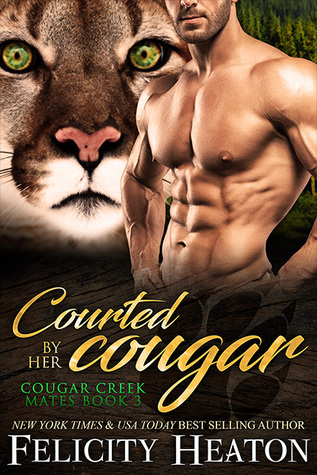 Courted by her Cougar
by
Felicity Heaton
Series:
Cougar Creek Mates #3
Published by
Self-Published
on September 8, 2018
Genres:
Paranormal Romance
Format:
eBook
Source:
Kindle Unlimited
Goodreads
Purchase at
Amazon
|
Apple

Madness is sweeping through Cougar Creek, and Flint wants no part of it. The fever has two of his brothers in love already, and Flint is damned if he's giving up the bachelor life to tie himself to one female, but when a perimeter sweep has him running into an exotic and enthralling beauty who rouses his instincts as a cougar shifter and a male, the hunt is on.
All Yasmin is interested in is making sure her friend, Ivy, is safe, but the alluring black-haired man with a wicked smile she meets on the path to the creek has her thinking about other things. When an incident at Cougar Creek leads to her revealing a secret, and Flint's persistence pushes her to a rash decision, her entire world is in danger of being turned upside down.
With the gathering in full swing, and males determined to prove their worth to Yasmin, Flint discovers he's not immune to the madness sweeping through the creek, because he'll do whatever it takes to claim victory and win Yasmin's heart… no matter how dangerous it is.
Discover four sexy cougar shifter brothers guaranteed to become your next book boyfriends in this hot new shapeshifter romance series from New York Times and USA Today international best-selling author Felicity Heaton, set in the same rich and addictive world as her Eternal Mates paranormal romance series. Book 1: Claimed by her Cougar Book 2: Captured by her Cougar Book 3: Courted by her Cougar Book 4: Craved by her Cougar
My Review
Courted by her Cougar is the third book in Felicity Heaton's Cougar Creek Mates series and this time it's Flint's book. A 'love' fever has hit Cougar Creek, and Flint doesn't want anything to do with it. He will avoid it at all costs since he enjoys the bachelor life and doesn't want to be tied to one woman. Unfortunately, life throws curves all the times and during a perimeter check, Flint finds himself face to face with an exotic woman who is unforgettable.
Yasmin is a doctor/friend on a mission to find her friend Ivy. She is determined to make sure Ivy is okay and doesn't need rescuing. She didn't expect to come face to face with a handsome cougar shifter. Both characters are about to go through unusual situations that they are not ready for, but they have to be prepared because it's ALL Yasmin's fault anyway. Yup, I blamed the female character of the drama that is about to happen at the creek. She made some additional drama when she got there and unfortunately, Flint is confused and now feverish with love and does something out of the norm because of Yasmin. Oh, men (in this case male cougar shifter) and their crazy ways, when love is involved. 🙂
Felicity Heaton makes every story a page-turner, even when it's a short novella and this book was no different with the rash decisions both characters created in the story. Both characters were crazy.  I enjoyed getting to know Flint in the story and how he tried to avoid the fever, but couldn't because it hit him unexpectedly. It was one of those instant-love situations between the two, which doesn't help. Although, it was time for Flint to settle down and Yasmin was the one to make him change his ways.
At first, I didn't end up connecting well with Yasmin in the story as I wanted. Yasmin came to the creek looking for her friend Ivy and all of a sudden she was causing an uproar with the male cougar shifters. She wasn't a damsel in distress though. She could handle herself. She also knew how to take care of others, when they got hurt due to her being a doctor. She has a secret though in the story that threw me off. There's that twist in the tale that Felicity always likes to throw in there. This is why I can always turn to her books to get myself out of a long reading funk because of the page-turning qualities.
Overall, I give this book 4 stars and recommend it to PNR readers out there that enjoy shifter books.   This is the third book in the series, and I highly recommend reading these books in order. Otherwise, you will miss out on Rath and Storm's stories. Storm is still my favorite of all the brothers. It may change after reading Cobalt's book though, which I'm onto next.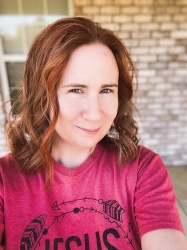 Latest posts by FranJessca
(see all)