Review: 'Cursed Fates' by Caroline Peckham and Susanne Valenti
March 30, 2022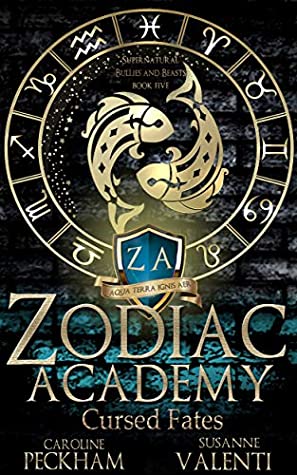 Cursed Fates
by
Caroline Peckham
,
Susanne Valenti
Series:
Zodiac Academy #5
Published by
Self-Published
on December 21, 2021
Genres:
Dark Paranormal Bully Romance
Format:
eBook
Source:
Kindle Unlimited
Goodreads
Purchase at
Amazon
|
Barnes & Noble

After the devastating events at Zodiac Academy, we have to deal with this darker world we're faced with. Lionel seeks to hurt us, the Nymphs seek to hurt the entire Fae race, and between all of it, we just have to try and survive each day as it comes. I'm afraid of everything falling apart, but it looks like it already has.
---
 I finished Cursed Fates (the fifth full-length novel in the Zodiac Academy series) on March 18, 2022, but I took a while to type up this review. I'm still fuming after the ending of this book. Yes, fair warning, if you dare read this series, each book leaves you with a cliffhanger. You think it gets easier with these books, but Caroline Peckham and Susanne Valenti are the Queens of making you want to throw your book clear across the room with the twisted cliffhangers they do in their books. I can't get enough of this world they created, so I'll keep reading. I'll keep getting my heart ripped to threads after enduring some magical happy moments between the characters. One minute they're happy; the next, they are being ripped away from each other due to their cursed fates.
Storyline/My Thoughts: If you read the previous book in the series, then you know what needs to be addressed in this book. 
Tory + Darius. Tory made a horrible decision in the last book (in my honest opinion), but after thinking about it, I knew why she did it, and I forgive her, especially after reading this book. It broke my heart, though, and I felt terrible for Darius. He's there for her in this book, and he will prove himself to her. He doesn't care about fate. They often play with fire (or the stars) in this book. Almost, getting others hurt so many times by being in the same proximity of each other. Orion and the Celestial Heirs are determined to try to change Tory and Darius's fate, and they will do anything to get them together for good. It takes Caleb and his wits to develop an idea that may defy the stars. (Possible Spoiler: If you don't like menage in your book(s), then you may want to skip a scene in this book. Personally, I've read menage before, and I enjoy it in romance books. It's an M-F-M scene, but the M characters don't mess with each other.) 
Darcy + Orion. Don't even get me started on what happened to these two in this book. I was so mad. This was one of the parts that I had to reread the scenes thinking the authors were playing tricks on me. But, Nope! They did it, and I'm pissed because of it. And then that stupid fool, Orion, had to make it worst. Yes, I'm so made with Orion. I adore him, but he is a fool. Grrr! Poor Darcy! You can tell how much she loves Orion. I loved when Darius was there for her in this book. He was also there for her at the end of this book. My poor favorite couple in this series, though. I'm never going to forgive the authors if these two don't end up being elysian mates. I love them too much.
Seth & Darcy. Okay, Seth is starting to become likable. In the last book, he pissed me off, but in this one, he's redeeming himself, especially when he's there for Darcy after she finds out who turned her and Orion into the FIB. That had the most epic scene between these two characters. There was another scene in the book towards the end with these two that almost shattered me, but I'm not going to spoil it for anyone who hasn't read this book. 
Xavier. Darius's brother got some chapters in this book with his POV. I was so happy to finally read his point of view and what Tory did for him in this book. It was risky, but it made him happy. I hope we get more of him in the next couple of books. I hope he gets a HEA, too. 
Geraldine + Max. These two. I love how Geraldine doesn't make it easy for Max Rigel. Geraldine has become one of my favorite secondary characters in this series, and I look forward to reading the short novella with her Max.
The Ending. I'm so mad about the ending, so it took me eleven days even to consider typing up this review. I knew there would be a twisted ending but not that ending. Grrr! While reading this series, I have growled so much that my family stays away from me when they know I'm reading the Zodiac Academy series. My heart hurts not only for Darcy but Darius, too, at the ending. I swear I've read villains before, but the villain in this story makes my blood boil. How dare he do what he did at the ending!!! 
Overall, this book receives four stars from me. I'm taking a small break from the series to read other books on my TBR, but I will be back. I know the last book in the series releases at the end of this year (per the authors' websites), and I want not to finish these book(s) quickly. They have already managed to take over my life. My husband says I need to spend some quality time with him every once in a while in the real world.
Standalone or Part of Series: It's part of the Zodiac Academy series, and I highly recommend reading in order.
Steaminess: ⭐️ ⭐️ ⭐️ 💫
Cliffhanger: Yes. (each damn book has a cliffhanger).
Would I recommend this book? Yes. If you enjoy New Adult Dark Paranormal Bully Romance, you'll enjoy the Zodiac Academy series. Each book has a cliffhanger at the end, so mentally prepare yourself before diving into this series. Caroline Peckham and Susanne Valenti are the Queens of Cliffhangers.

This post contains affiliate links you can use to purchase the book. If you buy the book using that link, I will receive a small commission from the sale. It will help sponsor future giveaways but costs you nothing extra. You can read the full disclosure underneath the Privacy Policy.
---
---
---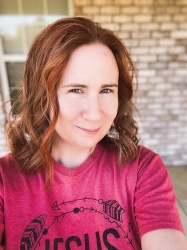 Latest posts by FranJessca
(see all)