Review: 'Dangerous Games' by Lora Leigh
March 16, 2014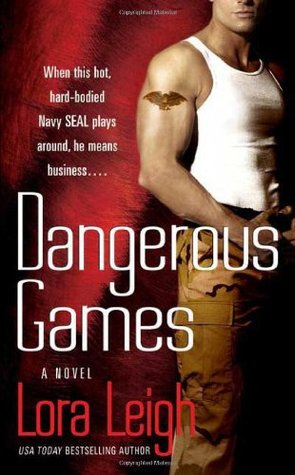 Dangerous Games
by
Lora Leigh
Series:
Tempting SEALs #2
Published by
St. Martin's
on February 6, 2006
Genres:
Romantic Suspense
,
Military Romance
Format:
Paperback
Source:
Purchased
Goodreads
Purchase at
Amazon
|
Apple

When this hot, hard-bodied Navy SEAL plays around, he means business…
It's not whether you win or lose.
Navy SEAL Clint "Iceman" McIntyre didn't earn his name by being a coward. Or a quitter. Having crushed an infamous drug cartel in Columbia, Clint was nothing short of an American hero. Now he's home, on a much-needed leave, but instead of some R&R, he finds himself neck-deep in the hottest kind of trouble with his best friend's little sister, Morganna Chavez—the only woman who has the power to bring him to his knees…
It's how you play…
Morganna has been secretly working with the DEA to uncover a thriving date-rape drug, which leads her to a shadowy faction that is more deadly than anything her team has ever encountered. Now, it's up to Clint to keep this beautiful, determined agent out of harm's way, even while the explosive passion between them threatens to consume them. Soon Clint's greatest mission will be not just keeping Morganna alive, but getting her into his arms and never letting go.
My Review
I'm going to admit and say I'm a new fan girl of Lora Leigh. I wish I would've read her books sooner because I'm officially addicted. I'm in love so far with the Tempting Seals series, but it could because I'm on a military read kick right now and can't get enough of books like this. Lora Leigh though knows how to suck me into the story…literally. =)
We have Clint "Iceman" in this story of Tempting Seals and let's say he may have just become my favorite fictional Navy Seal ever. (of course, it could change with the other books in Lora's series) He's on R&R after taking down a drug cartel, but of course, his kryptonite at home is deep in trouble. Morganna (his best bud's little sister) has always been on his radar, but he chose to stay away because he didn't want to harm her in any way. Unfortunately, she's got herself in the middle of something that he now has to get her out of before she gets hurt and before her brother finds out about it. Morganna though has tried everything possible to forget about Clint, but he always has a way of getting back into her heart and ruining her. She's changed though. She's not the same girl as before. She's undercover with the DEA to uncover who is using a date-rape-drug on girls and killing them. Clint is not going to make it easy for Morganna though.
Clint is your typical big protective over-bearing alpha male character who has issues mentally about making his true feelings of Morganna be known. Oh, he drove me crazy, but he also made me go mad in a good way. Umm…let's say he has something that left Morganna in shock and drooling. Holy moly! I find myself still reading a specific scene of the moment he got naked in front of Morganna the first time. (*cough* he has something done *cough*) He always surprised me in the story with other things. Yes, Lora Leigh gave us a character that is amazing in bed, but she gave us someone who will kick butt if you mess with his woman especially look at her the wrong way. He's a Dom…so he has his reasons of being alpha.
Morganna is not your timid, shy girl. She can hold her own. She puts guys in their places several times. Even with the ruthless over-bearing Clint. I loved their banter back and forth in the story. My mother would consider the banter the old married couple banter. The role she had to play undercover made Clint uncomfortable at times, and I loved how she handled him when it came to her job. Although she had moments of falling off the horse and letting him affect her life, she got back up and put him and her co-workers in their place. Poor woman just wanted to be respected and also get her crush to realize that she loved him. Geez…hard headed men! There is an age difference between Clint and Morganna, which makes Clint put the brakes on becoming serious. (I wanted to bonk him over the head at times and make him realize age didn't matter) Grr!
The storyline was engaging because Lora Leigh made me go on a ride with the characters, to find out who was behind the drugging of the girls at the clubs. When the clues are starting coming forth, Clint began to realize that it may be something he has dealt with before. There also was something going on with Morganna's DEA team, and Clint needed to find out if everyone could be trusted on the team.
There is a lot of sexual tension, action-packed drama, LOTS and LOTS of nakedness, and some minor Dom/Sub (or Dom/Dom…because a specific character is more better as a Dom that she is a Sub) action in the story. There are also moments of close calls and crazy moments between the two crazy lovebirds that they don't want people to know about in their life. We even get Reno and his lovely lady, Raven in the story a few times. *sigh*
I give this book 5 full moons and highly recommend it to readers out there that enjoy romantic suspense, contemporary romance, Navy Seals, Dom/Sub, and I could go on and on. Let's say you will not be disappointed.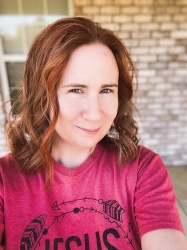 Latest posts by FranJessca
(see all)