Review: 'Dead of Winter' by Kresley Cole
September 7, 2022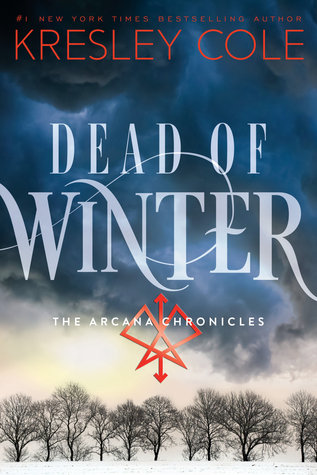 Dead of Winter
by
Kresley Cole
Series:
The Arcana Chronicles #3
Published by
Simon & Schuster Books for Young Readers
on January 6th 2015
Genres:
Young Adult Dystopian
,
Young Adult Fantasy
Format:
AudioBook
,
Hardcover
Source:
Purchased
Goodreads
Purchase at
Amazon
|
Barnes & Noble


Heartbreaking decisions
Evie was almost seduced by the life of comfort that Death offered her—until Jack was threatened by two of the most horrific Arcana, The Lovers. She will do anything to save him, even escape Death's uncanny prison, full of beautiful objects, material comforts…and stolen glances from a former love.

Uncertain victory
Despite leaving a part of her heart behind with Death, Evie sets out into a perilous post-apocalyptic wasteland to meet up with her allies and launch an attack on the Lovers. Such formidable enemies require a battle plan, and the only way to kill them may mean Evie, Jack, and Death allying. Evie doesn't know what will prove more impossible: surviving slavers, plague, Bagmen and other Arcana—or convincing Jack and Death to work together.

Two heroes returned
There's a thin line between love and hate, and Evie just doesn't know where she stands with either Jack or Death. Will this unlikely trio be able to defeat The Lovers without killing one another first...?
---
The first time I read Dead of Winter was in 2018, and now in 2022, I'm doing a reread of the series since the last book will release soon. Dead of Winter wasn't my favorite in the series. I knew why after rereading it a second time. I have a thing about not liking love triangles, and this book/series has a love triangle. I know some readers love Jack, but I'm more of a fan of Aric. This review will explain why I love Aric more than Jack without spoiling the story. 
Storyline/My Thoughts: First, I'm going to say I'm a die-hard Kresley Cole fan. I am enjoying her Young Adult Fantasy/Dystopian (The Arcana Chronicles) series, especially rereading it. I distaste, though, when there is a love triangle in the story, which I've already stated above. So, for readers who don't like love triangles, you are forewarned ahead of time. Why do I dislike love triangles? Because the FMC can never decide who she wants to be with, I would rather her choose in the beginning or just choose both. Kresley, can this be a Reverse Harem story, and can she have both? Please. Okay, if not, please have her choose the right one, which I believe after reading this story is Aric (Death). I know I will get heat for saying that, but I was not too fond of Jack in this book. He is keeping secrets, and yes, I know Aric is doing the same, but it's evident that Aric is protective of her. Jack can't even keep his word about not putting himself in danger, which drove me crazy in the book. 
Don't get me wrong; I loved the banter between Jack and Death when they finally met in this book. Evie, though, couldn't stand them fighting over her. Girl, you made them fight over you?
If you read the previous book, Dead of Winter picks up from that book where Evie has to save Jack from the twins who are known as the Lovers. She leaves Aric after he tries to coerce her into something she didn't want to do in the first place. That scene from the previous book ticked me off with Death, but he realized he messed up, and he's trying to redeem himself in this book. After Evie does rescue, Jack is when Death/Aric arrives at the camp and tries to win her over again. He will do anything to prove to her they are supposed to be together, even put up with Jack. The Lovers have tortured Jack, and Evie knows he will never tell her what happened to him or even his half-sister, Clotile. She knows what happened to Jack was terrible, and after rescuing him, the Huntress, Selena, is taken by the Lovers. The issue is everyone thought the Lovers were killed when they rescued Jack; unfortunately, the Lovers have a big secret that Evie and her team of friends find out about in this book. I thought, The Hermit, The Hierophant, and The Devil were all evil. No, the Lovers, the twins, are much worst. Readers will learn a lot about the twins in this book, and none of it is good. They are the Arcana Cards that Evie will be forced to unalive and not ally with because they have revenge on their minds from previous lives, and they have it out for the Empress and anyone who allies with her. Holy moly, they were twisted. Kresley writes complex characters who can either be lovable or crazy, which you must hate. The Lovers are those you have to hate.
The third book primarily focused on rescuing Jack or Selena from the Lovers and the banter between the two males with Evie. Yes, I learned more about the Lovers, but I wanted to learn more about the other Arcana cards out there. We got some of the Priestess (Circe) in a small part, and then the Emperor showed up towards the end of this book, but not much else. There were other questions raised in this book, too, that I need to be answered. Why won't Death tell Evie about all her powers he wants her to unlock? Why does he want her to unleash her Red Witch? There's also Jack and why he keeps things from Evie. Is he an Arcana card, too? So many questions need to be answered, and it seemed the most significant focus of this book was the issue of the love triangle and the Lovers, which I stated already. It drove me crazy with the love triangle. I still enjoyed the storyline in certain parts.
Kresley knows how to suck me into her stories continuously, and there's no returning to the real world until I finish her books. Her writing style, creative storylines, and addicting characters don't help with my reading addition to her books. I read her Immortals After Dark series several times, and now I'm rereading her YA series. That should tell you right there; I love her books. Her books are comforting, even when they drive me crazy, and I need answers, especially with the Arcana Chronicles.
If you have not read these books and are thinking about starting them, I highly recommend listening to them. Emma Galvin is one of my favorite narrators. She brings the story and the characters to life and gives the characters accents; for example, Jack is Cajun, and I love the accent she gives him.
This book may not be my favorite in the series since it only received 3.5 stars from me, but that doesn't mean I didn't like certain aspects of the story. I love each character differently: the good ones, not the twisted ones, like the Lovers. I will have nightmares over them for Jack and Selena and what the twins put them through in this book. 
Standalone or Part of Series: It's part of The Arcana Chronicles, and I highly recommend reading in order.
Trope(s)/Element(s): Dystopian/Post-Apocalyptic, Arcana Cards, Love Triangle, Zombies (Baggers)
Cliffhanger: Yes
Would I recommend this book? Yes. If you enjoy YA Dystopian/Fantasy books, this book/series is for you.

This post contains affiliate links you can use to purchase the book. If you buy the book using that link, I will receive a small commission from the sale. It will help sponsor future giveaways but costs you nothing extra. You can read the full disclosure underneath the Privacy Policy.
---
---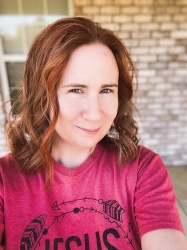 Latest posts by FranJessca
(see all)