Review: 'Defiance and Dedication' by Heather Long
June 14, 2023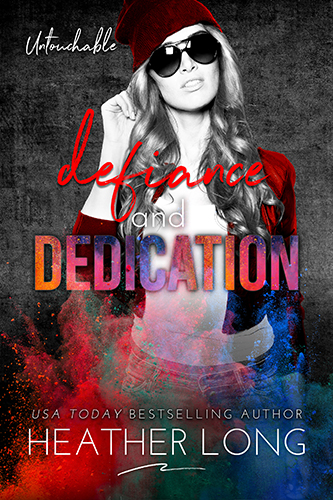 Defiance and Dedication
by
Heather Long
Series:
Untouchable #9
Published by
Self-Published
on August 24, 2021
Genres:
New Adult and College Romance
,
Reverse Harem
Format:
eBook
Source:
Kindle Unlimited
Goodreads
Purchase at
Amazon
|
Barnes & Noble

Autumn in New York promises a turn in the seasons as we kick off the next stage of our lives. Colorful leaves falling, dropping temperatures, and the first days of classes loom even as the lingering summer heat and humidity make the city stifling.
Summer was a time to get away, to just be us, and what a magical time it was, but we can only run away from our lives for so long. We have family, careers, friends—new and old—as well as commitments waiting for us. With a new place to call our own in a new city I'm already half-in-love with, we're not afraid of the challenges ahead.
Of course, not everyone is rooting for us, not everyone wants us to succeed, and some choices may come back to haunt us. But don't come for those I love and expect me to do nothing. They might want to surround me in a layer of protection, but they're mine and I'm more than willing to fight to keep them.
Feel free to test me, I've never failed one yet.
*Please note this is a reverse harem and the author suggests you always read the forward in her books. Contains some bullying elements, mature situations, and is recommended for 17+. This is the ninth in a series and the story will continue through future books.
---
Defiance and Dedication is the ninth book in Heather Long's Untouchable series. If you want to start this series, I recommend reading in order because the series follows the main characters from high school to college, and each book leaves readers on a cliffhanger. There is a total of twelve books, and the series is complete. I'm glad I waited to read this series after it was complete because I would have gone insane waiting for the books to release due to the cliffhangers being brutal at times.
Storyline/My Thoughts: One thing I've loved while reading this series is how the characters feel like family because I'm reading about how they have grown from their senior year in high school to now attending college in New York. I was excited to finally read that Frankie and her boyfriends were in college and now living in New York together. No more drama for Frankie and her boyfriends; at least, that is what they thought.
Book nine picks up from that brutal cliffhanger Heather Long left her readers on, and I know I was probably not the only one who was anxious because you would think Frankie and her boyfriends would finally have some kind of peace. Unfortunately, Frankie still has that one person who wants to make her life difficult, and this time, this person does something so heinous that Frankie and her boyfriends have to involve the authorities and lawyers.
Here's the issue I had while reading this book, and I may be in the minority. The book was okay, but it didn't grasp me like previous books in the series. It felt like book one, where it had repetitive detailed information that was unnecessary, and the conflict between the two boys could've easily been resolved if communication had been done. It took Coop to call Jake and Archie out on their issues with one another, and then Frankie was clueless about what was happening because she was going behind the boys' backs to get her own answers on what happened during her accident. They normally communicated with one another, which felt out of character for all of them. I considered that it was due to them being in a new place and trying to get comfortable being college kids instead of high school kids. There was also an inconsistency in the book that I picked up right away. I even highlighted the section in the beginning and the part where it is mentioned again. It's when Frankie is in the hospital recovering from the accident. At the beginning of the book, she's supposedly there for months and missed school because of it. Later, it's mentioned that she was only there for a few hours. This drove me crazy when I found this while reading.
I enjoyed Frankie hanging out with her birth father and his family in this book. Frankie finally has a parent who cares for her well-being; she has siblings who adore her. I also loved how Frankie was going to spend time with her boyfriends individually again, and in this book, there's a peak moment between her and Ian with their music. Don't worry; there are many spicy moments between the characters, too, and I always enjoy how the guys treat Frankie differently in and out of the bedroom.
This book does have another cliffhanger, and it's one of those gripping ones where you are on the edge of your seat because it's not for the faint of heart. This is one reason why I like this series by Heather Long because she has my emotions going up and down. I sometimes can handle it, and for others, I can't. I want Frankie and her boyfriends to get their HEA. I know it's coming, and I have three books to read to get there. When I read the last book, I'll be sad because Frankie and her boyfriends have become family to me. I don't want to let them go just yet.
Overall, this book may not go down as a favorite, and it's only getting three stars from me, but I'm still reading this series. I need to know what happens next.
Steam/Spice: 🌶 🌶 🌶 🌶
Genre/SubGenre(s)/Trope(s)/Element(s): Romance | New Adult & College Romance | Reverse Harem/Why Choose | Friends to Lovers | Found Family | BDSM
Cliffhanger: Yes.
Kindle Unlimited/Kobo Plus: The books are currently available on Kindle Unlimited. (as I type up this review, 6/2023).
Would I recommend this book? I may have only given this book three stars, but that doesn't mean I won't recommend it to readers who have been reading this series from the beginning. If you enjoy Mature YA to New Adult Reverse Harem books, this series may be up your alley.

This post contains affiliate links you can use to purchase the book. If you buy the book using that link, I will receive a small commission from the sale. It will help sponsor future giveaways but costs you nothing extra. You can read the full disclosure underneath the Privacy Policy.
---
---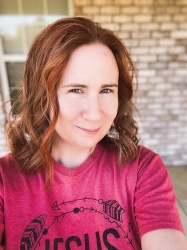 Latest posts by FranJessca
(see all)