Review: 'Defiant Queen' by Meghan March
September 16, 2022
This book may be unsuitable for people under 18 years of age due to its use of sexual content, drug and alcohol use, and/or violence.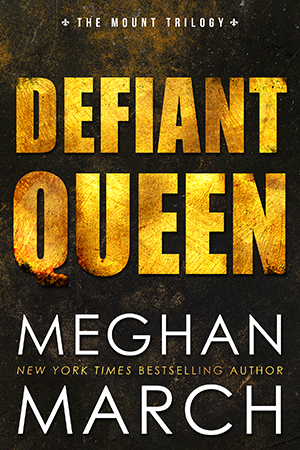 Defiant Queen
by
Meghan March
Series:
Mount Trilogy #2
Published by
Self-Published
on October 14, 2021
Genres:
Dark Erotic Romance
Format:
eBook
Source:
Purchased
Goodreads
Purchase at
Amazon
|
Barnes & Noble
|
Kobo

The Mount Trilogy continues with Defiant Queen...
I'm his entertainment. His toy. Payment on a debt. I tell myself I hate him, but every time he walks into the room, my body betrays me. How can I want him and fear him in the same moment? They told me he'd mess with my head. Make it go to war with my body. But I didn't realize it would be complete anarchy. I should've known better. When Mount's involved, there are no rules. I will not surrender. I will not show weakness. I'll stand my ground and make it out of this bargain with my heart and soul intact. But he has other plans . . .
Defiant Queen is the second book of the Mount Trilogy. Mount and Keira's story concludes in Sinful Empire.
---
After finishing Ruthless King, I immediately wanted to pick up Defiant Queen because of that dang cliffhanger, but I held off and read some other books. I wish I had read the books back-to-back, but life happens. I had to hold off for a month. Now, I need to read the third and final book in the Mount Trilogy because there was another cliffhanger at the end of the second book. Meghan March, I usually have mixed feelings for cliffhangers because my anxiety can't handle cliffhangers. I would be chewing on my nails and waiting for the trilogy's next book if I had read these books when they were first released. I'm glad I'm reading this trilogy when it's completed. 
Storyline/My Thoughts: I love this trilogy by Meghan March and now have made it my mission to read ALL her books. I printed out her long book list and will start on the other books after I finish with Keira and Lachlan's trilogy. 
But, first, let me give you the reasons why I gave the second book in the Mount Trilogy five stars:
Lachlan Mount and his overbearing alpha qualities and how protective he is with Keira Kilgore, even though he doesn't want to be with her. The truth and how he met her initially. Steamy! No wonder why he is obsessed with her and wants her body, mind, heart, and soul. 
I loved Lachlan's POV from when he was younger. I learned about his character, how he grew up, and why he was the way he is now as an adult.
Keira Kilgore and how she fights back not only with Lachlan and his controlling sadistic ways but how she is a workaholic and wants her distillery to be a success. She is determined to do whatever she can to have her distillery take off without anyone's assistance; even Lachlan loves that quality about her.
The steam and spice factor between Lachlan and Keira was off the charts again in this book. There's some anal play and other things again because Lachlan wants Keira to give herself to him. He's having her explore herself in ways she never did with her ex-husband. He gets advice from someone on the best way to win her over, and it's not by unaliving someone that comes back into her life. (Not giving it away since it was part of the cliffhanger from the first book.) My favorite scene involves the hotel in Ireland where Lachlan has taken her as a surprise. You will need a cold shower with the spicy scenes between Lachlan and Keira. There are also still angsty moments between the characters because Keira is not ready to give herself over to Lachlan just yet. 
The drama and suspense in the book are happening, especially when it comes to Keira's past and Lachlan's present. Lachlan is dealing with bad people who may target Keira if they discover his obsession with her. Lachlan does some things in this book that are out of character for him, and people are starting to notice.
The ending involves another dang cliffhanger, but it's one where it leaves you in shock, and you immediately want to pick up the third and final book.
I loved how Lachlan is changing to win over Keira, but he's still that alpha-hole when it comes to being the big wig in New Orleans. I fear for whoever crosses his path after reading the end of this book. 
Yes, I loved this book, too, just as much as the first, and I can't wait to find out what happens next. I'll be picking up the final book soon of the trilogy. This trilogy is definitely worthy of another re-read in the future, with how much I'm enjoying it.
Standalone or Part of Series: It's part of the Mount Trilogy, and I recommend reading in order.
Steam/Spice: ⭐️ ⭐️ ⭐️ ⭐️
Trope(s)/Element(s): Enemies to Lovers, Mafia Romance, BDSM, Touch Her and I'll Unalive You
Cliffhanger: Yes
Would I recommend this book? Yes. If you enjoy Dark Romance with suspense, BDSM, and mafia elements, you should pick up this book/trilogy.
Favorite Quote(s): I realized my last foster mom was wrong hen she called me the spawn of Satan. I was the devil himself.
I see Keira Kilgore exactly for what she's becoming—the one woman who might be strong enough to stand by my side and rule an empire.
"Mine." It's the scariest thing I've ever heard him say, because I'm starting to believe him.

This post contains affiliate links you can use to purchase the book. If you buy the book using that link, I will receive a small commission from the sale. It will help sponsor future giveaways but costs you nothing extra. You can read the full disclosure underneath the Privacy Policy.
---
---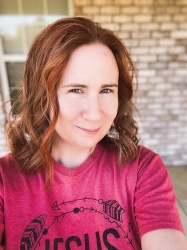 Latest posts by FranJessca
(see all)