Review: 'Eternal Kiss' by Laura Wright
September 21, 2021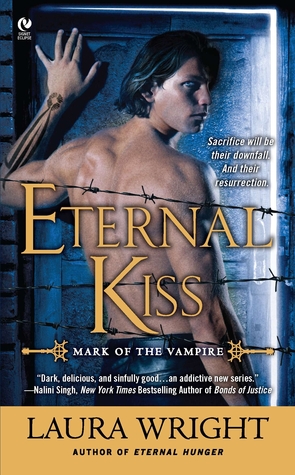 Eternal Kiss
by
Laura Wright
Series:
Mark of the Vampire #2
Published by
Signet Eclipse
on April 5, 2011
Genres:
Paranormal Romance
Format:
eBook
Source:
Purchased
Goodreads
Purchase at
Amazon
|
Barnes & Noble
|
Kobo

Sacrifice will be their downfall. And their resurrection.
Family is blood.
His father unknown, his mother dead, Nicholas Roman was raised by the vampire Breed with one wish: to live as a normal vampire. But once he's transformed against his will into a gifted immortal, Nicholas now has one goal: to stop the Eternal Order of vampires from controlling his life and from transforming more males from his bloodline for their vicious reign. Then comes a beautiful stranger with a startling secret.
Vampire Kate Everborne claims she's sheltering Nicholas' long-lost son. If this is true, then who is the mother? And how endangered are they if, indeed, Nicholas does possess the bloodline so coveted by the Order? These are questions that with every seductive whisper, every silken touch, draw Nicholas and Kate intimately closer and nearer still to the truth. But aroused too are Nicholas' fears that this tantalizing woman has even more secrets—both dangerous and provocative—she has yet to share.
---
I read Eternal Kiss by Laura Wright for the first time back in 2012. I never got around to reviewing it. I decided to re-read it so that I could have given it an accurate review. Eternal Kiss is the second full-length novel to Laura Wright's Mark of the Vampire series. I'm so glad I re-read it so that I can enjoy Nicholas and Kate's story again. 
Storyline/My Thoughts: This time around, Laura Wright gives us Nicholas's story. He's the Roman brother who is a tortured hero. I always fall hard for a tortured hero, especially after finding out their back story. Now, he's been forced to be morphed by the Order and bring them Ethan Dare. Alexander was supposed to take care of Ethan, but they found out that Ethan has abilities that they were not aware of at first.
Nicholas never expected he would have a son, but that is where Kate Everborn comes into his life. She says that she has his long-lost son after his mother was killed. Nicholas is not sure to believe her. He thinks she may be working for Ethan Dare. Both Nicholas and Kate are wary of each other, but they both have tortured pasts/presents. Kate has been forced to be imprisoned for several years, and she was about to be done with her sentence until the Order believes she escapes.
I enjoyed getting to know Nicholas more in this story. He had a really rough childhood and continues to live in the world that he was forced into when he was younger. Everyone but his family knows about his reputation, and he will do anything to keep the truth from them. I adored his character also because he is all about his family, especially when he doesn't want Lucian to morph.
I liked Kate, but she will not be a favorite heroine in the series (so far). It bothered me when she had trust issues, especially with Nicholas. However, he did do something in the book that would make me not trust him until he explains why. She also kept things from Nicholas, which drove me crazy. I don't particularly appreciate when heroes/heroines keep things from each other. It drives me crazy, but I understand it makes the story more interesting at times.
Some exciting things come to light in this book, and one of them dealing with Ethan Dare. He's the villain in the story, but he may not be the big evil villain of the whole series—no spoilers from me.
Laura Wright had to leave me hanging at the end of this book with the possibility of what will happen in Lucian's story. I can't believe she left a cliffhanger. Now, I have to make time to re-read Lucian's story because I can't remember what happened. It's been so long.
Overall, this book receives four stars from me. I enjoyed the storyline and can't wait to dive into the next book again.
Standalone or Part of Series: It's part of the Mark of the Vampire series, and I recommend reading in order.
Steaminess: ⭐️ ⭐️ ⭐️
HEA: Yes. (for Nicholas and Kate)
Cliffhanger: Yes. It leaves the reader with questions about Lucian Roman and his Fated Mate.
Would I recommend this book? Yes. If you enjoy Paranormal Romance with Vampires in it, then you'll enjoy this book. If you enjoy steamy moments, too, in your book, then you'll love this series. I love Laura's stories, but I love the romance in her books, too. =)

This post contains affiliate links you can use to purchase the book. If you buy the book using that link, I will receive a small commission from the sale. It will help sponsor future giveaways but costs you nothing extra. You can read the full disclosure underneath the Privacy Policy.
---
---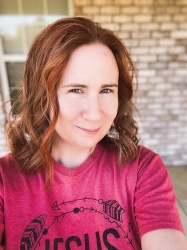 Latest posts by FranJessca
(see all)