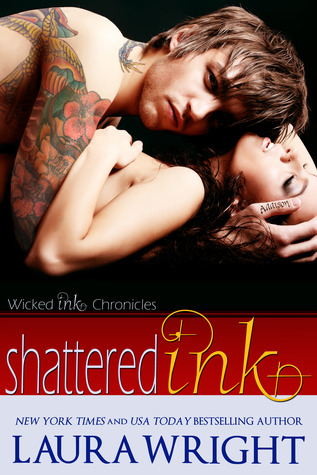 Shattered Ink
by
Laura Wright
Series:
Wicked Ink Chronicles #2
Published by
Self-Published
on October 14, 2013
Genres:
New Adult
Format:
eBook
Source:
Purchased
Amazon Kindle
Goodreads

AddisonShe is totally and utterly in love. She can't focus, can't sleep. She doesn't want to hang out with friends, doesn't even care if she graduates from college in a week. All she wants is Rush, and her obsession for him is scaring her. Unable to handle the fear that brings up ugly memories of being abandoned as a child, Addison withdraws to protect herself. But that may backfire when an old flame of Rush's reappears in his life.
RushAddison is the only woman he wants in his bed. Hell, he's inked her name into his skin, and he plans on asking her to move in with him. Problem is, she's acting like she doesn't feel the same way about him. It's like something's changed between them. And when an old girlfriend comes back into the picture – stirring up memories and fears about his past – Rush knows that if he and Addison are ever going to have a chance at happiness, it's time to shatter the walls between them once and for all.
My Review Continue reading →
I received a complimentary copy of the book from the Author in exchange for an honest review. This does not affect my opinion of the book or the content of my review.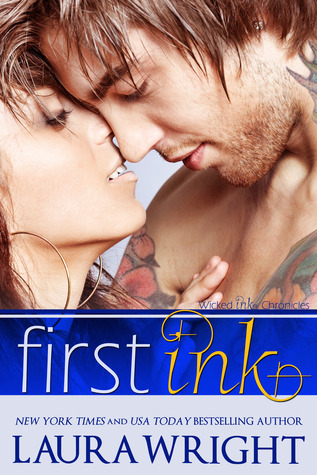 First Ink
by
Laura Wright
Series:
Wicked Ink Chronicles #1
Published by
LLC
on September 22, 2013
Genres:
New Adult
Pages:
83
Format:
eArc
Amazon Kindle
Goodreads

Rush
Women in his bed, celebs and rockers in his chair and a killer bank account at his disposal, life is pretty freaking swell. Then she walks back into it again. With her mismatched eyes, perfect pink mouth and a laugh that still haunts him, she gave him nothing but marvelous misery. Now she wants his hands on her again. Not for pleasure, but for pain. For Ink. A bleeding heart to match the one she left him with five years ago.
Addison
She can't forget him. No matter how hard she's tried. The pain she caused him in the past eats at her daily, and she can't move on with her life. But she has a plan, a hope for redemption – a way for him to take his revenge out on her flesh. But it'll only work if he lets her inside his exclusive world, under his famous artist's needle and into his bed—and heart-once again.
*First Ink can also be found in the Wicked Firsts Anthology releasing on August 19, 2013.*
My Review Continue reading →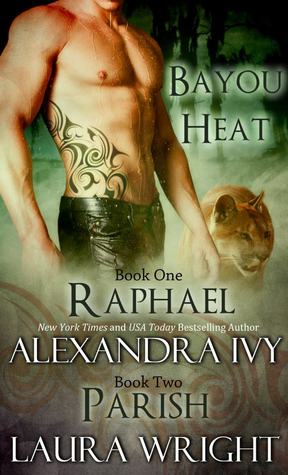 Raphael/Parish
by
Alexandra Ivy
,
Laura Wright
Published by
Self-Published
on January 7th 2013
Genres:
Paranormal Romance
Pages:
183
Format:
eBook
Source:
Purchased
Amazon Kindle
|
Amazon Paperback
Goodreads

RAPHAEL
The brilliant and dangerous diplomat of the Pantera shapeshifters, Raphael has devoted his life to discovering the key to the infertility that is threatening the extinction of his puma race. Creating a vast network of spies worldwide, he never expected to discover that the answer might be beneath his very nose. But when Ashe, a beautiful human female, crosses his path, his most primitive instincts are stirred. Unable to resist, he takes her to his bed, and is shocked when she becomes pregnant with his child. It's a miracle that might prove to be the salvation of his people, but only if he can keep her safe from the mercenaries determined to kill her.
PARISH
Untamed and undeniably sexy, Parish, leader of the Pantera hunters, rarely leaves the magic of the Wildlands to deal with the humans he despises. But with the prized and risky Pantera birth on the way, puma shifter, Parish must travel to New Orleans to find and bring back a human doctor. The moment he sees the lovely, talented and all too human Dr. Julia Cabot he cannot resist the wild, potent drive to make her his. Betrayed and destroyed by love, Julia will not let her heart choose her path again. But as she and Parish fight to save the life of an unborn child, a fierce and overwhelming bond develops between them, threatening her frozen heart with the secret hope and ultimate temptation of love and family.
My Review