Review: 'Eternal Hunger' by Laura Wright
August 3, 2021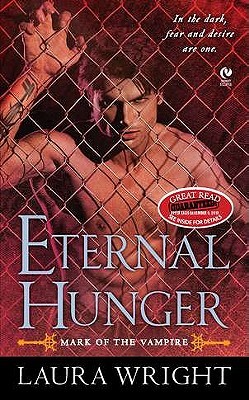 Eternal Hunger
by
Laura Wright
Series:
Mark of the Vampire #1
Published by
Signet Eclipse
on October 5, 2010
Format:
eBook
Source:
Purchased
Goodreads
Purchase at
Amazon
|
Barnes & Noble
|
Kobo

In the dark, fear and desire are one.
Alexander Roman wants nothing to do with the controlling rulers of his vampire breed or the family he escaped from a hundred years ago. But as a new threat to the pureblood vampires emerges, Alexander's ties to the past are forced upon him again, and without warning, he finds himself— disoriented, terrified, and near death—at the door of a stranger.
Fear is in the blood.
Dr. Sara Donohue is dedicated to removing the traumatic memories of her patients—like those of the stranger at her front door. But what he tells her of his past is too astonishing to believe. Yet she has seen his flesh scarred by the sun and witnessed his inhuman strength. And never before has she felt so connected to a man.
Love is eternal...
But as their worlds collide, Sara and Alexander are bound by something stronger, as one becomes hunter and the other prey.
---
I read Eternal Hunger back in 2012 for the first time and enjoyed it. I had a vampire obsession back then and still due to this day. I found I never finished this series and decided to dive back from the beginning and finally finish reading it.
Storyline/My Thoughts: If you are looking for sparkly vampires, then this series is not it. Laura Wright takes readers back to vampires that are scary and dangerous. I loved reading this book back in 2012 and enjoyed it again for the second time this year, 2021. Alexander Roman is a Pure Vampire, but he defies the rulers of his vampire breed by escaping them a hundred years ago. Unfortunately, a threat is upon the pureblood vampires, and the Eternal Order needs Alexander's help. Alexander finds himself changed and on a stranger's doorstep. He's going through changes, and he can no longer be in the sunlight. Dr. Sara Donahue never expects to help a stranger, and she has no idea who or what he is, but she's about to be thrown into his world.
I loved this world that Laura Wright created, but be prepared to have a data dump at the beginning of the book. There are words/phrases that readers may know at first, but Laura Wright does a fantastic job of defining them. Readers will also be introduced to Alexander's brothers in this book that each have different personalities and powers. I can't wait to dive into their books in the series.
Poor Sara Donahue is about to find out that there are creatures that bump into the night. Fate has brought her and Alexander together, though, and I loved these two's connection. At first, it's rough, but then it turns into something else. I loved how the storyline twisted towards the end. It was a shocker, but a great one with these two characters. I'm not going to give anything away to readers that haven't read this book/series yet.
The drama in this book is one big group that wants to change everything about the pure and impure vampires. Alexander and his brothers are given a deadline to deal with the threat. Still, it's not going to be an easy one, especially since Alexander has become protective of Dr. Sara Donahue.
Overall, the first book in the series receives 4.5 stars from me. I can't wait to dive into the second book in the series, especially since Laura Wright left me wanting more at the end of this book.
Standalone or Part of Series: It's part of the series. Each follows a new couple, but the storylines connect. I would recommend reading to get the best reading experience.
Steaminess: ⭐️ ⭐️ ⭐️ ?
Trope: Fated Mates
HEA: Yes.
Would I recommend this book? Yes. I would recommend this book/series by Laura Wright if you are obsessed with the Paranormal Romance genre. It has pure and impure vampires, alpha males, and a strong heroine—everything I love in a great PNR.

This post contains affiliate links you can use to purchase the book. If you buy the book using that link, I will receive a small commission from the sale. It will help sponsor future giveaways but costs you nothing extra. You can read the full disclosure underneath the Privacy Policy.
---
---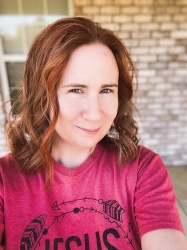 Latest posts by FranJessca
(see all)