I received a complimentary copy of the book from the Netgalley in exchange for an honest review. This does not affect my opinion of the book or the content of my review.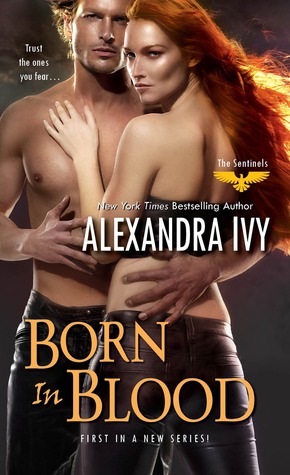 Born in Blood
by
Alexandra Ivy
Series:
The Sentinels #1
Published by
Zebra
on December 31, 2013
Genres:
Paranormal Romance
Pages:
373
Format:
eArc
Source:
Netgalley
Amazon Kindle
|
Amazon Paperback
Goodreads

In a stunning new paranormal romance series—even edgier than her bestselling Guardians of Eternity books—New York Times bestselling author Alexandra Ivy lures readers into the dark, seductive world of the Sentinels—humans outcast by their hidden abilities, treading the line between life and death, good and evil, pleasure and pain…
Born In Blood
Sergeant Duncan O'Conner has seen it all before. A beautiful erotic dancer is found murdered in her home—no suspect, no motive. But there's one clue: she's missing her heart. It's enough to make the hard-bitten Kansas City cop enlist the help of a necro—one of the dead-channeling freaks who live in the domed city of nearby Valhalla. It's a long shot, but desperate crimes call for desperate measures.
Unlike the other "high-bloods" in Valhalla, Callie Brown considers her abilities a gift, not a curse. But when she reads the dancer's final thoughts, she senses a powerful presence blocking her vision. This is no ordinary homicide. This is the work of a legendary necromancer who controls souls. A ravenous force that will put Callie's skills to the test, O'Conner's career at risk, and both their hearts on the line…literally.
My Review Continue reading →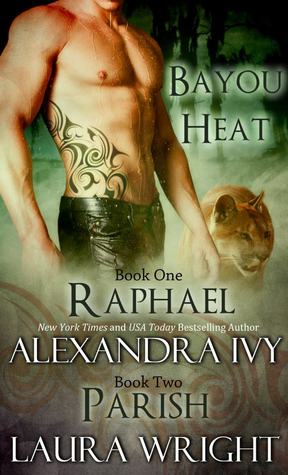 Raphael/Parish
by
Alexandra Ivy
,
Laura Wright
Published by
Self-Published
on January 7th 2013
Genres:
Paranormal Romance
Pages:
183
Format:
eBook
Source:
Purchased
Amazon Kindle
|
Amazon Paperback
Goodreads

RAPHAEL
The brilliant and dangerous diplomat of the Pantera shapeshifters, Raphael has devoted his life to discovering the key to the infertility that is threatening the extinction of his puma race. Creating a vast network of spies worldwide, he never expected to discover that the answer might be beneath his very nose. But when Ashe, a beautiful human female, crosses his path, his most primitive instincts are stirred. Unable to resist, he takes her to his bed, and is shocked when she becomes pregnant with his child. It's a miracle that might prove to be the salvation of his people, but only if he can keep her safe from the mercenaries determined to kill her.
PARISH
Untamed and undeniably sexy, Parish, leader of the Pantera hunters, rarely leaves the magic of the Wildlands to deal with the humans he despises. But with the prized and risky Pantera birth on the way, puma shifter, Parish must travel to New Orleans to find and bring back a human doctor. The moment he sees the lovely, talented and all too human Dr. Julia Cabot he cannot resist the wild, potent drive to make her his. Betrayed and destroyed by love, Julia will not let her heart choose her path again. But as she and Parish fight to save the life of an unborn child, a fierce and overwhelming bond develops between them, threatening her frozen heart with the secret hope and ultimate temptation of love and family.
My Review