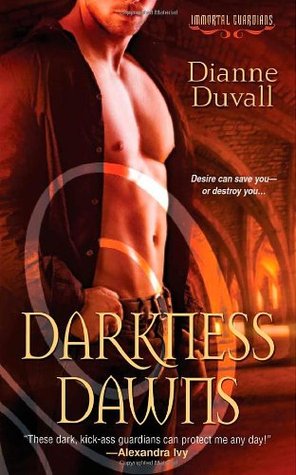 Darkness Dawns
by
Dianne Duvall
Series:
Immortal Guardians #1
Published by
Zebra
on February 1, 2011
Genres:
Paranormal Romance
Pages:
345
Format:
Paperback
,
AudioBook
Source:
Purchased
,
Audible Escape
Amazon Kindle
|
Amazon Paperback
|
Audible
|
Barnes & Noble
Goodreads

In this dazzling, sensual novel, Dianne Duvall beckons readers into a world of vampires, immortals, and humans with extraordinary gifts…where passion can last forever, if you're willing to pay the price…
Once, Sarah Bingham's biggest challenge was making her students pay attention in class. Now, after rescuing a wounded stranger, she's landed in the middle of a battle between corrupt vampires and powerful immortals who also need blood to survive. Roland Warbrook is the most compelling man Sarah has ever laid hands on. But his desire for her is mingled with a hunger he can barely control…
In his nine centuries of immortal existence, no woman has tempted Roland as much as Sarah. But asking her to love him is impossible—when it means forfeiting the world she's always known, and the life he would do anything to protect...
I received a complimentary copy of the book from the Netgalley in exchange for an honest review. This does not affect my opinion of the book or the content of my review.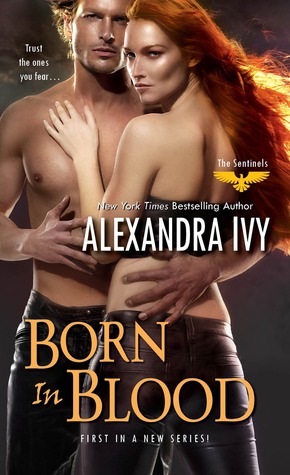 Born in Blood
by
Alexandra Ivy
Series:
The Sentinels #1
Published by
Zebra
on December 31, 2013
Genres:
Paranormal Romance
Pages:
373
Format:
eArc
Source:
Netgalley
Amazon Kindle
|
Amazon Paperback
Goodreads

In a stunning new paranormal romance series—even edgier than her bestselling Guardians of Eternity books—New York Times bestselling author Alexandra Ivy lures readers into the dark, seductive world of the Sentinels—humans outcast by their hidden abilities, treading the line between life and death, good and evil, pleasure and pain…
Born In Blood
Sergeant Duncan O'Conner has seen it all before. A beautiful erotic dancer is found murdered in her home—no suspect, no motive. But there's one clue: she's missing her heart. It's enough to make the hard-bitten Kansas City cop enlist the help of a necro—one of the dead-channeling freaks who live in the domed city of nearby Valhalla. It's a long shot, but desperate crimes call for desperate measures.
Unlike the other "high-bloods" in Valhalla, Callie Brown considers her abilities a gift, not a curse. But when she reads the dancer's final thoughts, she senses a powerful presence blocking her vision. This is no ordinary homicide. This is the work of a legendary necromancer who controls souls. A ravenous force that will put Callie's skills to the test, O'Conner's career at risk, and both their hearts on the line…literally.
My Review Continue reading →