Review: 'Darkness Dawns' by Dianne Duvall #Romanceopoly2020
March 21, 2020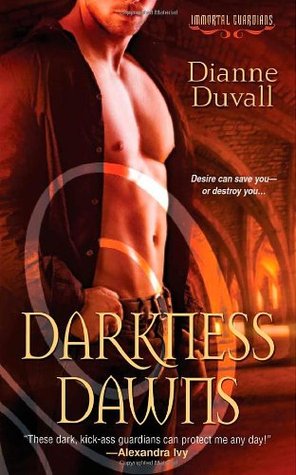 Darkness Dawns
by
Dianne Duvall
Series:
Immortal Guardians #1
Published by
Zebra
on February 1, 2011
Genres:
Paranormal Romance
Format:
Paperback
,
AudioBook
Source:
Purchased
,
Audible Escape
Goodreads
Purchase at
Amazon
|
Barnes & Noble

In this dazzling, sensual novel, Dianne Duvall beckons readers into a world of vampires, immortals, and humans with extraordinary gifts…where passion can last forever, if you're willing to pay the price…
Once, Sarah Bingham's biggest challenge was making her students pay attention in class. Now, after rescuing a wounded stranger, she's landed in the middle of a battle between corrupt vampires and powerful immortals who also need blood to survive. Roland Warbrook is the most compelling man Sarah has ever laid hands on. But his desire for her is mingled with a hunger he can barely control…
In his nine centuries of immortal existence, no woman has tempted Roland as much as Sarah. But asking her to love him is impossible—when it means forfeiting the world she's always known, and the life he would do anything to protect...
---
I've meant to read the Immortal Guardians series by Dianne Duvall for such a long time that I'm glad I read it during the #Romanceopoly2020 Challenge. It fulfilled 'The Vault' square for the challenge for being one of the longest PNR books on my TBR list on Goodreads. Yup…this challenge is making me read older books from my ever-growing TBR list.
I loved the idea of Immortal Guardians protecting the world from evil vampires. At the beginning of the first book, one of the Immortal Guardians, Roland, finds himself in trouble and almost getting killed by a bunch of vampires. It's a human female, Sarah, that ends up saving him, even though she has no idea what he is and who the bad guys were that were trying to kill him. Here's when Roland has to come up with a story to prevent her from finding out the truth. He's an Immortal Guardian and doesn't want to scare her. She's eventually going to find out, and she ends up taking pretty well compared to what others would've done in her case. Roland ends up putting Sarah in danger, though, and he'll end up needing his Immortal Guardian friends to help. Roland, though, has never asked for help because he prefers to work in solitude. He doesn't trust because he's been betrayed in his past. He's going to have to learn to trust since he now has a human wanting to help him.
I liked the first book to the Immortal Guardians series due to its world-building Dianne Duvall created for her readers. I also liked the secondary characters and looked forward to reading their books later on. Those two things, plus listening to the book, instead of reading it, made the book enjoyable. Unfortunately, I didn't connect well with Roland and Sarah. I think it's due to the love at first sight feeling I got from the two characters. I didn't feel their romance. I'm more interested in Seth and the other Immortal Guardians. I did enjoy the ending and the shock of who was behind the vampires going after the Immortal Guardians.
Will, I read the next book? Yes. I'll have to wait, though, since I have several other series I'm catching up reading on right now. I will come back to this series because I need to know where Dianne Duvall takes this series. Overall, this book gets 3.5-stars from me, but I would recommend it to PNR readers who have devoted vampire lovers like I am. Vampires are the reason why I started reading PNR back in high school.

This post contains affiliate links you can use to purchase the book. If you buy the book using that link, I will receive a small commission from the sale. It will help sponsor future giveaways but costs you nothing extra. You can read the full disclosure underneath the Privacy Policy.
---
---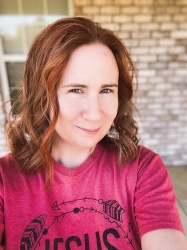 Latest posts by FranJessca
(see all)