Review: 'Eternal Rider' by Larissa Ione
May 3, 2012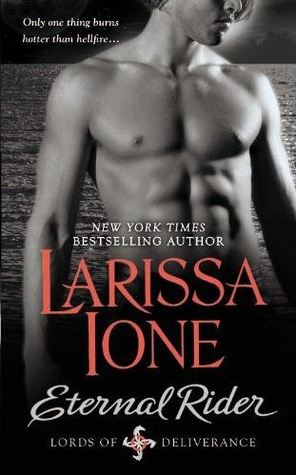 Eternal Rider
by
Larissa Ione
Series:
Lords of Deliverance #1
,
Demonica #6
Published by
Grand Central Publishing
on April 1st 2011
Genres:
Paranormal Romance
Format:
Paperback
Source:
Purchased
Goodreads
Purchase at
Amazon
|
Apple

They are here. They ride. The Four Horsemen of the Apocalypse.
His name is Ares, and the fate of mankind rests on his powerful shoulders. If he falls to the forces of evil, the world falls too. As one of the Four Horsemen of the Apocalypse, he is far stronger than any mortal, but even he cannot fight his destiny forever. Not when his own brother plots against him.
Yet there is one last hope. Gifted in a way other humans can't-or won't-understand, Cara Thornhart is the key to both this Horseman's safety and his doom. But involving Cara will prove treacherous, even beyond the maddening, dangerous desire that seizes them the moment they meet. For staving off eternal darkness could have a staggering cost: Cara's life.
My Review
I know I'm behind the curve on reading this series…but I'm one of those readers who has a hard time waiting for the next book coming out, especially with Larissa's books.  She's an AMAZING Author.
My partner in crime, Anna, sold me on reading this now since she told me that the Demonica characters get mentioned and end up in the first book.  OH HECK YES!!
I'm a HUGE fan of Larissa's Demonica Series.  I cried when I finished reading "Sin Undone" because I knew it was the last one at the time.
Now onto what I thought and a little sneak into the first book in the series.  It's a great start to the series.  I love how Larissa explains the background of the characters in the beginning.  She introduces you to the four horsemen and how they came to be known as the Four Horsemen of the Apocalypse: Ares, Limos, Thanatos, and Reseph.
She takes you for a ride in this book.  I fell head over heels for the male character in this book.  Love a male lead that has to be tamed.  I also love a strong heroine, which is precisely what Cara is.
Cara has had a rough life; she has no immediate family to go to for support.  She's on her own in South Carolina.  She's about to lose her house because she just lost her job.  She gave up her Veterinary Clinic due to certain circumstances.  She got dumped by her boyfriend who saw her as damaged goods after one day of coming home to her house being broken into and she was tortured by the home invaders.  She ends up killing one because of her special powers; she has no control over (you'll have to read the book to find out what those powers are).   She's been traumatized over it ever since.  One day she gets a knock on the door where she has to save a dog's life well..she think it's a dog.  She ends up not only saving his life but is bonded to him.  She then gets invaded again by strange men who think she is a demon.  All she wants to know is what the hell is going on and why they think she is a demon.  Then comes a scary, sexy man with armor who appears out of nowhere and kidnaps her from the invaders.  He wants to know how she saved the "hellhound" (dog) and where it went because the person or thing that took him, he's been searching for a while.
She has no idea the man who saved her from the invaders is going to change her world.
Before we are even introduced to Cara, we get a glimpse of Ares, the male lead, but I don't want to spoil anything for anyone who hasn't read the book.  Let's say he's had a rough life too and that's a LONG rough life.  I felt sorry for Ares when I found his story.
Ares is one of the four horsemen.  He's also known as War.  All four horsemen have a seal; if broken, they will become the evil demon that has control of them.  Ares is War…so he would end up causing war and fights everywhere on the Earth.  He's trying to prevent his seal from being broken, and that is why he comes across Cara who has come across what he needs to find.  Ares brother, whose seal has been violated is trying to crack Ares seal.  Ares is trying to prevent it, but of course, it's never easy.  He doesn't want an Apocalypse happening, but it seems it may end up coming to be if he doesn't get his ass together to stop it.  He has the other horsemen, his other brother, and sister to help him, but they also have to protect their seals.
Now…no more explaining the book.  I will end up giving away the good parts, and I do not want to spoil for anyone.
I finished this book in two days.  I would've completed it in one day, but I have a teething baby at home and a six-year-old who steals me away to play her Michael Jackson Wii game (which I love playing).  When I did get a chance to read the book, there was no stopping me.  I would be cooking, cleaning, just walking around the house with the book in my hand.  I can do two to three things at once…damnit.
I enjoyed this book, and I'm waiting for my library to supply me with the second one since my hubby says I've spent too much money on books in the last few months, that I'm cut off for a little bit.  Damn him!!
I recommend this book to anyone who adores Larissa's writing style (as I do…she'll always be a FAVE), loves paranormal romances, and loves a new storyline that involves preventing an apocalypse from happening.
Oh…and if you've read the Demonica Series and miss the characters, well they play a part in this book too.  Let's say I'm getting what happened in the last book to the Demonica Series now.
I look forward to Limos, the sister horse(woman) next.  =)  I already know who she will be hooking up with after reading this book.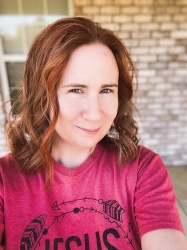 Latest posts by FranJessca
(see all)