Review: 'Firstlife' by Gena Showalter #romanceopoly
January 27, 2019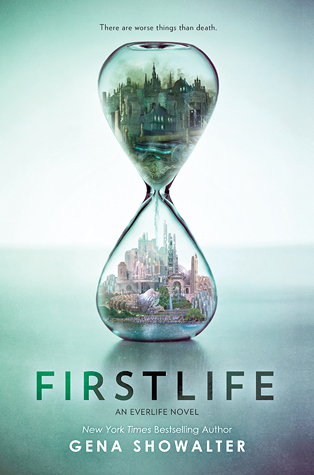 Firstlife
by
Gena Showalter
Series:
Everlife #1
Published by
Harlequin Teen
on February 23, 2016
Genres:
Young Adult Dystopian
Format:
Hardcover
,
AudioBook
Source:
Purchased
Goodreads
Purchase at
Amazon
|
Apple
|
Google Play
|
Kobo

Step one...you die.
ONE CHOICE. TWO REALMS. NO SECOND CHANCE.
Tenley "Ten" Lockwood is an average seventeen-year-old girl…who has spent the past thirteen months locked inside the Prynne Asylum. The reason? Not her obsession with numbers, but her refusal to let her parents choose where she'll live — after she dies. There is an eternal truth most of the world has come to accept: Firstlife is merely a dress rehearsal, and real life begins after death.
In the Everlife, two realms are in power: Troika and Myriad, long-time enemies and deadly rivals. Both will do anything to recruit Ten, including sending their top Laborers to lure her to their side. Soon, Ten finds herself on the run, caught in a wild tug-of-war between the two realms that will do anything to win the right to her soul. Who can she trust? And what if the realm she's drawn to isn't where the boy she's falling for lives? She just has to stay alive long enough to make a decision…
Gena Showalter is an auto-buy author for me. I have pretty much every book she's ever written in my bookcase. I decided to sign up for the Romanceopoly Challenge created by @utcbookblog and @peacelovebooksxo. My first roll for the challenge ended up on Growing Pains Place, which is to a young adult book (fantasy or contemporary). I chose to read Firstlife by Gena Showalter, which has been on my Goodreads TBR list for a while.
Once I started reading Firstlife, it reminded me of the Divergent series a little bit. (The movies since I never got a chance to read the books. Pet Peeve #1: If I watch a movie before reading the book, then I can't ever read the books. Otherwise, I will be visualizing the movie actors for the book characters.)
The main female character Tenley 'Ten' Lockwood is a normal 16-year-old girl who is stuck in an Asylum thanks to her parents. Her parents want her to choose which realm she'll live in after she dies. She's living her first life right now. Her second life is when she lives in one of two realms, either Myriad or Troika. Both realms are enemies of each other and are different from each other. Tenley doesn't want to sign with either until she really lives her life in her Firstlife. Until she makes her choice though she'll be stuck in the Asylum with other unsigned. Tenley is about to be in the middle of both realms due to them wanting her in their realm. They will send their own Laborers to try to convince her to sign with them. In comes the best to win her over.
Now onto my review though of Firstlife and what I thought about the first book in the trilogy. I loved the storyline, characters, action-packed scenes, and drama. This dystopian book is much different from other books I've read since it deals with the Everlife. I couldn't imagine having to decide, which realm to choose for my Everlife and poor Tenley is being pressured. She should be going through normal girl problems and not worrying about where she will end up at after she's dead in her Firstlife. I felt sorry for her and could find her hesitation on signing for one of the realms over the other. She should be able to choose and not be pressured. Both realms will do anything to win her over.
Ten's on the run most of the book, and she has some very handsome Laborers to try to persuade her to their realm. One I would consider the 'good boy' and the other the 'bad boy.' I'm rooting for one of them though for Tenley, and he has a very sexy accent and happens to be a part of the realm that Tenley's parents want her to sign with since they have signed with them.
Gena definitely put me through the wringer a couple of times in the book and poor Tenley she didn't have it easy. There were moments I was in shock on what happened. Let's not forget the cliffhanger at the end of the book. I was not expecting it at all, but then after I sat for a while after finishing the book, I knew why Tenley did what she did.
I'm onto the second book now by listening to it since I love the narrators that were chosen for the books. I became a fan of Emma Galvin with Kresley Cole's The Arcana Chronicles series.
I give Firstlife 5 stars and recommend it to fans of the YA Dystopian genre and Gena Showalter's fans too.
I'm glad I finally read the book thanks to the Romanceopoly Challenge. 🙂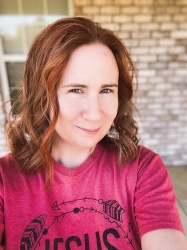 Latest posts by FranJessca
(see all)