Review: 'Forced Bonds' by J. Bree
October 28, 2022
This book may be unsuitable for people under 18 years of age due to its use of sexual content, drug and alcohol use, and/or violence.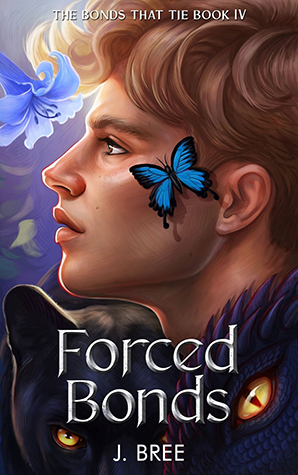 Forced Bonds
by
J. Bree
Series:
The Bonds That Tie #4
Published by
Self-Published
on March 26, 2022
Genres:
Dark Paranormal Reverse Harem Romance
,
Dark Romance
Format:
eBook
Source:
Kindle Unlimited
Goodreads
Purchase at
Amazon
|
Barnes & Noble
|
Kobo

They say to keep your friends close but your enemies closer;
What if they're one and the same?
The stable foundation I thought I'd built in the Sanctuary has been ripped away, and I find myself on the front lines of the war against the Resistance. I might have my Bonds on my side, but there are darker schemes in motion.
Can I prove myself and turn the tide to protect our most vulnerable, or am I nothing more than the monster they've always claimed I am?
Will we make it out of this without tragic consequences?
*Forced Bonds is a full length reverse harem PNR novel with material that may be difficult for some readers. This book will end on a cliffhanger. It's recommended for 18+ due to language and sexual situations.
---
Okay, now I'm officially on the Nox train after this book after learning he may be holding some dark trauma in him. He still is on my poopy list, though, especially with how he handles certain things. Don't even get me started on how I felt about the ending of Forced Bonds—no spoilers from me. Fair warning ahead of time for anyone who has not read the fourth book, you will need a tissue box near you. I'm still thankful I waited for the books to be released before I read this series since these cliffhangers that J. Bree keeps doing to me are triggering enough. How did the readers who originally read these when they were released survive?
Storyline/My Thoughts: I'm not going to go into the storyline for fear of spoiling this book/series for readers who have yet to experience this world that J. Bree has created.
Here's what I enjoyed about this book and why it didn't take me long to read.
Number One. Oli is on my top fave kick-butt heroine list (I have several heroines on this list, and Oli will be somewhere in my Top 5). The bond that lives in her is friggin' scary, and she will unalive anyone who touches her bonded or tries to harm someone she loves that she considers a friend. Everyone in this book should bow to her and run for their lives afterward for fear of pissing her off. The men in her life know her bond; if it gets out of hand will destroy many without remorse.
Number Two. Gryphon is still the TOP book boyfriend out of all the bonded. He is such a dirty talker when it comes to Oli. Yes, I love the ones who take control and know how to talk in the bedroom.
Number Three. Gabe is such a friggin' sweetheart of the bunch, and after he reveals to Oli how much he cares for her, he is willing to wait to bond with her until she is ready. Yes, he gets the second spot for book-boyfriend status with me. This book also reveals something about Gabe and what he can shift into, thanks to Oli's bond. Yes, he is such a kick-butt character as Oli. All of them are.
Number Four. I need to determine who I want for number three because it's a tie between Atlas and North. Both are very protective and possessive of Oli and will go off the deep end to protect her. It's hard to pick between them right now, so they share the number three spot. North though, has his shadows, but Atlas has strength. Seriously, hard to choose right now.
Number Five. Nox is winning me over in this series. It's taking some time, and I love how J. Bree has built up the suspense on his character. I got to spend more time in his head with his POV. He is harboring deep dark secrets, and I need to know what happened to him. The rest of the bonded males still don't want him alone with Oli, but Oli knows she can handle him. She's not scared of him. Her bond in her and Nox's bond are supposed to be together. It takes some coaxing for it to happen, though. There is a spicy scene with Nox in this book, finally.
Number Six. We are learning more about the bonds that share space with the characters, and I can't wait to find out more in the remaining books. I love this world that J. Bree has created for her readers. It's dark and twisted, and the characters are going through a lot, but it's like on a rollercoaster, and I'm there for the ride. I need more. I crave it, and I will be sad when I finish this series. Here's hoping I don't get into a reading slump.
Number Seven. What happened at the end of the last book and how J. Bree has the characters determining what happened to make a certain someone that was usually a sweetheart become an unaliver. The Resistance is getting dirtier, and there will be a lot more times when favorite characters are put into predicaments that make you want to scream at them in this book.
Number Eight. That friggin' ending left me with a major cliffhanger. I swear, J. Bree, that broke my damn heart. I needed to prepare. Why didn't you warn me ahead of time? How dare you make me cry? That last sentence. It shattered me. Thankfully, I'm starting the next book, and I know you will give me some peace, peace.
There are many more reasons why my review will get too long, so I'm stopping at number eight.
How do I rank this book? Do I need to shout it at the rooftops of Amazon? I give it five stars, and I'm immediately starting Tragic Bonds.
Here are some of my favorite quotes from the book that may convince you to try this book/series.
"Impossible. There's no one, not my bond or any of the other Bonds you're tied to, who loves you more than I do, Oleander. I will argue that point until I die, vehemently and with great pride. You're the reason my heart beats, and even if I don't deserve you, I'll go to my grave doing everything I can to be the man you do deserve. I know I've done a shitty job of it so far, but I'll prove myself to you."
I come again, my mind splintering apart at his rough treatment because I know that sometimes worship looks like degradation and, fuck I crave it.
"You're not the only one who decided to wait. I didn't—I couldn't stand the idea of touching anyone else.
"Spread that pretty pussy open for me, Bonded. It's been too long I need to remind it of who it belongs to."
Standalone or Part of Series: It's part of The Bonds That Tie series and must be read in order. This is book four of the series.
Steam/Spice: 🌶 🌶 🌶 🌶
Trope(s)/Element(s): Fated Mates (Originally Rejected). Found Family. Reverse Harem/Why Choose. Enemies to Lovers. Touch Her and I'll Unalive You. Touch Him and I'll Unalive You, too.
Content Warning(s)/Trigger(s): Violence. Death.
Would I recommend this book/series? Yes. I highly recommend this to readers who love Dark Paranormal Romance with Why Choose/Reverse Harem. This series has become an instant favorite and I will be rereading it over and over again. I love these characters and world.

This post contains affiliate links you can use to purchase the book. If you buy the book using that link, I will receive a small commission from the sale. It will help sponsor future giveaways but costs you nothing extra. You can read the full disclosure underneath the Privacy Policy.
---
---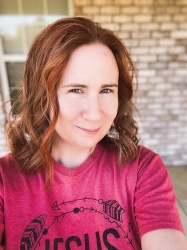 Latest posts by FranJessca
(see all)