Review: 'From Breath and Ruin' by Carrie Ann Ryan (Blog Tour)
March 28, 2019
I received a complimentary copy of the book from the blog tour host in exchange for an honest review. This does not affect my opinion of the book or the content of my review.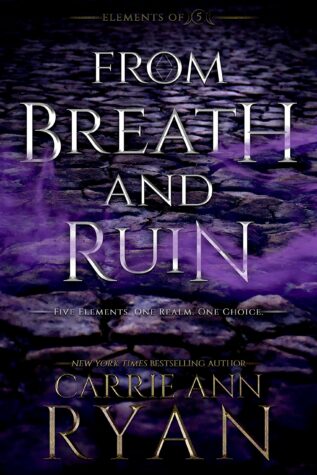 From Breath and Ruin
by
Carrie Ann Ryan
Series:
Elements of Five #1
Published by
Self-Published
on March 19, 2019
Genres:
Young Adult Fantasy
Format:
eArc
Goodreads
Purchase at
Amazon
|
Apple
|
Barnes & Noble
|
Google Play
|
Kobo

In her YA debut, New York Times bestselling author Carrie Ann Ryan dives into a world with magic and sacrifice with the Elements of Five.
Five hundred years ago, the Maison Realm was shattered, divided into warring kingdoms of elemental Wielders with fate and truth shadowed and uncertain. Now, factions of both the light and dark venture into the human realm in search of the prophesied Spirit Priestess who is said to Wield the Elements of Five and bring the two fractured kingdoms together.
Lyric has no idea that there's a realm outside the human one she lives in. When fate and circumstances are pulled from her hands after an accident, and she finds out that nothing is as it seems.
There is a war surrounding her and when Lyric realizes that they are searching for her, she must rely on those she once trusted: a boy who isn't who she thought, and a new realm of warriors who have come to protect her as she trains.
For the darkness is coming, and the Queen of Obscurite wants to ensure that the King of Lumiere can't get his hands on Lyric. And the only way to ensure that is if Lyric herself is no more ... no matter the cost to prophecy.
My Review
From Breath and Ruin was (and lived up to be) one of my 'Most Anticipated' books to read in 2019 because…
1. It's the first book in Carrie Ann Ryan's new YA Fantasy series. I've read PNR from her but was anxious to find out what story she came up within this genre.
2. I love the YA Fantasy genre. (Okay…that is just a gimme since this genre is what always gets me out of reading funks.)
3. I loved the synopsis of From Breath and Ruin immediately and wanted to find out where Carrie Ann Ryan was going to take me in this series.
4. After reading it now, I want more, especially since I need more of Lyric, Rhodes, Rosamund, and even Easton. Let's also not forget the storyline and how Carrie Ann Ryan kept me engaged in the story too.
Okay, now that I got some reasons why I chose this book to be a most anticipated book to me, let's get not onto an actual quick review of the book.
First, off this being the first book in the series there is going to be a lot of world-building and story-telling in this book. Although, it does take time to get there. Be prepared. Give it time. The main character Lyric has been dealing with dreams/nightmares for most of her life, but she starts seeing things in her nightmares in real life, and she turns to her friends for help. She ends up gaining even more friends in the long run who will help her with those dreams/nightmares in the story. Those new friends though are going to tell her something that may take a real-life adventure for her to believe it. (Read the synopsis of the book/series to get the gist of the story because I don't want to give anything away)
I thoroughly enjoyed the first book because there was quite a bit of adventure in this one and anticipation on what was to become with the main character Lyric. I can't wait to see where Carrie Ann Ryan takes the story next after reading this book. The ending left me with more questions than answers, but that is what makes a great story/series. I want more now after reading it. Now comes to the count down of the next book in the series.
I will say this about the first book there is some romance in it with a certain silver-eyed air/water wielding character and the main character, but it's the main focus of the story. My primary attention was learning about the history of the realms, all the different action-packed moments that the characters went through and Lyric's journey to find out the truth.
---
Story Rating: 4.5 stars
Standalone or part of series: First book in the Elements of Five series.
Do I recommend this book? Yes. If you are a fan of YA Fantasy.
Will I read other books from the author? Yes, definitely.
Tropes/Elements: Magic (Wielders); Some Romance (Kissing); Adventure; War between Kingdoms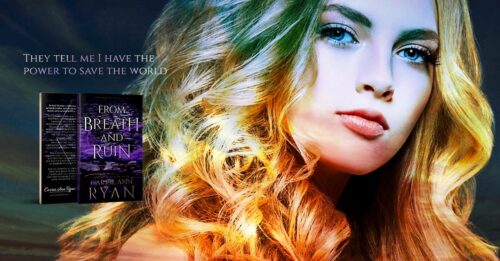 About the ELEMENTS OF FIVE series
One thousand years ago, there was one realm of magic. The Maison Realm. It held five kingdoms with five kings or queens, who worked together to keep the Maison people safe and ensure the balance of magic. Over the last five hundred years following the Fall, the great war that began the fracture, many of the kingdoms' inhabitants intermated, and the magics soon became tied to one another in pairs. Except for the Spirit Wielders. The two remaining kingdoms are now converging, and the veil between the two is fading. Only the human realm lies between the two, and no one there knows there is a war surrounding them.
Over time, certain children of the Fall began to leave their respective kingdoms to venture into the human realm in search of the prophesied Spirit Priestess who is said to wield the Elements of Five and bring the two fractured kingdoms together. For the realms are dying without their sister magics. And soon, there will be no more power left to rule the kingdoms, for there will be no more kingdoms left to rule.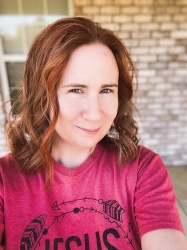 Latest posts by FranJessca
(see all)