Review: 'Hostage to Pleasure' by Nalini Singh
June 28, 2021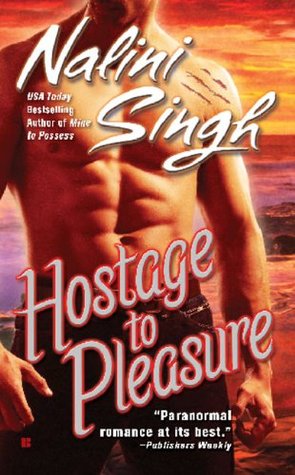 Hostage to Pleasure
by
Nalini Singh
Series:
Psy-Changeling #5
Published by
Berkley Sensation
on September 2, 2008
Genres:
Paranormal Romance
Format:
Paperback
Source:
Purchased
Goodreads
Purchase at
Amazon
|
Barnes & Noble
|
Kobo

Separated from her son and forced to create a neural implant that will mean the effective enslavement of her psychically gifted race, Ashaya Aleine is the perfect Psy--cool, calm, emotionless...at least on the surface. Inside, she's fighting a desperate battle to save her son and escape the vicious cold of the PsyNet. Yet when escape comes, it leads not to safety, but to the lethal danger of a sniper's embrace.
DarkRiver sniper Dorian Christensen lost his sister to a Psy killer. Though he lacks the changeling ability to shift into animal form, his leopard lives within. And that leopard's rage at the brutal loss is a clawing darkness that hungers for vengeance. Falling for a Psy has never been on Dorian's agenda. But charged with protecting Ashaya and her son, he discovers that passion has a way of changing the rules...
---
Hostage to Pleasure is the fifth full-length novel to Nalini Singh's Psy-Changeling series. I was excited and nervous to read Dorian's book, especially after reading the previous book. Although, I knew Nalini Singh wasn't going to disappoint since her stories and characters are addicting.
Storyline/My Thoughts: I'm going to try to make this review short and sweet since I read this book a while ago and never got a chance to review it until now.
Dorian has become a favorite character of mine since he was introduced. He's gone through so much that I couldn't wait for him to get a HEA. He deserves it. However, I was worried after realizing who he would end up with since he still can't trust a Psy. It took him a while to trust the ones who are now in his pack. He has a reason not to trust Psy since one killed his sister. Now, Dorian will protect the Psy in his pack with his life. One thing to know is that Dorian can't shift, but that doesn't stop him from being protective of his pack members. It also helps that he has all these skills to help with his pack, which I loved about him.
What about the female protagonist who wins over Dorian? (It takes a while, though, to win him over. I wouldn't label these fated mates but enemies to lovers.) Ashaya Aleine is an M-Psy who was introduced in the previous book. She helped save children from the Psy since she didn't like what her kind was doing to them. She has her own child to worry about, and she has the changelings to save her son. Now, the Psy has it out for Ashaya. The biggest threat is her twin sister, Amara. I really didn't like Amara, and I sometimes didn't like Ashaya. Amara was very possessive to her twin sister, and Ashaya was kind of protective of her sister. It drove me crazy.
Don't get me wrong; I loved how Nalini had a female protagonist with a twin sister in the book. I hardly read books that involved twins in them. I wish more books had twins and even triplets, etc. However, this time, one twin was intimidating, especially after finding out why Ashaya has to protect her son from her twin sister.
My favorite parts in this book involved Ashaya's son, Keenan. The sweet moments between him and his mother made the book for me. I also love how the other changelings took him in and protected him.
I loved the world-building and characters in this world that Nalini created, and I can't wait to continue reading this series, so I can finally catch up on it. Overall, this book receives four stars. It may not have five stars, but I still enjoyed it.
Standalone or Part of Series: It's part of a series and I highly recommend reading in order.
Steaminess: Some Steam.
HEA: Yes.
Would I recommend this book? Yes. I've recommended every book I've read from Nalini Singh. Since I found her Guild Hunter series, she's become a favorite author, and now I'm enjoying the Psy/Changeling series. I highly recommend this series to Paranormal Romance readers.

This post contains affiliate links you can use to purchase the book. If you buy the book using that link, I will receive a small commission from the sale. It will help sponsor future giveaways but costs you nothing extra. You can read the full disclosure underneath the Privacy Policy.
---
---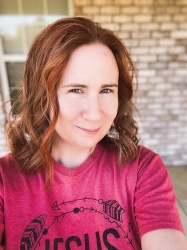 Latest posts by FranJessca
(see all)