Re-Post Review: 'Hunted by a Jaguar' by Felicity Heaton
December 14, 2018
I received a complimentary copy of the book from Purchased, the author in exchange for an honest review. This does not affect my opinion of the book or the content of my review.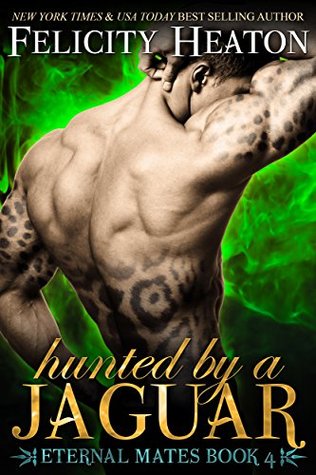 Hunted by a Jaguar
by
Felicity Heaton
Series:
Eternal Mates Romance Series #4
Published by
Self-Published
on January 6th 2015
Genres:
Paranormal Romance
Format:
eArc
Goodreads
Purchase at
Amazon
|
Apple
|
Google Play
|
Kobo

New York Times and USA Today Best-Selling Paranormal Romance Author Felicity Heaton presents:
Hunted by a Jaguar (Eternal Mates Paranormal Romance Series Book 4) A jaguar shifter with a dark secret, Kyter has spent his entire life running from his demons. When a tragedy takes him back to his pride's village, he is set on a path of vengeance that will see him collide with the terrible ghosts of his past and a beautiful vision of his future.
Iolanthe deals in finding artefacts for discerning clients, but this time her client is one of the deadliest men in Hell and her mission has the highest stakes imaginable. Failure is not an option when your life is on the line, but things take a dangerous turn when she crosses paths with a handsome and mysterious male on the hunt for the same artefact—a male who declares she is his eternal mate.
Can Iolanthe resist Kyter's wicked allure and find the artefact before he does? Can Kyter face his demons and win the heart of his fated female? Or will this deadly game of cat and mouse claim both of their lives?
Paranormal Romance Books in the Eternal Mates Series Book 1: Kissed by a Dark Prince Book 2: Claimed by a Demon King Book 3: Tempted by a Rogue Prince Book 4: Hunted by a Jaguar Book 5: Craved by an Alpha (coming January 27 2015) Book 6: Bitten by a Hellcat (coming February 17 2015) Book 7: Taken by a Dragon (coming March 10 2015)
First Time Read: February 2015
Second Time Read (Listened to): December 2018
Felicity Heaton always surprises me with her detailed storylines and lovable characters. Each story keeps me on the edge of my seat from beginning to end due to the characters puts in the stories and what they have to deal with in those stories. It's no different in Hunted by a Jaguar. From the moment the characters are introduced I'm clicking furiously on my kindle to follow them through their story together. I happened to read this story on a road trip, so believe me I was reading like a mad woman while I was in the vehicle. I need to follow Kyter and Iolanthe through their unusual journey together.
First, let me say I LOVED Iolanthe because she is one kickass heroine and I friggin' love kickass heroines. She holds her own throughout the story, and I adored her from beginning to end, especially when I found out who is related to towards the end of the book. I'm in love with her relative. 🙂 She is stubborn though when it comes to getting help in the story, but she has every right to be. She kind of made me mad towards the end, but all was fair after she made up for it in the very end. She had her flaws, but I still love how strong she was in the story no matter if she did some crazy things.
Kyter is an unusual character, but I remember him from before. I was excited to learn more about him in Hunted by a Jaguar because he's not only Jaguar. He has a dark secret about him, and he's had nothing but troubled life — poor guy. He's out for revenge in the story for what happened in his Pride, but it's kind of hard to get that revenge if someone else is looking for what you are looking for in the story. Kyter's qualities are similar to Iolanthe on being a strong male character, but he is also hilarious and devilish. Devilish due to always messing with Iolanthe's head (flirting…etc.).
Felicity always knows how to make a story flow from the minute a reader starts reading the first page to the very last page. She puts in the right amount of action and romance to make it hard to put down. (At least that is what Hunted by a Jaguar did for me)
I give this book 4.5 moons and highly recommend this book to PNR lovers out there. I do recommend reading for this series. You don't want to miss out on the other previous stories. Kyter is mentioned before, so you know ahead of time secondary characters do get their book later on.
I look forward to sitting down and reading the next book in the series after my crazy work week is over with soon. I need my Eternal Mates series fix. =)

This post contains affiliate links you can use to purchase the book. If you buy the book using that link, I will receive a small commission from the sale. It will help sponsor future giveaways but costs you nothing extra. You can read the full disclosure underneath the Privacy Policy.
---
---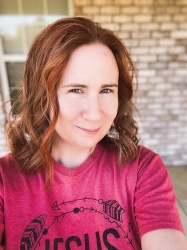 Latest posts by FranJessca
(see all)