Review: 'Ice Planet Barbarians' by Ruby Dixon
July 31, 2023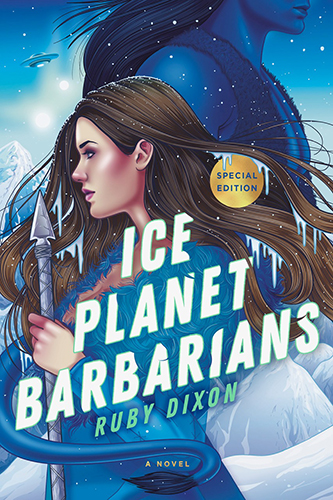 Ice Planet Barbarians
by
Ruby Dixon
Series:
Ice Planet Barbarians #1
Published by
Berkley
on April 3, 2015
Genres:
Science Fiction Romance
Format:
AudioBook
,
Paperback
Source:
Scribd
,
the publisher
Goodreads
Purchase at
Amazon
|
Barnes & Noble
|
Kobo

You'd think being abducted by aliens would be the worst thing that could happen to me. And you'd be wrong. Because now, the aliens are having ship trouble, and they've left their cargo of human women - including me - on an ice planet.
And the only native inhabitant I've met? He's big, horned, blue, and really, really has a thing for me...
---
Thanks to the Romanceopoly Challenge hosted by Under the Covers Book Blog, I picked up Ice Planet Barbarians by Ruby Dixon. It fulfilled the Star Harbour Challenge to read a Sci-fi where one of the main characters is an alien. I know I'm behind on reading Alien Romance stories, but I definitely plan on reading the rest of this series now that I've finished the first book.
First, this book may have some triggering content for some readers, especially within the first chapter. Please check your triggers before reading. Ruby Dixon immediately introduces the FMC, Georgie, and how green aliens have abducted her and several other women from Earth; where she later finds out what the aliens are planning when she witnesses what they do to one of the women that had been kidnapped. The other women automatically deem her their leader, especially when Georgie decides they can overpower the aliens. Unfortunately, she doesn't get the chance when the aliens' ship crashes on another planet. Georgie volunteers to explore the planet, especially since some women were hurt after the crash. She ends up meeting other life on the planet, and this time it's a seven-foot blue alien curious about Georgie. This is when the MMC, Vektal, is introduced in the story; he's one character that I immediately was intrigued by, not only with how he's described but how he is immediately drawn to Georgie.
The Fated Mates trope has always been one of my favorite tropes in romance books, and I loved reading it in this book by Ruby Dixon. I also loved how one of the characters is unaware that they are destined to be with the other because there is an obvious language barrier between the characters due to being different species, one human and the other alien.
Georgie is one FMC I immediately liked because she takes charge because someone has to do it. She was quirky and funny at times, especially when meeting Vektal. She has no idea how to handle him, especially with their initial meet and greet and how he finds him with her.
Yes, this book immediately has some very spicy parts between the FMC and MMC. Vektal has no boundaries and partakes in making himself comfortable with Georgie. Georgie remembers what she was out to do on the unknown planet and lets Vektal know she needs to save the other women instead of taking him up on his offers. She also knows that the green aliens are coming back to retrieve her and other women, and she needs Vektal's assistance with that as well.
At first, Vektal can come off as a no-boundary alien, so he may bother some readers, especially with the first meet and greet with him and the FMC. He's excited to finally meet his potential mate, especially since he thought he would never have one. Vektal is a typical alpha MMC in romance books, taking charge and demanding things, but Georgie does put him in his place.
This was a great start to the series in introducing the world-building and characters behind it. Overall, I liked the first book in this series and will pick up the next one. I'm invested now and can see the hype behind the books, especially since I listened to the first book instead of reading it. I loved both narrators, Hollie Jackson and Mason Lloyd, that brought the characters to life. I definitely recommend the audiobook to this book if you enjoy listening to your books.
---
Story Rating: ⭐️⭐️⭐️⭐️
Steam/Spice Rating: 🌶🌶🌶🌶
Single/Dual POV: Dual POV
Would I recommend this book? Yes. I recommend this to readers who enjoy Sci-Fi Romance/Alien Romance with the Fated Mates Trope.
Genre/SubGenre(s): Romance | Science Fiction Romance
Trope(s)/Element(s): Fated Mates | Alien Romance | Kidnapping/Abduction

This post contains affiliate links you can use to purchase the book. If you buy the book using that link, I will receive a small commission from the sale. It will help sponsor future giveaways but costs you nothing extra. You can read the full disclosure underneath the Privacy Policy.
---
---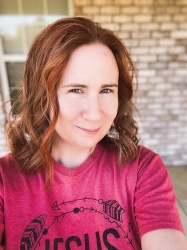 Latest posts by FranJessca
(see all)