Review: 'In Service of the King' by Laura Kaye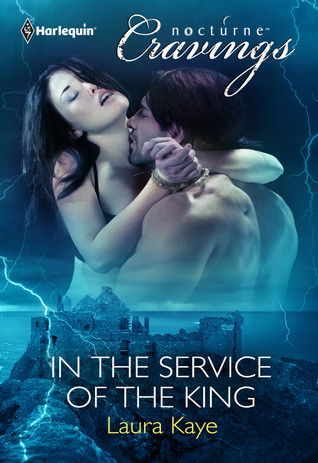 In the Service of the King
by
Laura Kaye
Series:
Vampire Warrior Kings #1
Published by
Harlequin Nocturne Cravings
on February 1st 2012
Genres:
Paranormal Romance
Pages:
74
Format:
eBook
Source:
Purchased
Amazon Kindle
|
Amazon Paperback
Goodreads

Kael, Warrior King of the Vampires, loathes the Night of the Proffering. He needs the blood of either his mate or a human virgin to maintain his strength, but hasn't enjoyed the ritual since he lost his mate centuries ago. Kael doesn't want a new companion, yet his resolve is tested when he lays eyes on his new offering, Shayla McKinnon. He is drawn to Shayla's beauty and poise...and the submission she offers. She is eager to give him anything he wishes, including her innocence, to please him. Will Kael give in to their overwhelming desire—even if it means risking Shayla's life?
My Review
I finished this book and now wanted more of this series. Thank goodness the next book comes out June 1st. =) I'm a HUGE fan of Vampires and the Series name alone "Vampire Warrior Kings" definitely had me intrigued to read "In the Service of the King."
The cover helps also. =)
Kale is the Warrior King of the Vampires. He is forced to participate in the night of proferring even though he doesn't want to. He lost his mate centuries ago, and he has never wanted another mate or also be with a Proferred. Proferred is a human woman that offers her blood for the service of the king and other things…so he can keep his humanity and help his kind. Shayla McKinnon is chosen as Kael's Proferred. When Kael meets her, he is instantly enthralled. He doesn't want to be though. He misses his mate, but for some reason, he can't stop thinking that Shayla could be destined for him. Shayla is happy to help the King; she's thought about this day for a while now. She wants to avenge her sister's death that happened a while ago, and she always wanted to be there to help the Vampire Warrior King in any way possible.
Everything is going wrong though, she's the perfect submissive, but Kael is standoffish at first, and then something happens, which makes her think it's her fault. He does things to her; she wasn't expecting.
I do not want to go any further into telling the book because I'll spoil the good parts. Instead, I'll let you know my thoughts on this book. I loved it!! Have I said that already? I had a hard time putting it down. I'm intrigued by Vampires. I don't think I'll have stopped reading about them. To come across this book through Laura Kaye's Street Team, I just had to read it. I would've finished it within an hour, but motherly duties and college homework took precedence several times yesterday.
I love the concept of this series. Kael is one difficult Vampire Warrior King though in the beginning. It took him a while to realize what his destiny was. I loved Shayla and how she tried everything to win over Kael. She was the perfect Proferred for him. She was trained to be the ideal Proferred, and I think it scared Kael a bit at first.
I loved the steamy scenes between them both. I had to re-read them sometimes because I wanted to drag out the book a little longer because I didn't want it to end and of course the best parts to re-read is the scenes between the characters. Oh yes!
I found it fascinating to read the Gaelic (Irish) language even though I do not understand it. I will have to learn it now (I am part Irish). Maybe one day I'll visit Ireland, and I'll probably never come back to the States. =)
I loved reading about the mating at the end of the book. Different from any other couplings I've read in other books.
I look forward to reading the next book when it comes out tomorrow. I will be buying it and reading it as soon as I get up in the morning.
I recommend this book to vampire lovers out there, to paranormal romance readers, and readers who want to take a trip through Ireland with this delicious Vampire Warrior King.
I found myself reading in an Irish accent when I read Kael's part of some reason, once I realized this book was based in Ireland. It's a habit I can't break. =)
This is a must read so add it to your TBR list. =)


I guess I should type a bio here. I'm FranJessca or Fran for short. I'm the owner of Book Lovin' Mamas and main Reviewer. I've been reviewing books since I got out of the Navy in 2011. Now 8 years later, I'm still reviewing, but this time with my youngest sidekick.
When I'm not reading and reviewing, you can find me at my day job during the week and on the weekend taking care of our little farm.

Latest posts by FranJessca (see all)