Review: 'Ink Exchange' by Melissa Marr
August 25, 2011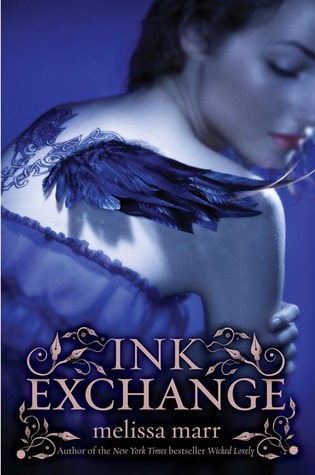 Ink Exchange
by
Melissa Marr
Series:
Wicked Lovely #2
Published by
HarperTeen
on April 24th 2008
Genres:
Young Adult Paranormal
Format:
Hardcover
Source:
Library
Goodreads
Purchase at
Amazon
|
Apple

Unbeknownst to mortals, a power struggle is unfolding in a world of shadows and danger. After centuries of stability, the balance among the Faery Courts has altered, and Irial, ruler of the Dark Court, is battling to hold his rebellious and newly vulnerable fey together. If he fails, bloodshed and brutality will follow.
Seventeen-year-old Leslie knows nothing of faeries or their intrigues. When she is attracted to an eerily beautiful tattoo of eyes and wings, all she knows is that she has to have it, convinced it is a tangible symbol of changes she desperately craves for her own life.
The tattoo does bring changes—not the kind Leslie has dreamed of, but sinister, compelling changes that are more than symbolic. Those changes will bind Leslie and Irial together, drawing Leslie deeper and deeper into the faery world, unable to resist its allures, and helpless to withstand its perils. . . .
My Review
(Originally Reviewed on Mrs. Papillion aka "The Book Worm")
I borrowed Ink Exchange from the Library, and of course, I finished this book quicker than usual because I had a hard time putting it down. I was a little skeptical on reading it first because it wasn't really about Aislinn, Seth or Keenan. It was about Leslie, Aislinn's friend, Niall, and Irial (The Dark Fey King). After reading a few chapters, I was interested to find out more about Leslie though. I was feeling sympathetic for her. The poor girl had been through hell with her father and brother. Her father was a drunk, and her brother was a drug addict who loved to use her.
I also felt terrible for Niall who was trying to fight his feelings for Leslie the whole book. He was forced to watch over her because of his Summer Queen, Aislinn to make sure Leslie didn't even know about the Faerie world. Unfortunately though, when Leslie went to get a tattoo, she has no idea what she is in for when Rabbit, her friend, and tattoo artist shows her a tattoo that would change her life forever. It happens to be a tattoo that would link her to the Dark Fey King, Irial.
I loved the storyline in this book and loved how dark and twisted it was compared to Wicked Lovely. I even felt horrible for Irial who was trying to save his people and the only way he could do that was too involved a mortal like Leslie. He ends up having feelings for her at the end and never expected it. Niall, of course, steps in and helps Leslie through her crisis and so does Seth.
I won't spoil the ending because the ending is the best. I wasn't expecting Irial to do what he did…but I'm glad he did.
I'm looking forward to reading the short story from Melissa Marr that picks up from Ink Exchange and what happens to Leslie and Niall. I was upset they didn't end up together. They were perfect together. I'm hoping the short story "Stopping Time" brings them together more.
I look forward to reading more about this series and getting to know the characters more.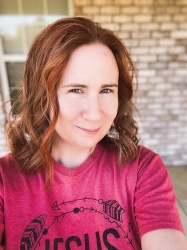 Latest posts by FranJessca
(see all)