Review: 'Judgment in Death' by J.D. Robb #InDeathReadALong
December 21, 2020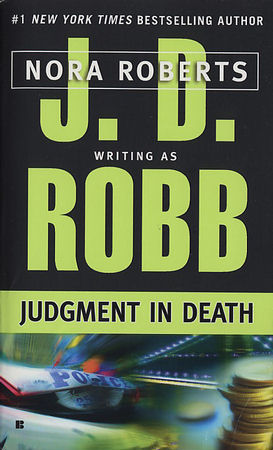 Judgment in Death
by
J.D. Robb
Series:
In Death #11
Published by
The Berkeley Publishing Group
on September 28, 2000
Genres:
Romantic Suspense
Format:
Paperback
Source:
Purchased
Goodreads
Purchase at
Amazon
|
Apple
|
Google Play
|
Kobo

In an uptown strip joint a cop is found bludgeoned to death. The weapon's a baseball bat. The motive's a mystery. It's a case of serious overkill that pushes Eve Dallas straight into overdrive. Her investigation uncovers a private club that's more than a hot spot. Purgatory's a last chance for atonement where everyone is judged. Where your ultimate fate depends on your most intimate sins. And where one cop's hidden secrets are about to plunge innocent souls into vice-ridden damnation...
---
Judgment in Death is the eleventh book in J.D. Robb's In Death series. J.D. Robb amazes me with her storytelling and making my emotions go crazy in each of the books in the In Death series. This book was one of those that put me through the wringer, but for different reasons than previous books. It did take me a while to read this book, but that's due to the holidays.
Storyline/My Thoughts: Eve Dallas has her hands full again, but this time with a cop being bludgeoned to death at a strip joint called Purgatory. When there's another cop killed after the first cop, then Even knows someone is targeting cops. It's up to her and her team to determine the motive behind the cops' murders and why they are being targeted. Eve will start unraveling something that will put her in danger and put her in the path of someone in Roarke's past. J.D. Robb played with my emotions in this book with the tension between Roarke and Eve. Not only because of Roarke's past associate, he used to work with, but with Eve's past showing up and almost causing issues. This is when readers will see another side of Roarke that is scary because he will show his possessive side. It even surprises Eve. Eve was clueless, though at first, and mad at Roarke for the way he was acting. Does she not realize Roarke will do anything for her and he loves her?
Each case that Eve Dallas and her team have to investigate gets more complicated, it seems. J.D. Robb does not make it easy for anything in this fictional world. I figured out who was behind everything in the book, eventually, but it didn't stop me from reading. This book was difficult to read due to certain scenes in it. Eve made me mad in this book with how she reacted to certain things. One of them being how Roarke stepped in to help her. She didn't like him going behind her back. Roarke has his reasons, though, and I don't blame him.
Standalone or Part of Series: Part of Series, and I recommend reading in order. Otherwise, you will miss out on how Eve and Roarke met and how some other characters came about in the series.
Would I recommend this book? Yes. I can't say enough how much I'm enjoying this series from J.D. Robb. If you enjoy Romantic Suspense and Thrillers, then this book/series is for you. Don't be intimidated by the number of books. I'm participating in the #InDeathReadALong challenge hosted by @PNRBookLoverReviews and @UTCBookBlog, which has helped me get through the series one book at a time. I plan on reading more in 2021 because I want to catch up on this series. I need to know where J.D. Robb has taken Roarke and Eve. I also want to know about the secondary characters.
Overall, this book gets four stars from me, and I'm ready to dive into the next book. J.D. Robb, please, have Eve and Roarke go on vacation, eventually. They need some time away from the cop world for a bit.

This post contains affiliate links you can use to purchase the book. If you buy the book using that link, I will receive a small commission from the sale. It will help sponsor future giveaways but costs you nothing extra. You can read the full disclosure underneath the Privacy Policy.
---
---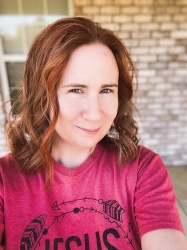 Latest posts by FranJessca
(see all)