Review: 'Libra' by Gemma James
October 3, 2022
This book may be unsuitable for people under 18 years of age due to its use of sexual content, drug and alcohol use, and/or violence.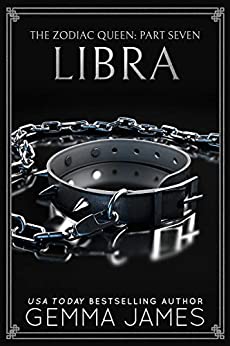 Libra
by
Gemma James
Series:
The Zodiac Queen 7
Published by
Self-Published
on June 29, 2021
Genres:
Dark Romance
,
Reverse Harem
Format:
eBook
Source:
Purchased
Goodreads
Purchase at
Amazon
|
Barnes & Noble
|
Kobo

Twelve men. A virgin queen. One arranged marriage.
Liam Castle has a plan.Smuggle me onto a cargo ship.Take me to an undisclosed location.Declare war on my heart.
His motives are a mix of honorable and selfish.He wants to protect me from the monster in the dungeon.But who's going to protect me from Liam's unquenchable desire?
And who will save us both from the consequences when his plan fails?Because you can run from a monster, but you can't hide forever.
---
Libra is the seventh book in Gemma James Zodiac Queen series. This series follows Novalee, who is forced every month to spend time with one of the Zodiac Brotherhood. By the time she is done spending every month with one of the men of the Zodiac Brotherhood, there will be an auction to marry and claim her ultimately. Will she survive, though since this month she's supposed to spend it with the sadistic monster, Pax from House of Libra?
Storyline/My Thoughts: Before she is given over to the House of Libra, Liam, the Chancellor, and the House of Aries drug and kidnap her. Liam has reasons why he wants Novalee away, and he's determined for her to declare her love and marry him before the other brotherhood finds out Liam stole her. Unfortunately, Novalee's feelings have grown for the House of Leo, Sebastian, and she doesn't want to betray him. Novalee still has feelings for Liam, which is why it will be challenging to resist Liam. Liam won't push her, but he will tempt her in ways that will make him irresistible. What happens, though, once the brotherhood finds Liam and Novalee? Novalee knows that it puts Liam at risk of not being able to participate in the auction, and she tries everything to convince him to take her back, even if it means facing Pax.
What did I think about the seventh installment?
I thought Liam had lost his dang mind taking Novalee. He was jeopardizing everything with her, and he knew it. I understood why he was trying to protect her due to Pax's character. Pax is not someone I would want to hang out with for a month. In the little time, Novalee managed to spend with Pax, I was hoping she would not break from Pax. He ends up putting her in a cage and treating her like a pet. Pax also has another woman with him that adores how he treats her. That girl needs her head examined if she loves being treated cruelly by that sadistic Libra.
There was a lot of angst and tension between Liam and Novalee. He didn't try to force himself upon her and wanted her to take the initiative with him. Novalee is at war with her feelings in this book. She has Liam, that is madly in love with her and will do anything to protect her, even defy the rules. Then, there's Sebastian, who she is in love with, and her own brother wants her to end up in the long run. It feels like an almost love triangle in the story now, even though there are several other houses that Novalee still needs to spend time on within the series. Who else will fall madly in love with her, or will she fall for when she reaches their houses?
Technically this book is an RH/Why Choose series, and she doesn't have to choose in the long run. Unfortunately, she won't get to decide since she's being auctioned off. I feel for her character, and I hope she ends up with the person she is longing for in the long run.
Overall, I only give this book 3.5-stars. It wasn't my favorite because of Liam. He messed up in this book. He should have listened to Novalee in the beginning when she begged him to take her back. She didn't want him to end up in trouble with the brotherhood; she knew she would be punished, too, even if he wasn't her fault.
It's onto the House of Scorpio next. Hopefully, it's better than House of Libra and the short time she spent with Pax. Thank goodness, it was only a few days. I couldn't imagine her enduring the whole month.
Standalone or Part of Series: It's part of the Zodiac Queen series, and I recommend reading in order.
Steam/Spice: ⭐️ ⭐️ 💫 There was a lot of tension in this book between the Chancellor and the FMC. There was some spice towards the end of the book when Novalee goes back to the House of Libra.
Trope(s)/Element(s): Arranged Marriage. Reverse Harem/Why Choose. BDSM. Kidnapping. Pet Play/Caging. Anal Play/Sex. Forbidden Romance. Love Triangle (Two MMCs of the Zodiac have feelings for the Queen.). A-hole MMC (Pax).
Would I recommend this book? Yes. If you enjoy Dark Romances that have RH/Why Choose in them, I recommend this series.

This post contains affiliate links you can use to purchase the book. If you buy the book using that link, I will receive a small commission from the sale. It will help sponsor future giveaways but costs you nothing extra. You can read the full disclosure underneath the Privacy Policy.
---
---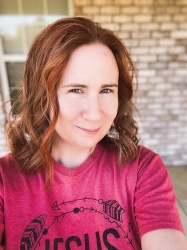 Latest posts by FranJessca
(see all)