Review: 'Lord of the Vampires' by Gena Showalter
October 15, 2011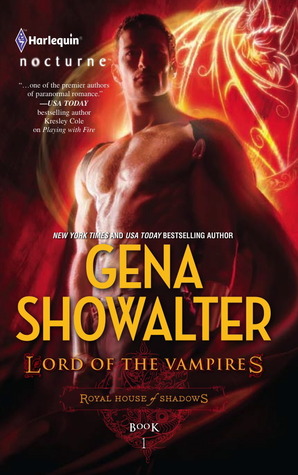 Lord of the Vampires
by
Gena Showalter
Series:
Royal House of Shadows #1
Published by
Harlequin
on August 23rd 2011
Genres:
Paranormal Romance
Format:
eArc
Source:
Netgalley
Goodreads
Purchase at
Amazon

Once upon a time…the Blood Sorcerer vanquished the kingdom of Elden. To save their children, the queen scattered them to safety and the king filled them with a need for vengeance. Only a magical timepiece connects the four royal heirs…and time is running out.
Nicolai the Vampire is renowned for his virility, but in a cruel twist of fate "The Dark Seducer" has become a sex slave in the kingdom of Delfina—stripped of his precious timepiece and his memory. All that remains is a primal need for freedom, revenge—and the only woman who can help him.
When the wanton vampire summons Jane Parker, she is helpless to obey. She's drawn to his dark sexuality and into his magical realm. But for this human, all is not a fairy tale. For saving Nicolai could mean losing the only man she's ever craved...
---
(Originally Reviewed on Mrs. Papillion aka "The Book Worm")
Let me say; I love Gena Showalter. She's one of my fave authors, and I will always be a loyal fan. This is probably one of the first books I've read from her that I'm giving three stars. Boo!! Don't get me wrong; I loved the storyline in this book…I just thought it was rushed. I'm so used to reading books from her that have 350-400 pages to them — not 288 pages. I feel there could've been more to the story at certain points. I will tell you this, the sex scenes were steamy just like usual, and that is one reason why I will always adore Gena Showalter. She knows how to make you smile and giggle during those scenes.
As for the characters Nicolai, the Elden Prince who is supposed to take over as King of his People, he's a Vampire, and he has special powers. He can heal you if you've through hell. He also has a way of getting someone into his world like he did Jane. He did it through a book. He has been thinking about Jane since he was sold as a slave to the Witch Princesses who had bought him. He has been used as a sex slave and whatever they wanted from him. He's sick of it. He wants to leave, and he also wants to seek revenge. The only problem is he can't remember who is until he summons Jane from her modern world to his world and then slowly he gets his memory back. He knows what he is supposed to do and he needs Jane's help in conquering it.
Jane had no idea how she got to Nicolai's world, but she did know why since she knew he needed help. She wasn't expecting to fall in love with him though. Both Nicolai and Jane have to fight off the witches, the ogres and their love for each other in certain parts of the book. Jane doesn't want to get to close because she knows she'll have to come back to her modern world eventually, but Nicolai will not let that happen.
I loved Nicolai in this book. I loved his name too. =) His character is actually what kept me reading the book. Jane also had my attention because she was a powerful woman and determined. She went through hell in this book though. I felt sorry for her. I did like what she did at the end of the book.
Don't get me wrong I enjoyed this book, but it wasn't my favorite from Gena. I can't wait to read the next LOTU which will capture my heart again. I do look forward to reading the next three books in the Royal House of Shadows series from the other three authors.
I still love you, Gena…and I will always be your fan…but please no more short books like this that only tease me.

This post contains affiliate links you can use to purchase the book. If you buy the book using that link, I will receive a small commission from the sale. It will help sponsor future giveaways but costs you nothing extra. You can read the full disclosure underneath the Privacy Policy.
---
---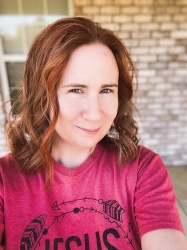 Latest posts by FranJessca
(see all)