Review: 'Love in Spades' by Charlie Cochet #romanceopoly
September 7, 2019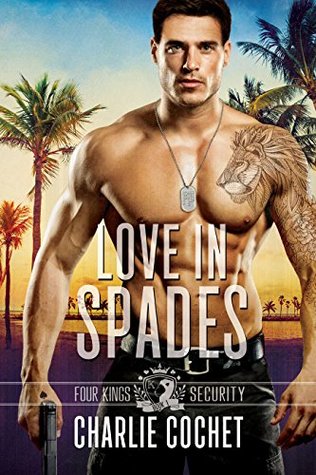 Love in Spades
by
Charlie Cochet
Series:
Four Kings Security
,
Published by
Amazon Digital Services
on April 21, 2018
Format:
eBook
Source:
Kindle Unlimited
Goodreads

When the cards are stacked against you, the Kings will even the odds.
Ex-Special Forces soldier Anston "Ace" Sharpe is fighting a different battle these days—one involving the world of private security across the state of Florida. As part owner of Four Kings Security, Ace and his fellow Kings tackle everything from armed transport and investigations to cyber intelligence and executive protection. Cocky, fearless, and brash, Ace isn't afraid to take risks.
After years of working alongside his father, Colton Connolly is ready to take the helm at Connolly Maritime, but his father's retirement is put on hold when Colton begins receiving death threats. If that isn't bad enough, his father signs a contract with Four Kings Security to provide Colton with round-the-clock protection, despite his adamant refusal. Colton's life has been turned upside down, the last thing he needs is a shadow, especially in the form of infuriating, sexy-as-sin Ace Sharpe, who seems to be on a mission to drive Colton mad.
Sparks fly the moment Colton and Ace meet on a sultry night club dance floor. But getting involved with a client, even one as fiery and beautiful as Colton Connolly, is a line Ace is unwilling to cross. Colton might be attracted to Ace, but he'd been burned before. He might be willing to put his life in Ace's hands, but not his heart.
As the Florida nights heat up, so does their passion, and Ace and Colton are faced with a difficult choice—take the plunge and risk it all, or play it safe and walk away?
If Ace can keep a deadly threat from robbing Colton of a future….
Thanks to the Romanceopoly Challenge for giving me the chance to read one of Charlie's books. Love in Spades is the first book I've read by Charlie Cochet, and I can't believe I haven't read anything from the author until now. I enjoyed the first book to the Four Kings Security series and can't wait to make time to read the rest of the books in the series. 
Ex-Special Forces soldier Anston "Ace" Sharpe is assigned to protect Colton Connolly who is due to take over the Connolly Maritime company from his father. Unfortunately, there are death threats to Colton, which makes his father hire the Four Kings Security. Colton has an idea, though until he comes face-to-face with Ace at a bar/club. Colton first thinks that Ace wants to dance with him until Ace lets him know what he's there for and that is Colton's bodyguard with the rest of his team, Lucky (Ace's cousin), Red, and King and several other Four Kings Security details. Colton's life is turned upside down because of this and will make Ace and the Four Kings Security team more difficult since he doesn't want to cooperate with them. Ace, though is determined to let Colton know he's not going to win the situation. Colton and Ace end up having an instant attraction with each other that they both need to fight off, especially since Ace needs to protect Colton and not be involved with his client. Colton though is hard to resist, and Colton has a hard time resisting his sexy bodyguard. There is a lot of back and forth tension between these two characters, which make this story addicting. 
I love the constant banter between these two characters, and even though it was an instant attraction, they didn't eventually do anything until after halfway through the book. I consider it a Slow Burn because I was rooting for these two to get together finally. It took a bit, but it was worth it in the end. Charlie Cochet's writing and characters are one I know I won't be able to get enough of after reading Love in Spades. I loved getting to know the Four Kings Security guys and want to know who each of them fall for in their books. I'm anxious for Red's book because he seems to be the sweet guy of the bunch, and Lucky appears to be very protective and follow the rules. Then there's King who owns and runs the Four Kings Security. He's by the book too, but he looks out for his guys, even if they do something wrong. 
The very ending of the book and finding out who was behind the death threats of Colton is what left me in shock. I didn't expect who it was and thought it was someone else. Charlie had me surprised by the villain, and I love when authors can leave me in shock.
If you're a fan of M/M Romance, then I would recommend this book, I'll have to make time for the next books in the series and also check out Charlie's other books since I've heard some fantastic things. 
---
Story Rating: 4 stars
Steaminess Rating: 4 stars
Standalone or part of series: Part of Four Kings Security Series.
Do I recommend this book? Yes.
Will I read other books from the author? Yes.
Tropes/Elements: Enemies-to-Lovers (Due to Ace having to be Colton's Bodyguard); Instant Attraction, but both characters fight it, which makes it a Slow Burn for me.
Favorite Quotes
"I don't want a quick f**k with you Colton, because there would be no getting you out of my system." Colton sucked in a sharp breath, and Ace landed in to kiss Colton's cheek. "You deserve more." (pg. 95)
"Colton narrowed his eyes. "Big help you are. Aren't you supposed to protect me?" "Do you want me to shoot it?" "Yes, Ace. I want you to shoot the seaweed." "If I could, but then someone would hear it and call the cops, and then I'd have to explain to them and to King how I drew my gun on a bunch of algae, and I don't know, that seems like an awful lot of paperwork. I don't like paperwork. I can call it in if you want. Get Lucky out here to take care of it. Or ask it out on a date." (pg. 174)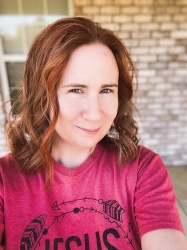 Latest posts by FranJessca
(see all)