Review: 'Lover Revealed' by J.R. Ward
April 8, 2023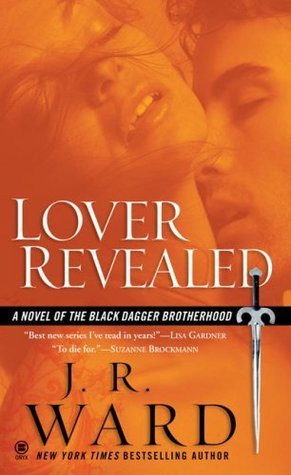 Lover Revealed
by
J.R. Ward
Series:
Black Dagger Brotherhood #4
Published by
Onyx
on March 6th 2007
Genres:
Paranormal Romance
Format:
AudioBook
,
Paperback
Source:
Purchased
Goodreads
Purchase at
Amazon
|
Barnes & Noble

Butch O'Neal is a fighter by nature. A hard-living ex-homicide cop, he's the only human ever to be allowed in the inner circle of the Black Dagger Brotherhood. And he wants to go even deeper into the vampire world—to engage in the turf war with the lessers. He's got nothing to lose. His heart belongs to a female vampire, an aristocratic beauty who's way out of his league. If he can't have Marissa, then at least he can fight side by side with the Brothers...
Fate curses him with the very thing he wants. When Butch sacrifices himself to save a civilian vampire from the slayers, he falls prey to the darkest force in the war. Left for dead, he's found by a miracle, and the Brotherhood calls on Marissa to bring him back. But even her love may not be enough to save him...
---
Third time reading Lover Revealed, and I still get emotional while reading Butch and Marissa's story. After reading it a third time, you would think I wouldn't get so emotional because I know what to expect, but the characters are like family. I don't like seeing my family go through any crap, which is precisely what J.R. Ward did to Butch and Marissa. They already had the short straw drawn when they first met in Dark Lover. Butch is a human, and Marissa is a vampire, so that will not work out in their favor. I rooted for these two, especially with what they had to endure. They deserved happiness, and I'm happy to report they got a HEA, but not without some hurt before the happiness.
Storyline/My Thoughts: If there is one thing I recommend for new readers to this series, it is to read from the beginning and not read out of order. J.R. Ward builds every primary and even secondary character in this paranormal, fictional world throughout the series until they eventually all get their full-length novel. That's what she did for Butch and Marissa. She gave us snippets (or POVs) of them in the first three books, and then the fourth was their book. When reading each book, you'll get multiple POVs and not just the main couple. Each character feels like family because you read their growth throughout.
Why did I love Butch and Marissa's book? These two came from opposite sides of the track and were different species. According to the vampire society, humans and vampires are not supposed to mix. Tell that to Butch's instinct and Marissa's love for a man she knows she can't have because she is high in vampire society.
I will admit I didn't like Marissa in the series initially. The way she was introduced and then what her brother almost did to Wrath, the Blind King of the vampires, I didn't know if I could ever like her. J.R. Ward changed my mind when reading about Marissa's struggles and what her brother did to her in this book, how he was writing her off and leaving her homeless, all because she fell for a human who loved her back. I'm glad she got away from her brother because she was stronger than everyone thought, and she not only found love (eventually with Butch) but also a family.
Butch is not like the others in BDB; he's a human who was a former detective, but he knows too much and is now living in the BDB house/compound. He can never leave and return to his human life; otherwise, BDB will have to unalive him. It's not like he wants to go back to his human life because of what he grew up dealing with in his human family. The man is harboring inner demons that he can't seem to get rid of, and he gets new ones thanks to the Lessening Society and what they do to him at the beginning of Lover Revealed. It's Marissa and his roommate, Vishous, that help him. One of the reasons why I liked Butch was his no-filter, go-getter attitude. It may have gotten him in trouble, but that is why he fits right in with the BDB characters, especially Vishous. He and Vishous had a budding friendship that was more like a bromance. I love these two together, and I'm one of those readers who wished they would have more than friendship, but that's just wishful thinking. It's how V watched out for Butch and was there for him and vice versa. These two were meant to be buddies (more really). Don't get me wrong, Marissa was meant to be Butch's fated mate/shellan, but I would have loved these three to be together.
Marissa and Butch were meant to be fated mates and find each other after finishing their story and learning their backstories and their struggles together. It's not easy for either one of them. There's a lot of push and pull, but they can't seem to stay away from each other.
The most significant part of the story shocked me the first time I read it. I knew there had to be a reason why Butch fit in with BDB, and readers will find out when they read their book—no spoilers from me.
If there is one takeaway from this book, it is that both Butch and Marissa found love together, but they found a family that was actually there for them both. At the beginning of my review, I mentioned that J.R. Ward has several POVs in the books, and you'll get Vishous, John Matthew, etc. She's building up to their books, and I can't wait to reread them.
No change to my rating of this book after reading it a third time because I still give it five stars. I wish I could give it more, but Amazon won't let me. On to my next reread, which is V's book.
Standalone or Part of Series: It's part of the Black Dagger Brotherhood series, and I recommend reading the books in order.
Steam/Spice: 🌶 🌶.5
Genre/SubGenre(s)/Trope(s)/Element(s): Romance. Paranormal Romance. Fated Mates. Vampire Romance. Forbidden Romance. Alpha MMC. Former Cop/Detective MMC. Virgin FMC.
Would I recommend this book? Yes. I recommend this to Paranormal Romance readers who love reading an ongoing series about vampires finding their fated mates within a dark, twisted world. This is also for readers who love alpha male characters and heroines who must deal with them.
Favorite Quote(s): "Darkness will never take me… because I have you. Light of my life, Marissa. That's what you are."

This post contains affiliate links you can use to purchase the book. If you buy the book using that link, I will receive a small commission from the sale. It will help sponsor future giveaways but costs you nothing extra. You can read the full disclosure underneath the Privacy Policy.
---
---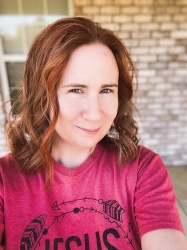 Latest posts by FranJessca
(see all)