Review: 'Loving Ms. Wrong' by C.J. Ellisson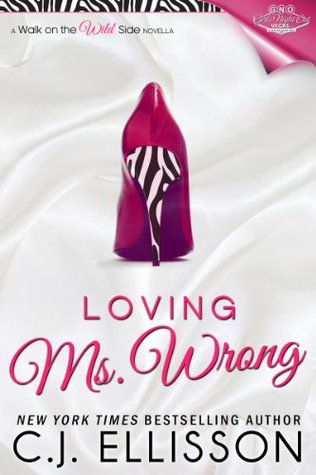 Loving Ms. Wrong
by
C.J. Ellisson
Published by
Red Hot Publishing
on May 7, 2014
Genres:
Contemporary Romance
Pages:
112
Format:
eBook
Source:
Purchased
Amazon Kindle
Goodreads

Katrina attends a birthday party for her friend Carla. Little does the health food storeowner know that the fateful girls night out will change her life forever.
Marcus, the polished metrosexual who hates to get his hands dirty, stumbles upon the ladies at a local bar. Sparks fly when the two meet, courtesy of a 12-sided sex dice and a night neither one will ever forget.
My Review
Loving Ms. Wrong was the first book I read from the collection. I loved C.J. Ellisson's Walk on the Wild Side novels and was anxious to read the short novella with Carla's friend Katrina. In Loving Ms. Wrong, we have Carla from Avoiding Mr. Right showing up a bit at the beginning of the novella. Carla and her friends, including Katrina in the mix, are going out for a girl's night out for Carla's birthday. Katrina is the character who has had it rough, and I felt sympathetic towards her even when the story was a short one. Here is a girl who comes out, and states she has issues and she has every reason to be distant and skeptical. She didn't think she would meet Marcus during the girls night out and have him change her opinions of relationships and such. Of course in the story, it doesn't help when sex dice end up becoming apart of why the two ends up spending some time together and several other reasons.
Katrina ends up opening up a lot in this book thanks to Marcus. Marcus didn't make it easy for her, which made me love him even more. I won't give anything away because this is a short novella, but C.J. Ellisson gives you two characters that have sparks fly at the end with each other. If you've read her Walk on the Wild Side novels, you will enjoy this short story about Katrina and Marcus. The title of the book fits Katrina to the 'T' and I loved how C.J. Ellisson gives such a problematic character some happiness. Yup…in, my opinion Katrina, was difficult. Some people may not like her, but to me, she has her reasons to be the way she is.


I guess I should type a bio here. I'm FranJessca or Fran for short. I'm the owner of Book Lovin' Mamas and main Reviewer. I've been reviewing books since I got out of the Navy in 2011. Now 8 years later, I'm still reviewing, but this time with my youngest sidekick.
When I'm not reading and reviewing, you can find me at my day job during the week and on the weekend taking care of our little farm.

Latest posts by FranJessca (see all)