Review: 'Mated to the Devil' by Eve Langlais
March 31, 2013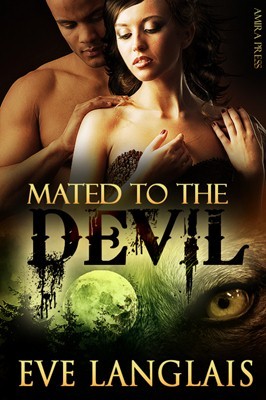 Mated to the Devil
by
Eve Langlais
Published by
Amira Press
on March 29, 2013
Genres:
Paranormal Romance
Format:
eBook
Source:
Purchased
Goodreads
Purchase at
Amazon

Not all pleasures are a sin...
Mina wants to put her seduction by a golden-eyed devil behind her, but the birth of her son, Jacques, renders that impossible. She tries to forget the only man who ever roused her passion, but when she notices her son exhibiting strange behavior—and less-than-human characteristics—she must face her past and learn to trust, and love, again.
Howling drunk, the one thing Remy clearly remembers is seducing Mina. A pity he didn't think to get her address, especially since he marks her as his mate. When she disappears, he's got plenty of time to regret, but he doesn't get a chance to atone until she comes back into his life with an unexpected surprise.
Thrust into the role of father, Remy works to bond with his son while gaining forgiveness. But will he get the chance to truly make Mina his mate before danger threatens their fragile happiness?
My Review
I am a HUGE fan of Eve Langlais's books, and I have to admit this is by far my FAVE book from Eve due to the emotional ride that Eve put me through in "Mated to the Devil." I'm used to her humor in her books and was not prepared for an emotional one that made me realize how cruel the world is…even when it's paranormal.
One night at a frat party, Mina ends up not only raising concerns in her head that she should not be at the party due to her fear of her parents finding out but her concerns with the guy who she cannot seem to get enough of seeing.
Remy never thought he would find his mate while during unfortunate circumstances. Now he is determined to find out more about her and claim her.
That one night of passion will leave Mina wondering what Remy is and why now she is concerned about her son, Jacques and his glowing eyes. What was Remy was he the devil?
Remy has been not himself since that one night of passion, and his father has been trying everything to find out about the woman who claimed his son's heart.
When they do find her, they will find out Remy not only had one night of passion but became a father to a very adorable child.
I could go on and on, but I do not want to spoil it. Eve gives you a book where two characters who are raised differently. Mina is from a very religious family, and her parents will disown her if she does anything that is not in their religion.
Remy is the shapeshifter who is supposed to be laying low while in college but becomes too lovestruck the minute he sees Mina.
How Eve wrote Mina and Remy together was perfect. Mina needed Remy for what her parents did to her, and she needed someone to remind her the world was not there to judge her or make fun of her. Remy needed Mina because he needed someone to love and be loved back.
This book has to be one of the best dark paranormal romance books I have read so far this year. Eve did a splendid job on everything about this book.
Although the first half may be kind of too much to some readers, to me, it was not what some readers would think. Eve does a fabulous job of explaining Mina's reaction to what happened in detail and how she felt what happened between her and Remy.
She may have been a little scared because she thought he was the devil at first or son of the devil, but once she realized the truth, she understood the world better.
Mina is a compelling heroine at the end, even when she was put through hell with her parents and what happened to her. She had such a strong little man to help her along the way too, Jacques was her adorable little boy, who you will find out about when you read this book. He stole my heart every time he was mentioned.
I give this book 5 full moons and highly recommend it to paranormal romance readers and fans of Eve Langlais.
Be prepared for an emotional ride though because Eve will bring out the tears in this book. Have a box of tissues handy because I did warn you. =)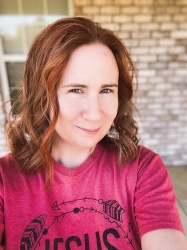 Latest posts by FranJessca
(see all)