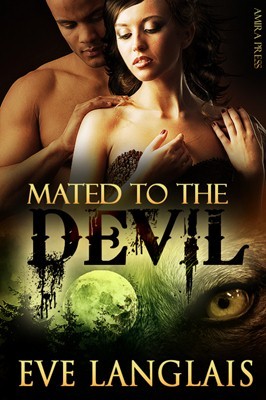 Mated to the Devil
by
Eve Langlais
Published by
Amira Press
on March 29, 2013
Genres:
Paranormal Romance
Format:
eBook
Source:
Purchased
Goodreads
Purchase at
Amazon

Not all pleasures are a sin...
Mina wants to put her seduction by a golden-eyed devil behind her, but the birth of her son, Jacques, renders that impossible. She tries to forget the only man who ever roused her passion, but when she notices her son exhibiting strange behavior—and less-than-human characteristics—she must face her past and learn to trust, and love, again.
Howling drunk, the one thing Remy clearly remembers is seducing Mina. A pity he didn't think to get her address, especially since he marks her as his mate. When she disappears, he's got plenty of time to regret, but he doesn't get a chance to atone until she comes back into his life with an unexpected surprise.
Thrust into the role of father, Remy works to bond with his son while gaining forgiveness. But will he get the chance to truly make Mina his mate before danger threatens their fragile happiness?
My Review