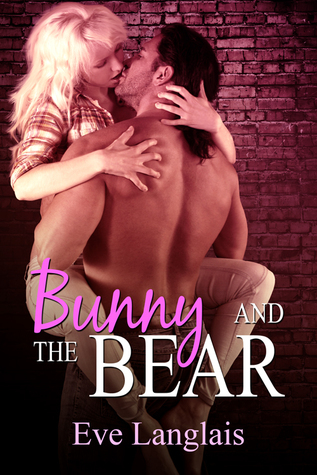 Bunny and the Bear
by
Eve Langlais
Series:
Furry United Coalition #1
Published by
Eve Langlais
on August 11th 2011
Genres:
Paranormal Romance
Pages:
162
Format:
eBook
Source:
Purchased
Amazon Kindle
|
Amazon Paperback
Goodreads

What's a poor bear to do when all he wants is some sweet, bunny pie?
Bears and bunnies aren't supposed to mix, or that's what Chase keeps telling himself when his bouncy new neighbor won't stay out of his business—and his mind. However, the more he gets to know his overly perky neighbor, the more he craves her—naked in his grasp—a desire worse than his addiction to honey and pie.
Miranda's on a mission for the Furry United Coalition, and it involves secretly guarding one grumpy ol' bear. Staying focused on the job isn't easy when all she can think about is turning his frown upside down, a task made harder when she gets a glimpse of his passion. When she hears about his theory on woodland creatures and predators not mixing, she thinks all is lost, but she didn't count on a bear's curious nature—and possessive need.
When an evil force abducts Chase, Miranda unleashes her bunny in order to save him, but the revelation of her shifter side puts her in danger. Is one ornery bear enough to save her from a mad scientist? And if he does, can a bear forget her woodland creature status long enough to love her and make her his mate?
Warning: Pies were harmed in the making of this story and naughty references made about honey that might offend some readers
My Review
I received a complimentary copy of the book from the Purchased in exchange for an honest review. This does not affect my opinion of the book or the content of my review.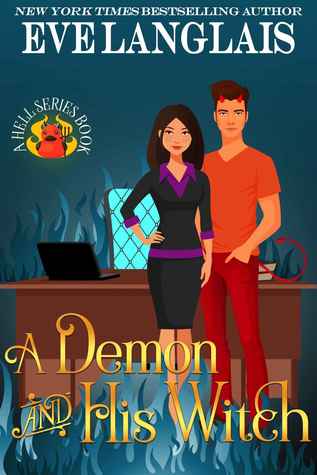 A Demon and His Witch
by
Eve Langlais
Series:
Welcome to Hell #1
Published by
Eve Langlais
on June 4th 2012
Genres:
Paranormal Romance
Pages:
158
Format:
eArc
Amazon Kindle
|
Amazon Paperback
Goodreads

An incorrigible demon meets his match when Lucifer pairs him with a witch.
Remy's not ready to settle down, it wouldn't be fair to the ladies who love him so much. A giving demon, why would he deny them the pleasure of his excellent technique? But his view on monogamy changes when he meets a saucy witch with a firm grasp of the word 'No!' Who could resist the challenge? However, before he can put his demonizing days behind him, he needs to catch the bad guys, save the witch, and find a way to convince her to love him, not kill him.
Warning: This story contains a sexy demon with corny pickup lines and a sassy witch who works for Satan. There is coarse language, hot scenes, a twisted version of Hell and a whole lot of giggles. If you possess an open mind, a good sense of humor and a tainted soul, then read at your own peril.
My Review