Review: 'Mind Games' by Carolyn Crane
March 28, 2014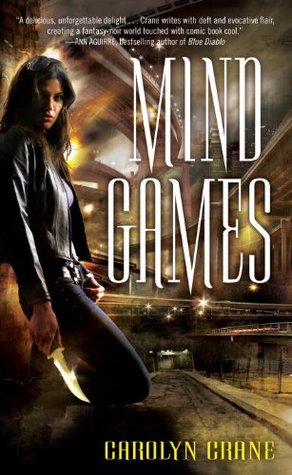 Mind Games
by
Carolyn Crane
Series:
The Disillusionists #1
Published by
Spectra Books
on March 23, 2010
Genres:
Urban Fantasy
Format:
Paperback
Source:
Purchased
Goodreads
Purchase at
Amazon
|
Apple

Justine knows she's going to die. Any second now.
Justine Jones has a secret. A hardcore hypochondriac, she's convinced a blood vessel is about to burst in her brain. Then, out of the blue, a startlingly handsome man named Packard peers into Justine's soul and invites her to join his private crime-fighting team. It's a once-in-a-lifetime deal. With a little of Packard's hands-on training, Justine can weaponize her neurosis, turning it outward on Midcity's worst criminals, and finally get the freedom from fear she's always craved. End of problem.
Or is it? In Midcity, a dashing police chief is fighting a unique breed of outlaw with more than human powers. And while Justine's first missions, including one against a nymphomaniac husband-killer, are thrilling successes, there is more to Packard than meets the eye. Soon, while battling her attraction to two very different men, Justine is plunging deeper into a world of wizardry, eroticism, and cosmic secrets. With Packard's help, Justine has freed herself from her madness—only to discover a reality more frightening than anyone's worst fears.
My Review
I've had this book in my bookcase for the past four years. Yup…four years. I am a bookworm, so I tend to buy books and forget about having them. I signed up for the March Pick-it-for-Me-Challenge in one of my Goodreads groups, and this was one of the books chosen for me. Here was my chance to read a book that I've meant to read for four years.
I'm glad though Mind Games was chosen for me since it brought me back to one of my favorite genres, Urban Fantasy. It also was a book like no other that I've read before. Here Carolyn Crane gives us characters that have mind powers, which can be considered a gift or a curse. I have never read a book like this, and it intrigued me from beginning to end.
I'm introduced to the main character, Justine Jones who is a hardcore hypochondriac, and she's convinced that she will die if the blood vessel in her brain gets to worked up with her fears. She's your typical hypochondriac if you ever knew one and I have, but Justine doesn't know she's able to put her fears into other people. I loved how she grew tremendously in Mind Games and how even when she doubted herself, she took it upon herself to strive through. There are times though she challenged herself and ended up not doing something, she had every reason not to. Justine ends up coming upon Sterling Packard who wants Justine in his crime-fighting team known as the disillusionists. They are to reform criminals using their abilities. Packard is a mysterious guy in the book who has a secret or several. I didn't know what to make of him, and several times I wanted to slap him for Justine, especially when he tricked her many times in the book. He's supposed to be the boss of the disillusionists, and for some reason, he never leaves the restaurant that Justine meets him at in the story. It's bizarre until the story starts opening up to what is genuinely up Packard's sleeves. There are several other characters introduced, and I'm fascinated with every one of them, even Simon who came off as a jerk.
Be prepared for some profoundly crazy criminals that will make you cringe or even make you hide underneath your covers. Let's say Carolyn Crane creates criminals that need the disillusionists to reform them. (Geez, the Alchemist freaked me out!)
I wish I would have read this book sooner because I know I would've devoured the books back to back. Urban Fantasy will always be my favorite go-to genre, and Carolyn Crane gave me back my love of this genre even more. I give this book 4.5 moons and look forward to reading the next series very soon.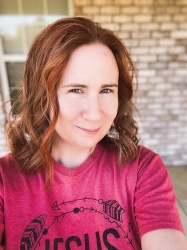 Latest posts by FranJessca
(see all)