Review: 'Mine to Possess' by Nalini Singh
May 5, 2021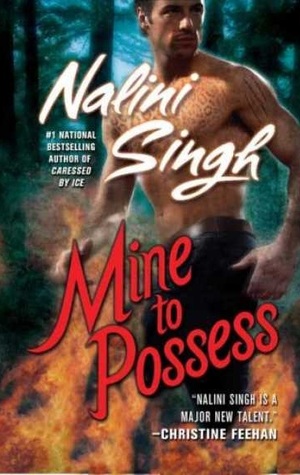 Mine to Possess
by
Nalini Singh
Series:
Psy-Changeling #4
Published by
Berkley Sensation
on February 5, 2008
Genres:
Paranormal Romance
Format:
Paperback
Source:
Purchased
Goodreads
Purchase at
Amazon
|
Barnes & Noble
|
Kobo

Nalini Singh pulls away another dark layer of sheer desire, revealing passions unknown, in her latest novel about the world of the Psy. A ghost returns from a leopard changeling's past, making him question everything—even his base animal instincts…
Clay Bennett is a powerful DarkRiver sentinel, but he grew up in the slums with his human mother, never knowing his changeling father. As a young boy without the bonds of Pack, he tried to stifle his animal nature. He failed…and committed the most extreme act of violence, killing a man and losing his best friend, Talin, in the bloody aftermath. Everything good in him died the day he was told that she, too, was dead.
Talin McKade barely survived a childhood drenched in bloodshed and terror. Now a new nightmare is stalking her life–the street children she works to protect are disappearing and turning up dead. Determined to keep them safe, she unlocks the darkest secret in her heart and returns to ask the help of the strongest man she knows…
Clay lost Talin once. He will not let her go again, his hunger to possess her, a clawing need born of the leopard within. As they race to save the innocent, Clay and Talin must face the violent truths of their past…or lose everything that ever mattered.
---
Mine to Possess is the fourth book to the Psy-Changeling series. I love this Paranormal Romance series, which has Changelings (shapeshifters), Psy (no-feelings, cold-hearted beings), and Humans. Each book follows a new couple, and this time, I finally found out which heroine would win over Clay Bennett.
Female Protagonist: Talin McKade is human, but she's familiar with the Psy/Changeling world. She was best friends with a changeling when she was younger, but things changed after that one awful night that changed her life. Now she's a social worker helping children that live on the street. She wants them to have a better life than she did when she was little. I liked her character because she may be human, but she's a fighter in her own way. She went through horrible things as a child, which made me upset. I can't stand when children get hurt. (I'm glad the person or people that were hurting her are no longer in her life due to a particular male character.) There were times she drove me crazy with how she handled things. She was stubborn, but I understood her character a little better after finding out more about her story.
Male Protagonist: Clay Bennett is a leopard shifter sentinel for DarkRiver. He's one that tried to suppress his leopard inside of him and ended up doing the unthinkable by killing someone. He lost his best friend when he did kill. He had never known how to be a part of a clan until DarkRiver took him in, and now he's one of the fiercest sentinels. I liked Clay's character in this book, even though, at times, he did come off as a brute. He changed from Visions of Heat because he was a complete jerk in that book to a particular female character. Clay is the character that is a big-time alpha and can also be very playful.
Storyline/My Thoughts: Talin McKade has sought out Clay Bennett to help the street children she works with to protect. The children are disappearing, and she needs his help to track them down and find out who keeps taking them. Clay Bennet thought Talin was dead after he got of jail for killing Talin's foster father. Now he will do anything to keep her in his life. It does take a while for their relationship to grow again. Clay fears that Talin is scared of him for what he did to her foster father. Talin is fearful of another reason why she shouldn't get close to Clay. When she reveals the truth to him, Clay is determined more than ever keep her in his life. (No more going into details about the book because I don't want to give anything away.)
Overall, this book was another great addition to the Psy/Changeling series. I'm not too fond of the Psy Council in this book (I haven't been fond of them since the beginning.) and what they are doing behind the scenes. Why do they always want to hurt children? I'm glad that some Psy notices that it's wrong what is happening, and there is a rebellion behind the scenes. (The Ghost hits again in this book, and I'm anxious to find out who he/she is.) Clay and Talin's story is a heartbreaker because of what happened when they were younger. I could understand why Clay thought Talin was scared of him. I also could understand why Talin didn't want to get too close to Clay. Both are battling their issues. They are suitable for each other, though, and need to realize it. They were stubborn with each other. Some of the changeling characters know that Clay and Talin are meant for each other, but a certain Psy in the story has become friends with Clay and doesn't like Talin at first. Talin puts the Psy in her place. There was quite a bit of drama in this book at first until everyone started getting to know each other better.
This book also has Dorian in it, and if you read Slave to Sensation, you realize he has come along away, especially around Psy. I feel I already know who his mate will be since she was introduced in this book. I can't wait to dive into this book.
There's a storyline in this book that had me intrigued about Psy, Changeling, and Humans from the past. I can't wait to find out more about it in the series. I love how Nalini Singh has each book go deeper into the history of each species. She's one of those authors who is fantastic at world-building, which is why she's become one of my favorite authors.
Standalone or Part of Series: It's part of the Psy/Changeling series. I would recommend reading in order.
Steaminess: ⭐️ ⭐️ ⭐️ ⭐️
Trope: Fated Mates; Former Bestfriend-to-Lover
Would I recommend this book? Yes. I would recommend this book to Paranormal Romance readers out there. Each book follows a new couple and has a different storyline that connects. This is why I recommend reading each book in order. I can't get enough of this series by Nalini Singh and can't wait to dive into the next book.
Last year I read all of Nalini Singh's Guild Hunter series, and this year I'm dedicating to reading her Psy-Changeling series. I can't believe it took me this long to read her Psy-Changeling series.

This post contains affiliate links you can use to purchase the book. If you buy the book using that link, I will receive a small commission from the sale. It will help sponsor future giveaways but costs you nothing extra. You can read the full disclosure underneath the Privacy Policy.
---
---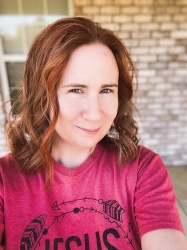 Latest posts by FranJessca
(see all)