Review: 'Mystically Bound' by Stacey Kennedy
July 26, 2013
I received a complimentary copy of the book from the author in exchange for an honest review. This does not affect my opinion of the book or the content of my review.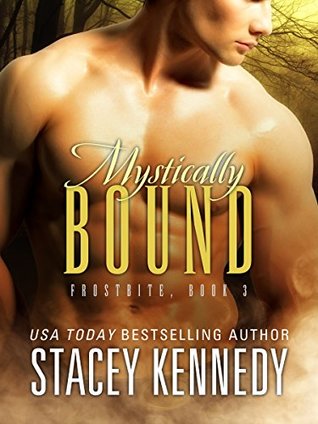 Mystically Bound
by
Stacey Kennedy
Series:
Frostbite #3
Published by
Self-Published
on January 31, 2013
Genres:
Paranormal Romance
Format:
eArc
Source:
the author
Goodreads
Purchase at
Amazon

Tess Jennings' life is in chaos. Her ghost lover, Kipp McGowen, vanished into the Netherworld without a trace. Now, she finds herself in White Castle, Louisiana, surrounded by the Animus—a secret society of the supernaturally gifted. To make matters worse, they present her with an offer she cannot refuse.
If she helps solve the murder of their Grand Master, they will assist her in saving Kipp. Soon, Tess will land herself lost in another mystery she doesn't want. But she will have to trust her enemies to gain what she most desires—a life with Kipp.
Only problem? People are hiding secrets and dark pasts. Tess will soon discover that nothing is as it seems. She might want to save Kipp from his ghostly state, but someone has decided it's better for her to join him…

Stacey Kennedy's Frostbite Series is back, and instead of making the third book the last book, she's going to have a fourth book.  Happy Day for all us, Tess & Kipp fans!  =) "Mystically Bound" is the third book in the Frostbite series and Tess Jennings is thrown into a world of magic and disorder.  Her ghostly boyfriend, Kipp is still gone, and she is now dealing with a society of gifted individuals/witches who need her help on solving the murder of their Grand Master.  Of course, if she helps, they'll help get back Kipp for her, who is in the Netherworld. What Tess does not know is she is about to be thrown into something she was not meant to do.  She will find out the people who wanted her there have secrets of their own.  She is be warned off from doing what she is supposed to do, and she is going to find out the truth on why Kipp went missing. She is also going to find out she is not the only one of her kind and she has to dive deeper into what she can do to find the answers. There is a price once she does dive into it all and it may cost her life. Stacey gives you a whirlwind of ghosts, secrets, and chaos in the third book to the Frostbite series.  She throws in a cliffhanger that makes you go into shock.  I think I was confused when I read the last sentence.  I did not want the book to end, and now I have to wait until the last installment is here.
I was intrigued by what was going on in this story with Tess.  Here she is trying to solve the murder, but in the meantime, she is being put on the spot and being warned off.  She has no clue who to trust also. Oh…and the best part was when the romance happened between Kipp and Tess.  Yay Kipp!!! But no…to the part what happened to him and what the
heck
at the ending with him as well.  (can't tell lips are sealed) I was a little upset with certain parts…I wanted more of Kipp.  I wanted to slap Tess's best friend silly…but she had her reasons to act like that.  She did not want to lose Tess.
I am anxiously waiting to find out what happens in the final installment.  Stacey did a great job in "Mystically Bound" and built it up to the cliffhanger at the end. I am sad to know that the next book is the last.  I love the characters Tess and Kipp…but I know Tess and Kipp need to have some happiness eventually…at least there better be happiness in the next book. Tess deserves some happiness, Stacey.  I'm just saying. Tess has been put through it all. I have several questions after reading this book not only because of the cliffhanger but because of certain characters. If you are a fan of Stacey Kennedy, definitely check out this book and if you have not read this series yet, you are missing out. I give this book four full moons and highly recommend this book to urban fantasy and paranormal romance readers out there.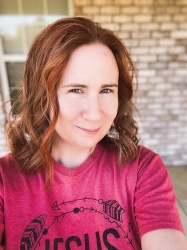 Latest posts by FranJessca
(see all)