Review: 'Plays Well With Others' by Lauren Blakely
July 12, 2023
I received a complimentary copy of the book from the author in exchange for an honest review. This does not affect my opinion of the book or the content of my review.
Plays Well With Others: How to Date Your Best Friend
by
Lauren Blakely
Series:
How to Date #2
Published by
Self-Published
on July 12, 2023
Genres:
Contemporary Romance
Format:
eArc
Source:
the author
Goodreads
Purchase at
Amazon
|
Barnes & Noble

Am I fake dating my best friend? Hear me out…

What I envisioned: Throwing myself a breakup party, a glittery fete at which I'd lift a glass and celebrate being free and single again.

What I did: Drink too much champagne and blurt out to my best guy friend that I'd really like to get back on the horse.

But what I truly don't expect is Carter's answer – he volunteers as tribute.

With his sinful brown eyes and too-good-to-be-true body it'd be no hardship for me to say yes, though I certainly don't want him to feel obligated to, um, service me, just because my failed, loveless marriage was a s-e-x desert.

But since the charming and confident pro football star owes five public dates to his dating app sponsor, we make a deal to help each other out.

Pretty soon, our public how to date lessons turn into, ahem, very private ones. And I'm a star student, graduating quickly from flirty banter and lingering looks to toe-curling, sheet-grabbing, mind-blowing hours of physical education.

The problem? Turns out learning to date again feels a lot like the real thing. Can our friendship withstand all these late-night bedroom sessions?

Especially since I'm suddenly longing for my best friend and there's nothing fake about my feelings…
Did you ever struggle to come up with ideas on where to go on dates when you were dating, especially when it was your first date with someone? You may want to read (or have your date read) Plays Well with Others to get some ideas from the Renegades football player Carter on the best ideas for first dates. Carter's dating app sponsor has been pushing him to go on dates, so he compromises with them, saying he'll go on five 'first' dates, but instead of looking for someone on the app, he asked his best friend, Rachel, to assist him. Rachel is recently divorced and moved back to San Francisco after her disaster of a marriage with her ex, and it's been a long time since she's dated, and what better way to learn but take her friend up on his offer on a fake 'first' date with him. But can friends go on fake dates together without one falling in love or both?
Lauren Blakely is the author I go to when I'm in the mood for a good laugh and swoon-worthy, steamy moments in my romance books, which is exactly what I got when reading her latest release, Plays Well with Others. Hands down, this book may be my favorite from Lauren Blakely, and I've read many of her books, especially this year. I've always been a sucker for best friends to lovers in romance books, and Rachel and Carter's was adorable. I loved their friendship and how it blossomed into a romance after they realized they were perfect for one another. Even the people following them on their fake dates on the dating app think they are an actual couple and love them together.
Carter is the MMC who acts like a cinnamon roll in public, but when you get to know him in the bedroom, he's a different person, which Rachel learned right away. The man knows what he's doing and is teaching Rachel how a man should treat her, unlike her ex-husband, who was a jerk to her.
If you are looking for a friends-to-lovers story that will have you laughing out loud and melting into a puddle (not from the summer heat), check out Rachel and Carter's love story.
---
Story Rating: ⭐️ ⭐️ ⭐️ ⭐️ ⭐️
Steam/Spice Rating: 🌶 🌶 🌶.5
Standalone or Part of Series: It's part of the How to Date series, but each book can read as a standalone.
Single/Dual POV: Dual POV.
Would I recommend this book? Yes.
Genre/SubGenre(s): Romance | Contemporary Romance | Romantic Comedy
Trope(s)/Element(s): Best Friends to Lovers | Fake Dating | He Fell First | Cinnamon Roll MMC turns into a Dirty Talker in the bedroom | Business Owner FMC | Football Player MMC
Favorite Quote(s): "There's something I like to do in bed," he says a little dreamily as I explore him more. "What is it?" He stops my exploration, holding my hands in his for a second. "I need to talk. I need to tell you the things I want to do you. I want to work you up with words."

This post contains affiliate links you can use to purchase the book. If you buy the book using that link, I will receive a small commission from the sale. It will help sponsor future giveaways but costs you nothing extra. You can read the full disclosure underneath the Privacy Policy.
---
---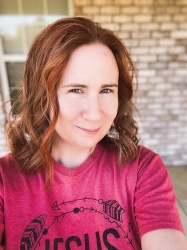 Latest posts by FranJessca
(see all)