Review: 'Poison Princess' by Kresley Cole
June 18, 2022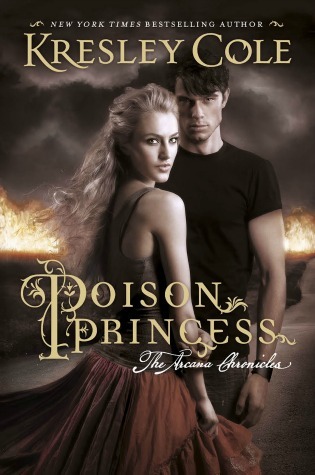 Poison Princess
by
Kresley Cole
Series:
The Arcana Chronicles #1
Published by
Simon & Schuster
on October 2nd 2012
Genres:
Young Adult Dystopian
,
Young Adult Fantasy
Format:
AudioBook
,
Hardcover
Source:
Purchased
Goodreads
Purchase at
Amazon
|
Barnes & Noble

An alternate cover edition for this ISBN13 can be found here.
She could save the world—or destroy it.
Sixteen-year-old Evangeline "Evie" Greene leads a charmed life, until she begins experiencing horrifying hallucinations. When an apocalyptic event decimates her Louisiana hometown, Evie realizes her hallucinations were actually visions of the future—and they're still happening. Fighting for her life and desperate for answers, she must turn to her wrong-side-of-the-bayou classmate: Jack Deveaux.
But she can't do either alone.
With his mile-long rap sheet, wicked grin, and bad attitude, Jack is like no boy Evie has ever known. Even though he once scorned her and everything she represented, he agrees to protect Evie on her quest. She knows she can't totally depend on Jack. If he ever cast that wicked grin her way, could she possibly resist him?
Who can Evie trust?
As Jack and Evie race to find the source of her visions, they meet others who have gotten the same call. An ancient prophesy is being played out, and Evie is not the only one with special powers. A group of twenty-two teens has been chosen to reenact the ultimate battle between good and evil. But it's not always clear who is on which side.
---
I've been a fan of Kresley Cole since I read her Immortals After Dark series, which I started reading in 2008/2009. I loved her writing style and world-building in that series and knew I would enjoy her new YA Dystopian/Fantasy series.
I read Poison Princess for the first time in 2018. Now that Kresley Cole is releasing the last book in the series, it's time to reread the Arcana Chronicles for a refresher.
Storyline/My Thoughts: The first time I read it, I wasn't prepared for where Kresley Cole would take me in this YA Dystopian/Fantasy series. The first chapter alone was creepy and twisted, and I liked it. I couldn't stop reading/listening to it. Yes, the first time I actually decided to listen to Poison Princess and loved the narrators because they brought the story and characters to life.
I won't go into detail about the story because you can read the book's description to find the premise. I don't want to spoil anything for readers who haven't read the Arcana Chronicles by Kresley Cole.
Here is why I couldn't stop reading/listening to the Poison Princess:
1. The storyline of kids being actual Arcana cards and how they must battle against each other until the last kid/card stands. Each kid/card has unique powers that pertain to their Acana tarot card. Examples of the cards are the Empress, Death, The Fool, The Magician, The Archer, etc. I loved the storyline that Kresley Cole created for this YA series.
2. Kresley Cole takes the reader to the beginning before the world falls into chaos. Readers will be introduced to the FMC, Evie, who has visions of weird people she's never met and hearing voices she's never heard. Her mother sends her away to get help, but when Evie returns, she still has them, becoming more frequent and intense. Evie's mother doesn't know that those visions and voices are helping her prepare for her future, where she will meet those weird characters.
3. I enjoyed reading the Before the Flash story of Evie and how she is introduced to a character named Jack, a Cajun boy from the other side who ends up driving Evie crazy several times in the book. He will play a significant role in the book with Evie after the world falls apart around them.
4. I also enjoyed reading the After Flash results and what has happened in the world after the apocalypse. Kresley doesn't make it easy for Evie at all. Jack, the character introduced Before the Flash, is obsessed with her and will protect her at all cost, but he also finds her unable to protect herself, which drives him crazy. (Jack is a jerk to Evie, which made me dislike him sometimes.)
5. The other Arcana card characters are starting to be introduced in the book. Each one has unique powers. I don't like the Archer, but that's because she plays the role of putting a wedge between her and Evie. I felt for Evie when a particular scene happened in the book. I'm not fond of Jack in this book. (Maybe, the odd reader, but I don't see him being right for her.)
5. The ending. Fair warning, the Poison Princess has a cliffhanger to it. It's a cliffhanger that will immediately have you picking up the next book in the series. I know it did for me the first I read Poison Princess. I can't wait to read Endless Knight for a second time. I did predict in the first book where the book was going with the subtle hints that Kresley Cole had throughout the book regarding a particular character.
So what do I give the first book in the series? I give it four stars and can't wait to work through these books again. I'm anxiously waiting for the last book in the series, but do I want it to end? No, not really, but I know Kresley Cole will finish it in a way that makes me never forget this series. It will live on in my head, and I can always reread it. Hurry up, Hollywood, pick up this series for a tv show/movie. Preferably several films that we can enjoy back-to-back.
Standalone or Part of Series: It's part of Kresley Cole's Arcana Chronicles series, and I highly recommend reading in order.
Cliffhanger: Yes
Would I recommend this book/series? Yes. I recommend this book/series to fans of the YA Dystopian/Fantasy genres. This series is about Arcana Tarot Cards coming to life in a dystopian world. Doesn't that intrigue you to read it? I know it did me. =)

This post contains affiliate links you can use to purchase the book. If you buy the book using that link, I will receive a small commission from the sale. It will help sponsor future giveaways but costs you nothing extra. You can read the full disclosure underneath the Privacy Policy.
---
---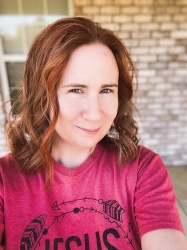 Latest posts by FranJessca
(see all)