Review: 'Purity in Death' by J.D. Robb #InDeathReadALong
April 20, 2021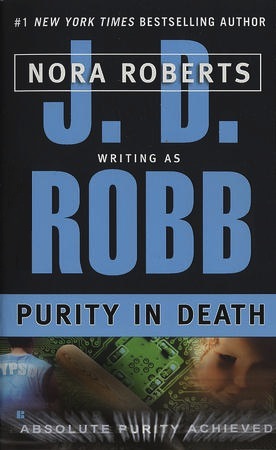 Purity in Death
by
J.D. Robb
Series:
In Death #15
Published by
Berkley
on August 27, 2002
Genres:
Romantic Suspense
Format:
Paperback
Source:
Purchased
Goodreads
Purchase at
Amazon
|
Barnes & Noble
|
Kobo

Louie Cogburn had spent three days holed up in his apartment, staring at his computer screen. His pounding headache was unbearable - it felt like spikes drilling into his brain. And it was getting worse. Finally, when someone knocked at his door, Louie picked up a baseball bat, opened up the door, and started swinging....
The first cop on the scene fired his stunner twice. Louie died instantly. Detective Eve Dallas has taken over the investigation, but there's nothing to explain the man's sudden rage or death. The only clue is a bizarre message left on his computer screen: ABSOLUTE PURITY ACHIEVEDAnd when a second man dies under near-identical circumstances, Eve starts racking her brain for answers and the courage to face the impossible...that this might be a computer virus able to spread from machine to man....
---
Purity in Death is the fifteenth book to J.D. Robb's In Death series. I'm determined to get through this series. I was going to read 2-3 books a month, but life has been hectic. I know during the summertime I'll be able to read more from this series, as long as my family lets me. I'm determined to catch on this series because I can't get enough of Eve Dallas, Roarke, Peabody, McNabb, etc. I love all of these characters. 
Storyline/My Thoughts: Louie Cogburn has been cooped up in his apartment with blaring music. His head is pounding, and he is about to break because of it. All it takes is one of his neighbors coming to confront him about his music being too loud for Louie to snap finally. The first cop on the scene fires his stunner twice, and instantly Louie dies. The cop then calls the first person who can think of that can help him, which is Eve Dallas. Eve Dallas never expected to have to deal with a case when she was supposed to meet up for Roarke for dinner, but now she's at Louie Cogburn's apartment trying to help the cop that called her. She realizes right away something is amiss because of a strange message on Louie's computer screen: ABSOLUTE PURITY ACHIEVED. Now, what could that mean, and why would Louie take a bat to his neighbor. 
This is where it gets dangerous for Eve and her team because they will have to deal with other cases like Louie Cogburn in the coming days. One of the cases will hit close to the police station. It's up to Eve and her team to determine what is causing these people to lose it and hurt others. It could be a drug, but when her squad starts unraveling what is really behind it and who is when they start realizing someone is taking justice into their own hands.
I had a hard time putting down this book because this was one case that I needed to find out what was happening and if Eve and her team were going to solve it. Poor Eve can't catch a break, and neither can her team. McNab even ends up hurt in this book, and readers will see how much Peabody cares for McNab. I love how Roarke plays a significant role in this story in helping Eve, even if Eve doesn't want him helping. Eve puts herself at risk in this book, which doesn't make Roarke happy. Eve also ends up having her past creep up again and haunt her.
This book had a lot of shocking moments in it, and everyone is involved in this case. Eve and her team will find out the truth and bring it to light on what is behind everything. I loved every bit of this book and can't wait to dive into the next book.
Standalone or Part of Series: It's part of the In Death series by J.D. Robb.
Would I recommend this book? Yes, most definitely. This is one of my favorites in the series. (I have several.) I would recommend this book/series to Romantic Suspense/Thrillers readers out there.

This post contains affiliate links you can use to purchase the book. If you buy the book using that link, I will receive a small commission from the sale. It will help sponsor future giveaways but costs you nothing extra. You can read the full disclosure underneath the Privacy Policy.
---
---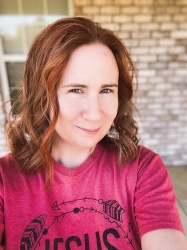 Latest posts by FranJessca
(see all)