Review: 'Red, White & Royal Blue' by Casey McQuiston
August 4, 2023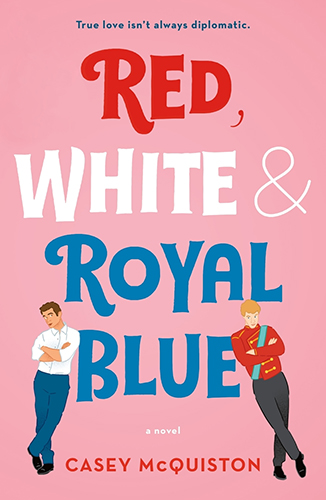 Red, White & Royal Blue
by
Casey McQuiston
Published by
St. Martin's Griffin
on May 14, 2019
Genres:
LGBT Romance
,
MM Romance
,
New Adult Romance
Format:
AudioBook
,
Paperback
Source:
Library
,
Purchased
Goodreads
Purchase at
Amazon
|
Barnes & Noble

Older cover edition of ASIN B07J4LPZRN here.
What happens when America's First Son falls in love with the Prince of Wales?
When his mother became President, Alex Claremont-Diaz was promptly cast as the American equivalent of a young royal. Handsome, charismatic, genius—his image is pure millennial-marketing gold for the White House. There's only one problem: Alex has a beef with the actual prince, Henry, across the pond. And when the tabloids get hold of a photo involving an Alex-Henry altercation, U.S./British relations take a turn for the worse.
Heads of family, state, and other handlers devise a plan for damage control: staging a truce between the two rivals. What at first begins as a fake, Instragramable friendship grows deeper, and more dangerous, than either Alex or Henry could have imagined. Soon Alex finds himself hurtling into a secret romance with a surprisingly unstuffy Henry that could derail the campaign and upend two nations and begs the question: Can love save the world after all? Where do we find the courage, and the power, to be the people we are meant to be? And how can we learn to let our true colors shine through? Casey McQuiston's Red, White & Royal Blue proves: true love isn't always diplomatic.
---
Did I just read Red, White and Royal Blue so that I can watch the movie version of it next month? Yes, I did. The previews of the movie had me hooked that I needed to make time to read it. 
Did I enjoy the book? Somewhat. It won't be a favorite, but I did enjoy that the book had the Enemies to Lovers trope, and I adored the main and secondary characters in the story. My issue was that there was more focus on politics than the relationship between Henry and Alex; I do not enjoy politics in my story. I knew what I was getting into this book when it involved America's First Son and England's Prince falling for each other, but I tend to avoid politics in real life. I was raised in a Conservative household but never fully aligned with my family's voting stances, which is why I'm not registered as a Rep/Dem; I am a Libertarian and have been for years. I'm the problem child in the family for not being either Republican or Democrat, but I have always questioned things, and I was never fond of either party and what they had to offer. If you roast the Republican side, you better do the same to the Democrat side because both major parties have been the same for years. This book definitely leans more to one side of the political spectrum, so I tended to skim over those parts and focus on the romantic story of Alex and Henry.
I loved that this book had the First Son, Alex, and the Prince of England, Henry, as enemies that gradually became a romantic relationship between the two characters. The banter between the two was adorable, especially when they caused a scene at the Royal Wedding and were forced to start hanging out like friends due to the risks of threats to their American/British relations in the news and tabloids. It doesn't help with Alex's mother being up for reelection, and she needs Alex to be on his best behavior when he does hang out with Henry. The second the two did hang out together, they started to get to know each other, and I loved getting to know the characters more and what they were into away from their duties. I will admit that Henry was my favorite, especially when his favorite Star Wars movie was Return of the Jedi. And, his reason for loving that movie was the same as mine and not just because there were Ewoks in it. I did like Alex, too, especially with how he handled certain things in the book that pertained to his and Henry's relationship.
Now, do I consider this book spicy? No, not even close to spicy. You get some mention of what the characters did, but it's more fade-to-black scenes than anything when Henry and Alex get together. There are a lot of love notes/texts/emails back and forth, but not a lot of moments between the two characters that involve spicy. This book may be considered spicy to some readers, but to me, who reads different subgenres of romance, this book is not considered the same level of spice I tend to read.
I think this book would have been more enjoyable if the politics hadn't been in it, but that's my opinion; other readers may enjoy it. I just can't get into political stuff in my books. I want an escape from what's on the TV, radio, social media, etc., which is why I read books.
I will say this, as someone who is a Libertarian, I can't stand that the government gets involved with things such as who you should marry or love. It's none of their damn business. I hated that Henry and Alex had to keep their relationship secret because that shouldn't be the case.
The ending was predictable, with Henry and Alex's relationship being discovered and who was behind it. I liked that family and friends supported the two and their relationship.
I do recommend the audiobook of this book. I would have DNF'd the book if I had read it instead of listening to it. The narrator made the story okay, especially since it was written in the present tense and third person, which is not my favorite when reading a romance book.
Will I read another book from this author? I don't think so at this time.
---
Story Rating: ⭐️ ⭐️ ⭐️
Steam/Spice Rating: 🌶
Would I recommend this book? I will only recommend if you are a fan of Casey McQuiston's books already.
Genre/SubGenre(s): Romance | New Adult Romance | MM Romance | LGBTQIA+
Trope(s)/Element(s): Enemies to Lovers | Fake Friendship | Secret Relationship | Bi-Awakening

This post contains affiliate links you can use to purchase the book. If you buy the book using that link, I will receive a small commission from the sale. It will help sponsor future giveaways but costs you nothing extra. You can read the full disclosure underneath the Privacy Policy.
---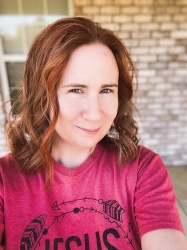 Latest posts by FranJessca
(see all)