Review: 'Romantic Tales: Bedtime Stories, Episode 2' by Ty Langston, Tigris Eden, & Riley Ross
January 9, 2013
I received a complimentary copy of the book from the author's assistant in exchange for an honest review. This does not affect my opinion of the book or the content of my review.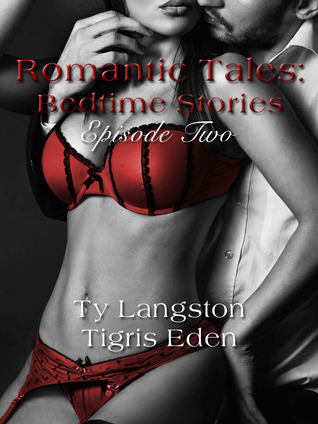 Romantic Tales: Bedtime Stories Episode 2
by
Tigris Eden
,
Ty Langston
,
Stephanie Fodor Scott
Published by
MT Books
on October 24, 2012
Genres:
Contemporary Romance
,
Erotic Romance
Format:
eArc
Source:
the author's assistant
Goodreads

Author Ty Langston's: CRAVE
Preview of Episode 2
Exhausted and burnt out due to a mix of long hours and a steady diet of working hardened news stories, left Harper at a loss when she met the magnetic and mysterious lead singer of Crave, Cass St. Marie.
She was drawn to him, yet frightened. What was he? Who was he? Did he have anything to do with Darien's disappearance?
Desperate for the truth, the more she talked with him, the more attracted she became. Did he really have the answers she sought or was he a distraction of something more sinister.
Author Tigris Eden's: The Genesis Project
Preview of Episode 2
Xander Treegold sees something in Genesis that he can't explain. Is it her oddity that captures him or her innocence? Xander's never taken no for an answer when it comes to getting what he wants and at every opportunity that is given to him Xander seems to fail miserably. That is until he pulls Genesis into a dark alcove in the Great Hall where others are preparing for their journey back to New Earth for Luna.
Will Genesis succumb to his attentions or will she once again deny him the only thing he's ever truly wanted…. Her.
Politics and other's seem to get in the way of his every intentions and as Luna approaches so does the private tasting he's invited Genesis to. Will she indulge like the rest of them, or will she stand in the back, watching, wanting, and needing to be tasted as much as the next female.
Gen is happy to finally be back home with her father Vaggo, and as short as this homecoming is, she is determined not to let the outside influence of Xander Treegold convince her of his intentions. With Adam constantly showing up at her door step, attempting to sway her away from his soon to be brother –in-law she finds that Professor Aylet is correct in her assumptions. There are two males that make her question her every feeling.
Adam's sultry scent and Xander's fire.
My Review
Episode 2 picks up from Episode 1 left off at and of course more cliffhangers, but this book definitely was hard to put down.  Finished it in less than a hour last night.
The Getaway by Riley Ross
This was so much better than episode one because it had a little bit more drama to it and of course Mike's Mom got some shocking news to her in this episode and Juliet put her in her place.  GO JULIET!! Can you tell…I do not like Mike's Mom, Elaine.
Oh…this episode of The Getaway had some romance to it because Mike showed a different side of him and of course Juliet made it where Mike could not resist her.  Again, GO JULIET.
Riley Ross through in a great cliff hanger as well and I look forward to Juliet's answer.
I definitely enjoyed this part better than the first and I clicked more with the characters.
Mike's Dad is amazing and he definitely has to have strong-will to be married to evil Elaine.
Crave by Ty Langston
Crave picked up with the character, Harper wondering if she should even go around Cass and his crew again after what happened and what was revealed with what they were.  Should she be scared, thrilled, or just shocked.  I know I was in shock.
Ty Langston even introduced a bigger plot of the story and what happened to the missing girl and what is coming down the pipeline to Cass and his friends.  Oh…and Cass has issues as well that he is still dealing with because of what is happening.
The ending was another cliff-hanger and this one left in me in shock where I had to re-read it to make sure I understood it was the ending.
Another…what the heck from me and how I wanted more.  Ty definitely did not disappoint at all and I definitely look forward to the next episode.
The Genesis Project by Tigris Eden
This is what caught my attention the most….OH BOY!  Tigris, you made me fall in love with Xander even more.  Darn you!
Got a glimpse in Xander's head…now that is what I was hoping for.  He is enthralled by Genesis and he cannot stop thinking about her.  This definitely had a lot of interesting twists and turns.  Tigris left me wondering what is up with Adam though.  Is he like Xander and entranced by Genesis.  Almost all of the males are.
I am kind of scared for Genesis because I wondering what Xander has planned for her since he invited her somewhere that she not go.  Is the truth going to finally be revealed about her?
I definitely love this sci-fi story that Tigris has created.
I loved this episode of all three stories better than the first one since more of the story of each came out. The Getaway is still different from Crave and The Genesis Project, but Juliet the main character of it is definitely one kick butt character.  She definitely can handle herself.
The Genesis Project is what kept me on the edge of my seat though the most since I got to be inside the head of the mystery, sexy, bad boy Xander.  I definitely need more of him.
And Crave…well let's just say…any book that contains sexy werewolves that play in band…I definitely fall head over heels for.
I love all three of these Authors and how they keep me wanting more after each episode.  They definitely know how to leave a reader hanging.
I give this episode 4.5 stars and I will be diving into the third episode real soon.  =)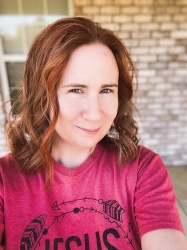 Latest posts by FranJessca
(see all)