Review: 'Ruby' by Jeffe Kennedy
June 9, 2013
I received a complimentary copy of the book from the blog tour host in exchange for an honest review. This does not affect my opinion of the book or the content of my review.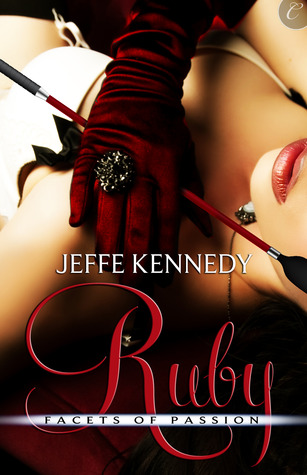 Ruby
by
Jeffe Kennedy
Series:
Facets of Passion #3
Published by
Carina Press
on May 13, 2013
Genres:
Erotic Romance
Format:
eArc
Goodreads
Purchase at
Amazon

Book three of Facets of Passion
Danielle Sosna has no problem denying herself in order to achieve her goals—after all, that attitude landed her a dream job at Vogue Paris. But in New Orleans for one last assignment before heading overseas, she's faced with the most decadent of temptations. Seductive Cajun chef Bobby Prejean takes Dani's strength of will as a challenge, and offers her a night of wild indulgence—if she will agree to obey his every command…
Dani can't resist Prejean's invitation to join him in a world of carnal desire, complete with fetish costumes and masks. Determined to keep her emotional distance, she gives Prejean everything but her name. A night becomes a week, as she spends Mardi Gras suspended…in the delicious space where pleasure meets pain.
Too late, she realizes the cloak of anonymity has not protected her—and that chasing her dream might come at the expense of her heart.
For more Facets of Passion, check out Sapphire and Platinum, available now!
41,000 words
My Review
I love this series from Jeffe Kennedy, and I am so glad she is continuously creating new stories for it.
Ruby may be my favorite book in the series so far, not only because it is set in New Orleans, but because of Bobby Prejean. *sigh* He won me over in this book.
He's a bad boy with a strong, sexy, commanding voice, who knows how to cook. Oh…boy does he know how to cook. My mouth was watering every time food mentioned in this book that he cooked, and it made me want to visit New Orleans even more now.
Danielle Sosna ends up meeting Bobby Prejean when he refuses to cook the way she wanted in his restaurant. She then meets up with him and ends up doing things she never thought she would be comfortable doing, but did I mention that Bobby is very persuasive. How could she resist the sexy, dangerous Cajun cook who will make a woman fall to her knees with his smoldering eyes and his very commanding voice? He may be fictional, but the way Jeffe wrote him I was melting whenever he was mentioned in the book. Yes, I had it that bad for him.
This story had two very different characters which are another reason why I think I loved this story more. Danielle was so difficult, and she loved to test Bobby's patience. Bobby was very controlling when it came to having fun and doing things that put Danielle on the spot.
This book includes a lot of BDSM in it and some food play…and even some scenes you may or may not feel comfortable with when you read the book. I felt Danielle's skepticism a few times when Bobby put her in certain predicaments….but he opened her up and made her realize her potential. She even made him realize what he had to fix to move on with his life that kind of freaked me out about him.
Jeffe Kennedy made me hot and bothered while reading this book (in a positive GOOD way). Her writing style when it comes to erotica is FREAKING awesome. She was the one author who got me reading even more erotica and BDSM. Sapphire, the first book in her Facets of Passion series, was the first erotic book I ever read and now I am highly addicted.
I give this book 4.5 moons and highly recommend it to erotica and contemporary romance readers out there. If you love reading a book that has BDSM in it, anal play and even food play…then this is the book for you.
I highly recommend reading the first two books as well…but they do not need to be read in order.
I received a complimentary copy of the book for the blog tour in exchange for an honest review.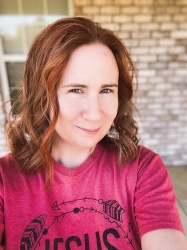 Latest posts by FranJessca
(see all)