Review: 'Sugar Springs' by Kim Law
January 1, 2013
I received a complimentary copy of the book from the publisher in exchange for an honest review. This does not affect my opinion of the book or the content of my review.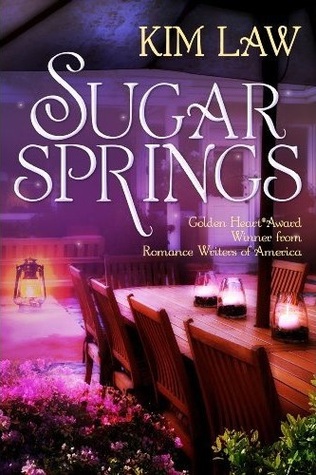 Sugar Springs
by
Kim Law
Series:
Sugar Springs #1
Published by
Montlake Romance
on December 24th 2012
Genres:
Contemporary Romance
Format:
eArc
Goodreads
Purchase at
Amazon
|
Apple

Lee Ann London once had big plans…scholarship, college, love. Then she found herself raising her deceased sister's twin girls when their father disappeared. Now, with her beautiful girls, a community that depends on her, and her photography studio finally taking off, Lee Ann may not have the life she'd imagined, but it's definitely where she wants it. Until Cody, her bad-boy ex, returns to Sugar Springs…
Cody's childhood put a chip on his shoulder the size of Texas. Bouncing around the foster care system, he was always the one to leave before anyone left him first. Then he found a place he wanted to stick. Lee Ann was the best thing that ever happened to him. Only, he hurt her. Bad. He's back now, and determined to earn her forgiveness…and maybe win back her love while he's at it.
My Review
I love stories that bring two characters back together after having a downfall a long time ago and they have to find away to get over that downfall and find out the truth on why it happened.  The characters were meant to be with each other from the very beginning and fate has brought them back together.
Lee Ann London (*I just love her name*) had to give up her future plans right after high school.  Actually…right after the moment she saw her boyfriend half naked in her house and Lee Ann's sister naked as well with each other.  Lee Ann knew that her boyfriend was a bad boy, but she never thought he would break her heart especially with her sister who had it out for her since the minute their Dad walked out on them.  Now Lee Ann is raising her sister's twin girls because they found out after the girls were born that her sister had cancer.  The real kicker is Lee Ann knows who the father is the girls and she never expected for him to show back in town almost 13 years being gone.  Now Lee Ann must either ignore the man who broke her heart, or tell him the truth.  She just wanted to live her life and never see his face again, but of course fate likes to change everything. Now she's hoping the girls and her world do not change for the worst.
Cody, who was known as the bad boy in Sugar Springs and when he broke the heart of the one girl who he loved back in high school, he ran from Sugar Springs and his girlfriend's broken heart. He had just a difficult childhood as it was.  His real reason of hooking up with Lee Ann's sister was for a stupid reason because he had found out something about his past and he did not know how to deal with it.  Now he is back in Sugar Springs taking over the Veterinarian job due to Keri about to have her baby and needed someone else to handle it for 6 weeks.  Cody wants to make it up with Lee Ann and tell her the truth on why and what happened.  He is about to find out the truth about the girls in Lee Ann's life and he either will go in shock or be ecstatic.  Either way, the past is about to be back full force and now they're will be even further problems for Cody and Lee Ann…he's just hoping to not break her heart again and make it through the next 6 weeks.
Kim Law writes a heart-breaking, sweet contemporary romance where two lovers will come back together after such heartache and make it work out for the best.  They will have to deal with more problems a long the way, but of course those problems will make them stronger.  Fate has a way to make dreams come true, but at their own pace and when they want it fall in place.
Lee Ann was such a determined character to make the most of what happened in the past to not dictate her present and future.  She gave up her dreams due to raising twin girls, but she thought the girls were an amazing gift to maybe get over the fact that her sister hated her.  She loved her sister's girls and was happy to raise them.  She could not give over the fact of Cody hurting her and I could understand her reluctance of talking to him when she heard he was in town.
Mind you, Sugar Springs is a small town and gossip is every where and whenever Lee Ann did meet up with Cody, sparks were supposedly flying per the gossip queens in town.
Cody was really hurt for what he did to Lee Ann and I could understand why he was determined to talk to Lee Ann when he first got into town.  I could tell his feelings were still there and how much he pained him that he hurt her in the past and wanted to make up for it.  When his past came about in the book, I definitely understood him more and why he did the things he did.
I liked the fact that he kept driving Lee Ann to conquer her goals now after he found out the truth.  He wanted her to conquer everything she was supposed to do.
Then there was the problem that came at the end of the book, that made Cody even stronger as a character in my eyes.  He changed for the better.
 I loved the fact that the twin girls, Kendra and Candy, were there to stick up for their Mom, Lee Ann and of course teach Cody a few things about teenage girls.  They definitely made the story entertaining at times.  =)
I really enjoyed reading "Sugar Springs" because it had its sad moments, but of course Kim Law made sure to put in the happy moments for the characters.   She made everything flow very well and made me fall in love with her fictional characters the minute they were introduced.  I love the different points of views of Cody and Lee Ann.  She threw in some steamy moments between the characters as well and those moments turned into even more steamier moments.  Let's just say Lee Ann is a little vixen, especially when Cody was cooking for her.  LOL
I definitely look forward to reading Kim Law's next book.  =)
If you are a contemporary romance addict like I am, you definitely should try out this story that rekindles an old romance that should of been forever from the beginning.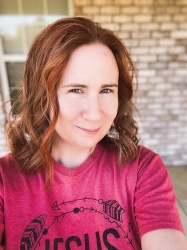 Latest posts by FranJessca
(see all)