Review: 'Taken by a Dragon' by Felicity Heaton
January 7, 2019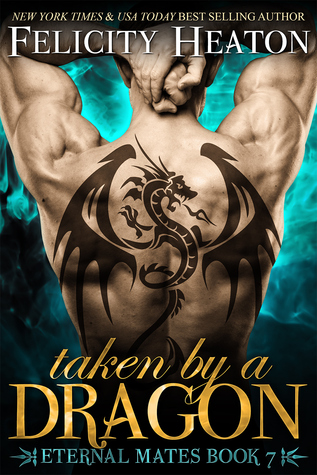 Taken by a Dragon
by
Felicity Heaton
Series:
Eternal Mates Romance Series #7
Published by
Self-Published
on March 10, 2015
Genres:
Paranormal Romance
Format:
AudioBook
Source:
Purchased
Goodreads
Purchase at
Amazon
|
Apple
|
Google Play
|
Kobo

Possessed by a need to save a beautiful Amazon warrior from the vision he witnessed, Loke snatched her from the midst of the battle between the Third and Fifth realm of the demons, and carried her to his home deep in the black mountains of Hell to protect her. But as the fierce little female awakens, he finds she's anything but grateful, and his dragon instincts roar to life to warn she might be more to him than an enemy—she might be his fated female.
Anais remembers meeting a handsome warrior in the heat of battle, a man who was her enemy but who looked at her with eyes that held dark heat and wicked promises. When she wakes to find that same dragon shifter has taken her captive, desire is the last thing on her mind, but escaping him to return to Archangel, the hunter organisation she works for, sounds less than appealing when he reveals the reason he took her—to stop her from dying.
Can Loke protect Anais from the dangers of his realm and how far will he go to save her from the future he keeps witnessing? Can Anais resist the fierce attraction that burns between them as hot as fire and stay true to Archangel or will her heart be taken by the dragon?
(Warning this is a very long review (kind of)…this is due to me ranting to myself of not reading this book sooner.)
It's long overdue that I read (or listen to) Taken by a Dragon by Felicity Heaton. The book was published back in 2015, and it's now 2019. I cannot believe it took me this long to read Anais and Loke's book. Life sometimes takes unexpected twists and turns due to a day job that takes priority.
Now, I'm going back to finish the series. I started from the beginning to get a refresher of the series, and I'm finally caught up to where I left off back a few years ago. I'm glad I decided to start from the beginning too because I would've been lost with how Anais was captured by a specific dragon shifter. If you read the second book in the series Claimed by a Demon King, you would've been introduced to Anais. She's one of the mortal huntresses with Archangel who was assisting with the battles of third and fifth realms. Unfortunately, she never thought she would be kidnapped by a stranger, Loke, who happens to be a very sexy dragon shifter.
Bring on the hotness! I love dragon shifters, and Felicity did not disappoint with Loke's character. Loke happens to keep some of the characteristics of his dragon, while he's not in his 'dragon form.' LOVE it! He has his reasons of capturing the beautiful Anais, and that's due to a future vision he keeps having about her. He wants to keep her safe of what is to happen in the vision, but also have to keep her safe from other dragon shifters in 'hell,' where the dragons reside.
I don't want to give away too much of the story, so onto the actual review. Although, you may notice that I gave this book 4 stars. Why did I give this book 4 stars over 5 stars? Well, it's due to certain aspects within the story. One was I didn't connect like I wanted to with Anais. Don't get me wrong, I liked her, but I didn't love her character. Here it was Loke was protecting her, but she goes ahead and does the unthinkable. She betrays Loke. She does work with Archangel though, which is an organization which is all about killing the paranormal kind or capturing and researching them. I think the main reason why I didn't like her was due to me comparing her to Sable. I loved Sable. No one compares to Sable, but that's my fault. I got attached to the tough huntress. Moreover, I expected Anais to be the same way. Anais didn't stop me from not reading or listening to the story in this case. Anais did have her some qualities about her, which other readers may enjoy her character.
I loved Loke though. Not only because he was a dragon shifter, but due to his personality and how he handled situations. He was very protective of Anais. Once, he realized why he was protective of her; he showed his qualities even more in the story. Hey, he did rescue her from the third and fifth demon realm battle. She could have at least be grateful.
There was some action in the book, but not as much as previous earlier stories. No fret though, when there was action, there was some 'ACTION.' Not only fighting but with some steamy scenes that were in the story too. There was also previous characters from earlier books that showed up in this book, which is always great about Felicity's books.
If there is one of many reasons why I adore Felicity is she writes some unforgettable characters and storylines. I don't know how Felicity does it though on keeping up with all the characters, world-building and all around addicting stories, but she will forever have me as a loyal reader. She's one of the go-to authors, whenever I get into a reading slump. She's the auto-buy author for me, and I'm thankful the Eternal Mates series are in audio so that I can listen to them at the office.
If you are looking for a new paranormal romance series to read and haven't read any of Felicity's books I highly recommend reading this series, you want to start from the beginning though because you'll want to read to get the full world-building that Felicity has created for her Eternal Mates series.
Now, onto the next book in the series, Marked by an Assassin. Thank goodness I did wait to read this series because I can read the books back to back and not have to wait for the next book to be published. 😉

This post contains affiliate links you can use to purchase the book. If you buy the book using that link, I will receive a small commission from the sale. It will help sponsor future giveaways but costs you nothing extra. You can read the full disclosure underneath the Privacy Policy.
---
---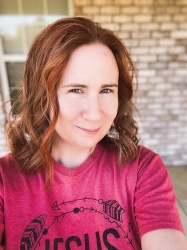 Latest posts by FranJessca
(see all)