Review: 'Tangled' by Emma Chase #Romanceopoly2020
April 2, 2020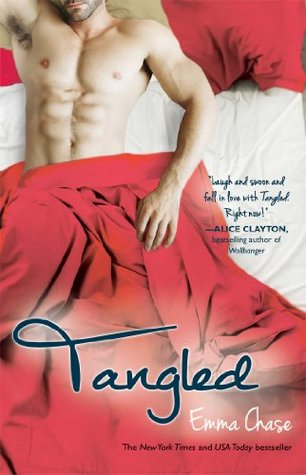 Tangled
by
Emma Chase
Series:
Tangled #1
Published by
Gallery Books
on January 14, 2014
Genres:
Contemporary Romance
Format:
eBook
,
AudioBook
Source:
Purchased
Goodreads
Purchase at
Amazon
|
Barnes & Noble

When rich, handsome, and arrogant meets beautiful, brilliant, and ambitious, things are bound to get tangled
Drew Evans makes multimillion-dollar business deals and seduces New York's most beautiful women with just a smile. So why has he been shuttered in his apartment for seven days, miserable and depressed? He'll tell you he has the flu, but we all know that's not really true.
When Katherine Brooks is hired as the new associate at Drew's father's investment banking firm, every aspect of the dashing playboy's life is thrown into a tailspin. The professional competition she brings is unnerving, his attraction to her is distracting, his failure to entice her into his bed is exasperating.
How can one woman turn a smooth-talking player into a broken, desperate man? By making the one thing he never wanted in life the only thing he can't live without.
---
I had mixed feelings starting Tangled by Emma Chase since the story is told in the hero's POV. This was one of my first books where it was only said in the hero's POV, so it took me a while to get into this book, especially since the hero came off as a jerk. I don't like heroes that are jerks and manwhores, and that is what Drew is the first half of this book. The hero thinks he's God's gift to women and uses women regularly.
Drew doesn't want a relationship until he meets Katherine Brooks at a bar one night. He can't get her out of his head and wants to be with her. He believes once he hooks up with her, though, that he'll never want to think of her again. Sorry, that's not how he works, Mr. Drew Evans. Unfortunately, she's engaged and doesn't want anything to do with Drew. He's about to realize that the woman he can't stop thinking about is going to be close to him every day at his family's company.
Katherine Brooks is not like the other women Drew has ever been with because she won't let him derail her from succeeding at her job. Both Katherine and Drew will end up colliding several times at the company, but for different reasons. Drew is madly in love with Katherine even though he doesn't want to be, and Katherine is trying everything at first to avoid Drew because she's engaged.
I don't want to go into any more detail about what happens in the book because I could give something away. I will say that I liked Katherine in this book because she was determined to succeed at her job and prove herself. She even managed to resist Drew's charms toward the middle and end of the book, especially with how he treated her on a particular part of the book. I adored her character. It was Drew that drove me crazy. It's all due to the book being told in his POV. Being inside his head and how he reacted to specific encounters with Katherine drove me bonkers. Although I can't fault him entirely because he's never been in love, he even went through a part in this book where Drew thought he had the flu and ended up staying home to avoid Katherine and his job. It took his best friend and his sister to tell him what was wrong with him.
Katherine managed to change Drew drastically, which was a plus for this book. I loved how he changed eventually. Also, Drew did not break up Katherine and fiance in this book, so don't think that at all.
This book had some funny parts to it that made me laugh, which I was surprised by since the book is told solely in Drew's perspective. He may have driven me crazy most of the book, but he did prove himself in specific parts of the book.
I give this book 3.5-stars and recommend it to readers that love Contemporary Romance/Romantic Comedies. If you enjoy the book is told in the male's POV, then you'll enjoy this book.
Will I read the next book in the series? I'm not sure yet, but maybe in the future. I'm glad I had this book in the audiobook version so that I could listen to it. Otherwise, I would've never finished it, especially since my daughters are home for a while due to school being closed. They tend to keep mom busy during the day.

This post contains affiliate links you can use to purchase the book. If you buy the book using that link, I will receive a small commission from the sale. It will help sponsor future giveaways but costs you nothing extra. You can read the full disclosure underneath the Privacy Policy.
---
---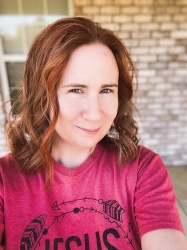 Latest posts by FranJessca
(see all)