Review: 'The Big A.S.S. Party' by Caroline Peckham & Susanne Valenti
April 11, 2022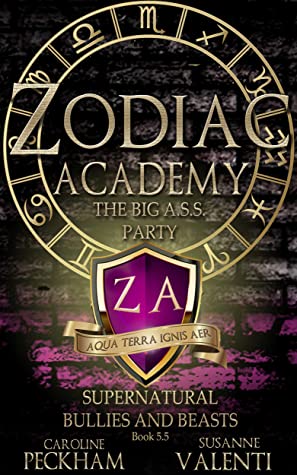 Zodiac Academy: The Big A.S.S. Party
by
Caroline Peckham
,
Susanne Valenti
Series:
Zodiac Academy #5.5
Published by
Self-Published
on August 2, 2020
Genres:
Dark Paranormal Bully Romance
Format:
eBook
Source:
Kindle Unlimited
Goodreads
Purchase at
Amazon

Once upon a moon, the wild wind whispered in my ear that the true queens were returning to Solaria and I made it my mission to open up their path to the throne so that they could slip right in like an oily oyster.
Now, on this most special and wonderous of days, the very day of their birth – I will prove myself to be the most loyal and dependable of their followers. Though of course, Venus is in my chart and Lady Petunia has caught sight of the bothersome barracuda once more.
Max Rigel is my most sinful of temptations, the shark in the dark who wishes to lure me to his sea cave and I don't know if I'm Fae enough to resist him for long.
But one thing is for sure, I will make certain the Vegas get the big A.S.S. party they deserve for their birthday or I'll die trying. Succulent squids be damned!
This is a 25k novella set in the world of Solaria during Book 5 of the Zodiac Academy series, Cursed Fates, featuring Geraldine and Max as they attend the party of the century and try to resist the lure of the moon as it pushes them together once more. It's full of slippery salmons and more buttery bagels than you can shake a stick at and is best read after Cursed Fates.
---
The Big A.S.S. Party is a novella with Max and Geraldine's points of view; sign me up.
Storyline/My Thoughts: I was curious to find out what happened to Max and Geraldine during the Lunar eclipse and the authors give us precisely what happened to these two, even though Geraldine tried everything not to make it happen. I love Max and Geraldine's interaction together, although sometimes I can't understand a word of what Geraldine is saying. I love her character, though, and can't get enough of her. She makes the series funny with her quirky self, and I hope she never changes.
Max has become obsessed with Geraldine, and he will do anything to have her, especially after the eclipse. There's something about her that calls him to her. He doesn't care what he must do now to gain her affection. He's whipped. 😂
After the lunar eclipse (during the fifth novel), Geraldine throws a massive party for Darcy and Tory's birthday. The twins have never had a party before, so Geraldine throws them the biggest ever, even if they are not sure about it. I loved how the heirs are starting to interact more with the twins, and Darius is not giving up on Tory. If you read the full-length fifth of this series, you know it's another devastating ending for Tory and Darius. I'm not going to give any details away, but I'm so glad I read this novella, which gave me some happy moments again.
This novella was quick, so I'm giving it only 3.5-stars. I hope I get more of Geraldine and Max in the next book (their POVs). Again, Max is whipped. Geraldine gives him bad news in this book, but that's not going to stop Max. Don't give, Max! I'm rooting for him!
Standalone or Part of Series: It's part of the Zodiac Academy series, and I would recommend reading in order.
Steaminess: ⭐️ ⭐️
Would I recommend this book? Yes. This novella is for you if you enjoy Dark Paranormal Bully Romance books. If you've read the series and have been wanting more of Geraldine and Max, you will not be disappointed with this novella.
Favorite Quotes:
"We just got Grussed," I said with a grin. "You don't know what the fuck happened at first but once you get used to it and just go along for the ride, you'll find yourself having the time of your life."
"Sex with her is a constant series of asking yourself what the fuck just happened? What the fuck did she just say? What the fuck did she just call me? Why the fuck does that feel so goddamn good? And that's the most you'll ever find out about it because she's mine," I informed him.

This post contains affiliate links you can use to purchase the book. If you buy the book using that link, I will receive a small commission from the sale. It will help sponsor future giveaways but costs you nothing extra. You can read the full disclosure underneath the Privacy Policy.
---
---
---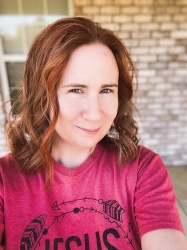 Latest posts by FranJessca
(see all)