Review: 'The Copper and the Madam' by Karyn Gerrard
January 7, 2014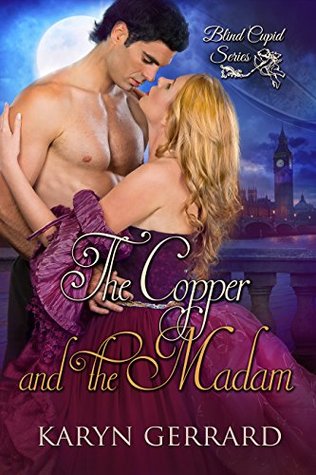 The Copper and the Madam
by
Karyn Gerrard
Series:
Blind Cupid #3
Published by
Decadent Publishing
on December 10, 2013
Genres:
Historical Romance
Format:
eBook
Source:
the author
Goodreads
Purchase at
Amazon

In 1897 London, Detective Sergeant Rory Kerrigan never expected to find love among the crime-ridden streets he's vowed to protect. His wretched past has hardened his heart, keeping emotion from his life. This ensured no interference with his police work. Yet an unlikely woman finds a way around his defenses.
Rea is owner of the brothel, The Blind Cupid, and harbors a desolate past of her own. As a result, she trusts no man. However it is hard to deny the ruggedly handsome Rory is everything honorable and appealing. He awakens feelings she's never experienced before.
A grisly murder has Rory and Rea determined to bring the killer to justice. As danger lurks, secrets are revealed and passion ignites between them. Despite the obstacles, will the copper and the madam acknowledge their mutual yearning even at the peril of their lives?
My Review
I read out of order again, but that is okay because The Copper and the Madam can be read as a standalone. I plan on going back to read the first two in the trilogy due to wanting to find out about the previous characters.
The Copper and the Madam is a historical romance that has suspense and erotic elements to it. Rea is the Madam of the story, who owns a brothel called The Blind Cupid. She is a complicated character because she has gone through so much in the past. She is too hard on herself and is constantly mentioning her weight. She also has a history that is constantly getting in her way of what she wants. She's strong though at times, but she hides everything she does not want people to know about from her life.
Rory Kerrigan is the Copper that adorns her establishment every once in a while to have dinner and fun. Rea has been fascinated with Rory for some reason, but she always makes it difficult to get close to him. Rory though is a very intriguing character. He has his past he has dealt with, but he is determined to find out Rea's secrets. I loved how he always got on her about mentioning about her weight. He never saw anything wrong with her physically, and even he wanted to break the emotional barrier she was constantly putting up. He just wanted her to tell the truth on how she felt.
Rory has to investigate a murder that hits pretty close to Rea's work, and now he will do anything to find out who killed one of her employees. He also will do anything to make Rea open up with him.
This was different kind of historical romance that I am used to reading, but I loved every bit of it. The only thing I had a gripe with was throwing in other characters in the mix that I wanted to know more about, and Rea being not as open as she should have been. She drove me crazy at first until she started talking about her past. The poor woman had had it hard, and it took another character like Rory who was broken as well to fix her.
I give this book 4 full moons and recommend it readers out there looking for a historical romance that has all the significant elements put together. You get the suspense of the story that you need to figure out and lots of erotic moments. Very steamy erotic moments. =)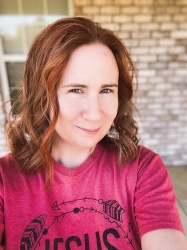 Latest posts by FranJessca
(see all)