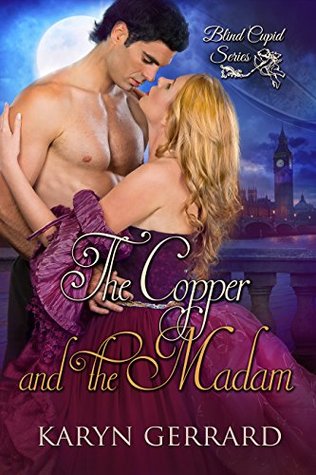 The Copper and the Madam
by
Karyn Gerrard
Series:
Blind Cupid #3
Published by
Decadent Publishing
on December 10, 2013
Genres:
Historical Romance
Format:
eBook
Amazon Kindle
Goodreads

In 1897 London, Detective Sergeant Rory Kerrigan never expected to find love among the crime-ridden streets he's vowed to protect. His wretched past has hardened his heart, keeping emotion from his life. This ensured no interference with his police work. Yet an unlikely woman finds a way around his defenses.
Rea is owner of the brothel, The Blind Cupid, and harbors a desolate past of her own. As a result, she trusts no man. However it is hard to deny the ruggedly handsome Rory is everything honorable and appealing. He awakens feelings she's never experienced before.
A grisly murder has Rory and Rea determined to bring the killer to justice. As danger lurks, secrets are revealed and passion ignites between them. Despite the obstacles, will the copper and the madam acknowledge their mutual yearning even at the peril of their lives?
My Review Continue reading →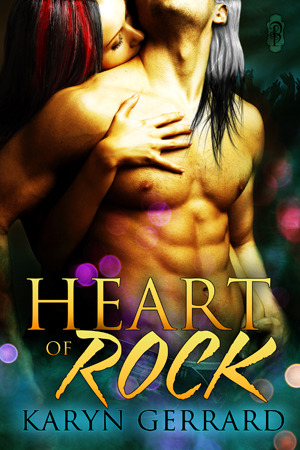 Heart of Rock
by
Karyn Gerrard
Published by
Decadent Publishing
on July 12, 2013
Genres:
Contemporary Romance
,
Erotic Romance
Format:
eBook
Goodreads

Irishman Brogan Byrne is at the pinnacle of rock music success in 1974. Handsome, charismatic, with a three-octave voice, you'd think he had it all. But Byrne sinks to new depths of depravity with women, liquor, and drugs.
Carly Montgomery is an ambitious record executive offered an opportunity to be manager for the last leg of Byrne's tour. Though she's detached and tough as nails, Carly's cool facade comes under attack. Somehow Byrne manages to slip by her frosty defenses.
Brogan, for his part, is broken inside. A memory weighs on his soul and affects his actions. Is Carly the one woman to help him forget his guilt and heal his heart of rock?
This is a re-release. New additional scenes.
My Review Continue reading →